WEEK 2 RECAP - ROCKFORD DROPS WEEKEND SET TO TEXAS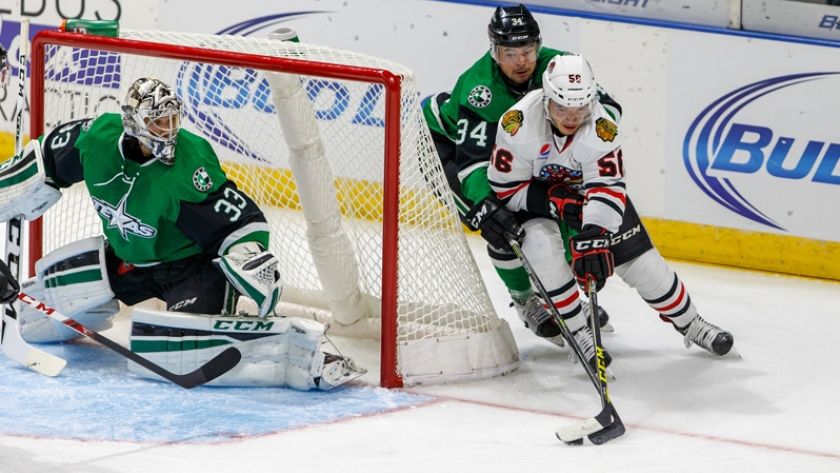 Week 2 Recap:
Rockford kicked off its home slate with a rematch of last season's Western Conference Quarterfinals against the Texas Stars. Texas took both games in the weekend set, earning a 5-2 win on Saturday before taking the second game by a 7-2 score. The Stars continued their offensive tear while Mark Visentin made his first professional appearance in net since the 2013-14 season for the IceHogs. The IceHogs continue their homestand Wednesday, Oct. 21 against Iowa and Friday, Oct. 23 versus Chicago before traveling to Milwaukee on Saturday, Oct. 24 to take on the Admirals.
Week 2 Results:
Saturday, October 17, Texas 5 vs. Rockford 2
Sunday, October 18, Texas 7 vs. Rockford 2
Week 3 Schedule:
Wednesday, October 21 vs. Iowa, 7 p.m.
Friday, October 23 vs. Chicago, 7 p.m.
Saturday, October 24 at Milwaukee, 7 p.m.
Bacon Bits:
-The IceHogs loss to the Stars on Saturday night snapped an 11-game winning streak for Rockford against Texas
-Rookie forward Tanner Kero added another goal on the weekend, upping his point total on the season to four (3g-1a)
-Since joining the IceHogs following his collegiate career at Michigan Tech, Kero has notched goals in seven of his ten regular season games
-The IceHogs all-time leading goal scorer Jeremy Morin added his 83rd goal in his 212th career game with Rockford
-Morin and Kero are tied for the team lead with four points apiece in four games played
-Mark Visentin played his first game on Sunday since April 16, 2014 after losing all of last season to injury
-The IceHogs gave the Stars six power play opportunities in each game
-Rockford leads the Western Conference with 57 penalty minutes
-The IceHogs only allowed two power play goals in 12 opportunities to the Stars on the weekend (16.7%)
-Rockford has given up 21 goals, the most allowed by any team in the AHL
-The IceHogs three-game losing streak is the longest since the team dropped three in a row from 1/31/15-2/13/15
-Brandon Mashinter was named the team's 10th captain during its AHL era
-Vince Hinostroza made his Chicago Blackhawks debut, becoming the 75th IceHog to go on to play in the NHL and 58th to do so with the Blackhawks

Hot Hog: Week 2
Jeremy Morin Left Wing (2GP, 1G, 1P, -1)

Jeremy Morin added to his lead as Rockford's all-time leading goal scorer, adding his 83rd goal to go along with 79 assists in 212 career games with the team. Morin recorded one shot on Friday and three shots on Saturday. As a member of the IceHogs, he has taken at least one shot in 182 straight contests.
Upcoming Games:
Wednesday, October 21 vs. Iowa Wild: Game starts at 7 p.m. The IceHogs welcome the Wild to Rockford for the first time this season. It's also the first "Winning Weekday" promotion of the season. Every time the IceHogs win at home on a weekday, each fan in attendance will receive a free ticket to the next weekday game. Fans can also enjoy $2 beers, hot dogs, and companion tickets.

Friday, October 23 vs. Chicago Wolves: Face-off is at 7 p.m. The IceHogs host their in-state rival Chicago Wolves in the season's first Illinois Lottery Cup game. The first 4,000 fans through the gates will receive a magnet schedule compliments of Rise Broadband. Doors will open at 5:15 p.m. for a Blues Flame Lounge Friday. Fans 21-and-older are invited to enjoy live blues music, a happy hour special, and free appetizers at the Blue Flame Lounge on the main concourse.

Saturday, October 24 at Milwaukee Admirals: Puck drops at 7 p.m. Rockford makes the 100 mile journey to the BMO Harris Bradley Center for the first matchup of the season against their divisional opponent. The matchup will be the first of 12 games between the teams this season.

Bud Light Monthly Monday Hog Talk At Vintage 501:
Bud Light Hog Talk returns on Monday, October 26 at Vintage 501 from 6-7 p.m. Vintage 501 is located in downtown Rockford at 501 E. State St. Fans can join Bob Mills or Kyle Stuetzel from 6-7 p.m. on the last Monday of every month throughout the season as they chat with IceHogs players, coaches, and front office members. This month's show will feature Head Coach Ted Dent as well as Michael Leighton and Brandon Mashinter. Take advantage of food and Bud Light specials at Vintage 501. The show will be re-aired on Tuesdays on WIFR's "Justice Network" on 23.3.

The IceHogs Broadcasting Network:
Catch every IceHogs game, home and road, in 2015-16 on WIFR's "Justice Network" on 23.3. The games can also be viewed on Comcast Cable channel 434, Charter Cable channel 194 or Mediacom 102 in the Rockford market and online through AHLLive.com. Every broadcast will start with the "IceHogs Warm Up" 30 minutes prior to puck drop. Fans can also listen to the action for free at WXRX.com. For a complete listing of TV stations carrying IceHogs games, visit IceHogs.com.
Tickets on Sale for 2015-16!
IceHogs individual game tickets are now on sale! Call (815) 968-5222 to reserve your seats for any IceHogs regular season game during the 2015-16 season. Tickets can also be purchased online at IceHogs.com, in person at the BMO Harris Bank Center Box Office in downtown Rockford, or any Ticketmaster outlet, including Walmart.