WEEK 16 RECAP: MCNEILL AND LEIGHTON HELP HOGS HOLD TOP SPOT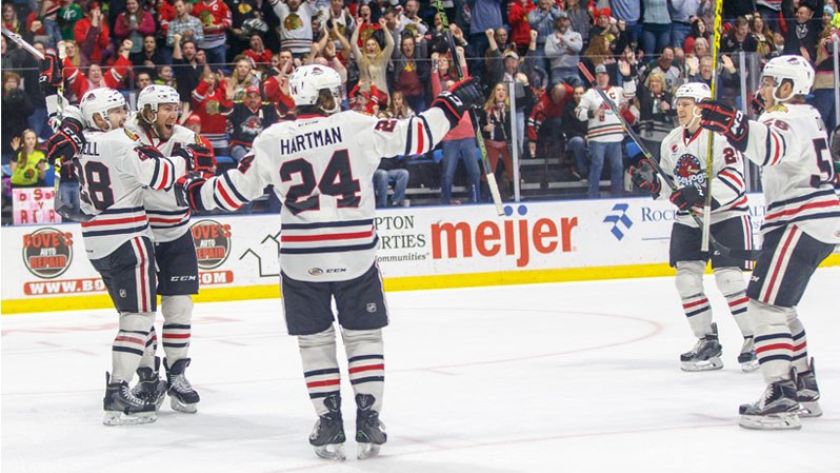 Week 16 Results:
Monday, January 18: Lake Erie 1 vs. Rockford 3
Friday, January 22: Iowa 4 vs. Rockford 3 (SO)
Saturday, January 23: Iowa 0 vs. Rockford 1

Week 17 Schedule:
Wednesday, January 27: Charlotte vs. Rockford, 7 p.m.
Friday, January 29: Chicago vs. Rockford, 7 p.m.
Saturday, January 30: Rockford at Chicago, 7 p.m.

Week 16 Recap:
The Rockford IceHogs held onto the top spot in the Central Division in Week 15, earning points in all three games to continue an eight-game homestand. Goaltender Michael Leighton moved within one shutout of tying the all-time AHL record by earning a 1-0 victory over the Iowa Wild on Saturday.

Bacon Bits:
-Rockford has earned points in five of six games so far to start their eight game homestand, and seven of their last eight overall
-The IceHogs have held the first or second spot in the Central Division for 20-straight games dating back to Dec. 2
-Rockford has also been in the top three in the Western Conference for the last 19 contests
-Goaltender Michael Leighton moved within one shutout of tying Johnny Bower's all-time AHL record (45) with a 1-0 victory over the Iowa Wild on Saturday
-Leighton ranks second in the AHL in wins (21) and games played (30), tied for third in save percentage (.930), and third in goals against average (2.12)
-Of all goaltenders with 20 or more games played in the AHL this season, Leighton's four regulation losses make him the only one with fewer than five
-Mark McNeill has picked up points in each of his last six games for Rockford (4g-3a), earning him a recall to the Chicago Blackhawks
-McNeill scored the game-winning goal on Saturday, making him the 16th IceHog to do so this season
-Vince Hinostroza has been hot as well for the IceHogs, tallying goals in three-straight games before going scoreless in Saturday's win over Iowa
-Hinostroza's marker on Friday made him the fifth Rockford player to break the 20 point barrier this season
-The IceHogs dropped to 1-4 in shootouts with their loss to the Wild on Friday
-In shootouts, IceHogs goaltenders have allowed eight goals on 14 tries while only converting on three of 15 chances
-The defeat to Iowa marked the first time all season that Rockford lost when entering the third period with a lead
-The team previously held a 20-0-0-0 mark when leading after two periods of play
-Bryan Bickell had his four-game point streak (3g-4a) snapped in Saturday's win
-By allowing only one power play goal in 13 chances against in Week 16, Rockford improved its home penalty kill percentage to 87.8%, good for fifth in the league
-The team also scored power play goals in each of the past three games and in six of their last eight
-Despite the shootout loss to Iowa on Friday, the IceHogs still hold a 8-1-0-1 record versus their divisional opponent
-Ryan Hartman drew his second penalty shot of the season 50 seconds into the third period on Saturday
-Hartman is the only player to take a penalty shot this season for Rockford, and has been stopped on both attempts

Hot Hog: Week 16
Mark McNeill Center (3GP, 2G, 1A, 3PTS, +2)

Mark McNeill continued his inspired play in Week 16, upping his point streak to six games (4g-3a). McNeill assisted on the game-winning goal by Kirill Gotovets on Monday vs. Lake Erie, scored the first goal and tallied in the shootout loss to Iowa on Friday, and scored the only goal in the 1-0 victory over the Wild on Saturday. He became the 16th different player to score a game-winning goal, and upped his season totals to nine goals and 10 assists on the season.

Upcoming Games:
Wednesday, January 27 vs. Charlotte Checkers: Game starts at 7 p.m. Charlotte visits Rockford for the second time this season. The team will be celebrating BMO Harris Bank Night and giving away Zamboni Banks to the first 1,500 fans in the building. The contest will mark yet another Winning Weekday; if the IceHogs win, every fan in attendance can redeem their ticket for a free ticket to the next weekday game.

Friday, January 29 vs. Chicago Wolves: Contest begins at 7 p.m. The IceHogs wrap up their eight game homestand against the Chicago Wolves in yet another Illinois Lottery Cup matchup. The first 2,500 fans in attendance will get a sock monkey sponsored by Rock Valley Culligan. Doors will open at 5:15 p.m. for a Blues Flame Lounge Friday. Fans 21-and-older are invited to enjoy live blues music, a happy hour special, and free appetizers at the Blue Flame Lounge on the main concourse.

Saturday, January 30 at Chicago Wolves: Puck drop at 7 p.m. The IceHogs head to Rosemont for the second game of a home-and-home with their intra-state rival. The team is 0-1-1-0 at Chicago this season, and has four more Illinois Lottery Cup games to play on the road in 2016.


The IceHogs Broadcasting Network:
Catch every IceHogs game, home and road, in 2015-16 on WIFR's "Justice Network" on 23.3. The games can also be viewed on Comcast Cable channel 434, Charter Cable channel 194 or Mediacom 102 in the Rockford market and online through AHLLive.com. Every broadcast on WIFR will start with "IceHogs Warm Up" 30 minutes prior to puck drop. Fans can also listen to the action for free at WXRX.com. For a complete listing of TV stations carrying IceHogs games, visit IceHogs.com.

Tickets On Sale for 2015-2016!
IceHogs individual game tickets are now on sale! Call (815) 968-5222 to reserve your seats for any IceHogs regular season game during the 2015-16 season. Tickets can also be purchased online at IceHogs.com, in person at the BMO Harris Bank Center Box Office in downtown Rockford, or any Ticketmaster outlet, including Walmart.