WEEK 14 REPORT: HOGS FINISH WEEK ON POINT STREAK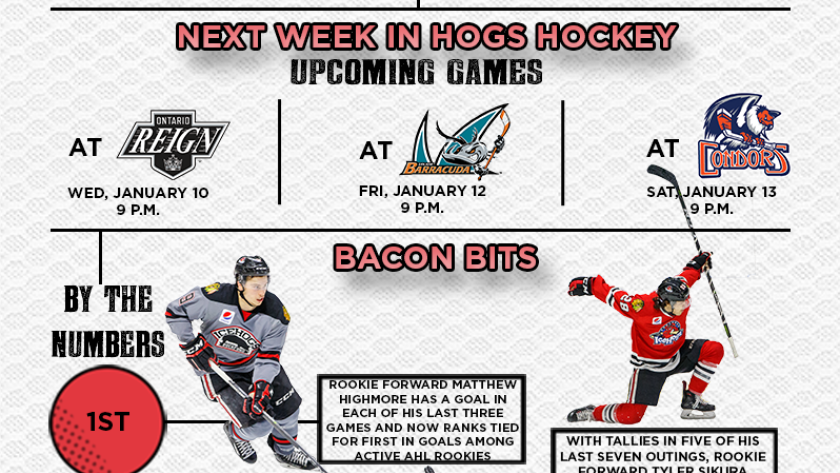 BACON BITS:
-The Rockford IceHogs extended their losing streak to four straight games with losses in each of the first two contests last week before snapping the skid with points in both Saturday and Sunday's tilts...Rockford has now won just one of its last six games since Dec. 29, going 1-4-0-1 in that span, and now enters the week with an overall record of 19-5-1-2 and ranked fifth in Central Division.
-The Chicago Blackhawks and IceHogs made a series of roster moves on Monday, with Chicago recalling Tomas Jurco from the IceHogs and assigning John Hayden to Rockford...Jurco ranked second on the IceHogs in scoring at the time of his recall, while Hayden has totaled 11 points (3g, 9a) in 39 NHL games...In addition, the IceHogs recalled Alex Wideman from Indy and assigned Robin Press to the Fuel...Wideman led the Fuel in scoring at the time of his promotion and Press has appeared in seven AHL games with the Hogs.
-Matthew Highmore has scored a goal in each of his last three games and has now combined for 17 goals, nine assists and 26 points in his first 37 professional games with Rockford...Highmore leads the team in both points and goals thus far this season and enters the week tied for first among active AHL rookies in goals and tied for seventh in overall rookie scoring.
-The Hogs have scored a power-play goal in three straight games and in four of the last five contests dating to Dec. 30...Rockford is 3-for-12 (25.0%) on the man-advantage during their three-game streak and 4-for-20 (20.0%) on the power play over those last five games since Dec. 30.
-Tyler Sikura has scored a goal in two straight games and now has tallies in five of his last seven appearances since Dec. 28...The forward is second in the AHL in goals over his last seven games (5g), trailing only fellow Rockford winger Matthew Highmore (six goals in seven games).
-Tanner Kero notched his first multi-point effort with Rockford on Sunday...Kero originally began his AHL stint with just one point in his first seven games, but has since amassed 2g-3a-5pts over his last seven contests.
UPCOMING GAMES:
Wednesday, Jan. 10 | Rockford at Ontario (9 p.m.) The IceHogs travel to Ontario to take on the Reign in the first meeting of the 2017-18 season between the two teams. Rockford has dropped its only two matchups with Ontario, going 0-2-0-0 during the 2016-17 campaign.
Friday, Jan. 12 | Rockford at San Jose (9 p.m.) Rockford continues its west-coast swing with a 9 p.m. showdown against the Barracuda. The IceHogs have split their only two meetings with San Jose with a 1-1-0-0 clip in 2015-16.
Saturday, Jan. 13 | Rockford at Bakersfield (9 p.m.) The Hogs cap the first leg of a six-game road trip with a Saturday evening tilt against the Condors...The contest marks the first ever meetings between the two franchises.
BUD LIGHT MONTHLY MONDAY HOG TALK AT VINTAGE 501:
Bud Light Hog Talk returns to Vintage 501 TONIGHT, Monday, Jan. 8 from 6-7 p.m. Vintage 501 is located in downtown Rockford at 501 E. State St. Fans can join broadcasters Joseph Zakrzewski and Brittany Toolis from 6-7 p.m. on the first Monday of every month throughout the season as the duo chats with IceHogs players, coaches and front office members. For those unable to attend the show in-person, Monday's show will be streaming live on IceHogs.com. "Bud Light Hog Talk" will also be available on www.icehogs.com following the live show. Fans can access the podcast through the "Audio Highlights" link in the "Multimedia" menu.
ICEHOGS BROADCASTING NETWORK
Catch every IceHogs game, home and road, in 2017-18 on WIFR's Cozi TV on 23.3. The games can also be viewed on Comcast Cable channel 434, Charter Cable channel 194, Dish Network channel 252 or Mediacom 102 in the Rockford market and online through AHLLive.com. Every TV broadcast will start with "IceHogs Warm Up" 30 minutes prior to puck drop. Fans can also listen to the action for free at sportsfanradio1330.com and IceHogs.com. For a complete listing of TV stations carrying IceHogs games, visit IceHogs.com, and for the complete schedule of radio broadcasts, visit sportsfanradio1330.com.
TICKETS ON SALE FOR 2017-18!
IceHogs individual game tickets can be purchased by calling (815) 968-5222 to reserve your seats for any regular season home game during the 2017-18 season. Tickets can also be purchased online at IceHogs.com, in person at the BMO Harris Bank Center Box Office in downtown Rockford or at any Ticketmaster outlet, including Walmart.