WEEK 14 RECAP: ICEHOGS REGAIN TOP SPOT IN WEST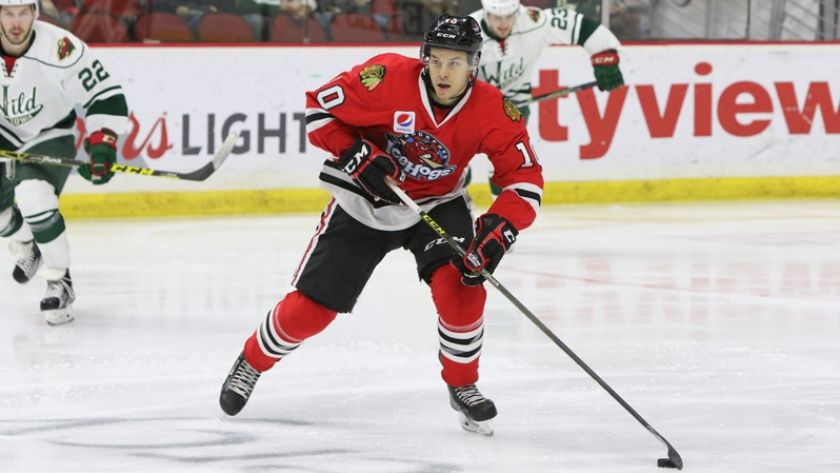 Week 14 Results:
Sunday, January 10: Rockford 3 at Iowa 1

Week 15 Schedule:
Tuesday, January 12: Chicago vs. Rockford, 7 p.m.
Friday, January 15: San Jose vs. Rockford, 7 p.m.
Saturday, January 16: Stockton vs. Rockford, 7 p.m.

Week 14 Recap:
The Rockford IceHogs earned a victory in the only contest of Week 14, taking a 3-1 win on the road over the Iowa Wild while maintaining their hold on first place in the Central Division. Michael Leighton and Ryan Hartman each earned berths in the 2016 AHL All-Star Classic. The IceHogs return to the BMO Harris Bank Center this week for an eight-game homestand.

Bacon Bits:
-Rockford earned their seventh win in eight attempts versus the Iowa Wild with their 3-1 victory on Sunday
-The seven wins surpass the previous season-highs of six (2013-14, 2014-15) versus their Central Division opponent
-Ville Pokka picked up multiple points (2a) for his second multi-point game in two contests (0g-5a)
-The defenseman leads all IceHogs blueliners in points with 22 (5g-17a) and ranks second on the team
-Pokka is tied for seventh among all AHL defensemen in points
-Pierre-Cedric Labrie scored a goal for the second consecutive game, upping his season total to 10
-Labrie's 10 goals tie him with Ryan Hartman for the team lead
-The tally came on the power play, marking the second game in-a-row that the IceHogs have scored on the man advantage
-Both power-play goals came on deflections by Labrie
-Jake Dowell was a +1 in Sunday's showdown, upping his team-leading mark to +21
-Dowell's plus/minus rating (+21) ranks tied for third in the AHL behind only Andrew Campbell (+24) and Robbie Russo (+22)
-The veteran center also assisted on the game-winning tally, upping his team-leading point total to 23 (7g-16a)
-His 23 points match his previous AHL high with Rockford (2009-10)
-The IceHogs play each of their next eight games at home
-Rockford has played 16 games at the BMO Harris Bank Center this season, going 9-4-2-1
-Michael Leighton and Ryan Hartman were each selected to the 2016 AHL All-Star Classic on Jan. 7
-The selection marks the fourth All-Star game for Leighton, who is tied for second in the league in wins (17) with Jared Coreau of the Grand Rapids Griffins
-With four selections to the All-Star game, Leighton ties Jean-Francois Labbe for the most appearances by a goaltender dating back to 1995
-The goaltender extended his road unbeaten streak to six games (5-0-1-0) with the win over Iowa on Sunday
-The road victory marked the 12th of the season for Rockford, which is tied for third-best in the AHL

Hot Hog: Week 14
Defenseman Ville Pokka (1GP, 0G, 2A, 2PTS, +1)

Defenseman Ville Pokka picked up where he left off in the IceHogs only game of Week 14. After earning the primary assist on all three goals versus the Milwaukee Admirals on Jan. 3, Pokka added two more helpers on Sunday against the Iowa Wild. The blueliner got on the scoresheet on the team's first goal before assisting on Chris DeSousa's insurance goal at 16:14 of the second period. Pokka is second on the team and first among team defensemen with 22 points (5g-17a) and ranks tied for seventh in the lead among defensemen.

Upcoming Games:
Tuesday, Jan. 12 vs. Chicago Wolves: Puck drop is set for 7 p.m. The Illinois Lottery Cup contest is also another "Winning Weekday." If the IceHogs win, every fan in attendance will receive a free ticket of equal or lesser value to the next weekday game. Fans can also enjoy $2 beers, sodas, hot dogs, and companion tickets. The first 1,500 fans who enter through the doors will receive a slice of pizza from Papa Johns.

Friday, Jan. 15 vs. San Jose Barracuda: Game starts at 7 p.m. The IceHogs continue their homestand versus the Barracuda in San Jose's first-ever visit to the BMO Harris Bank Center. The first 1,000 fans 21-and-older will get winter hats courtesy of Bud Light. Doors will open at 5:15 p.m. for a Blues Flame Lounge Friday. Fans 21-and-older are invited to enjoy live blues music, a happy hour special, and free appetizers at the Blue Flame Lounge on the main concourse.

Saturday, Jan. 16 vs. Stockton Heat: Contest begins at 7 p.m. Rockford will look to avenge a 7-0 drubbing at the hands of Stockton on Oct. 10. The IceHogs will dye the ice of the BMO Harris Bank Center pink for the 7th annual "Pink in the Rink" event when they play host to the Heat at 7 p.m. Once again, the team will raise money for breast cancer research and wear special commemorative jerseys that will be auctioned off. The first 2,500 fans will receive pink glow sticks courtesy of Swedish American Hospital.


The IceHogs Broadcasting Network:
Catch every IceHogs game, home and road, in 2015-16 on WIFR's "Justice Network" on 23.3. The games can also be viewed on Comcast Cable channel 434, Charter Cable channel 194 or Mediacom 102 in the Rockford market and online through AHLLive.com. Every broadcast on WIFR will start with "IceHogs Warm Up" 30 minutes prior to puck drop. Fans can also listen to the action for free at WXRX.com. For a complete listing of TV stations carrying IceHogs games, visit IceHogs.com.

Tickets On Sale for 2015-2016!
IceHogs individual game tickets are now on sale! Call (815) 968-5222 to reserve your seats for any IceHogs regular season game during the 2015-16 season. Tickets can also be purchased online at IceHogs.com, in person at the BMO Harris Bank Center Box Office in downtown Rockford, or any Ticketmaster outlet, including Walmart.