WEEK 13 RECAP: NEW YEAR STARTS STRONG FOR ROCKFORD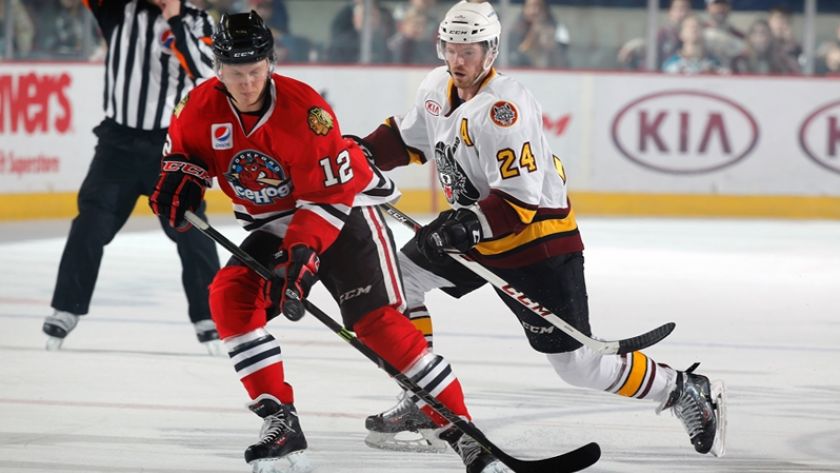 IceHogs take two of three in Week 13 to ring in 2015
Week 13 Recap:
After the their brief homestand ended with a loss on Tuesday against the Hamilton Bulldogs, the IceHogs responded the next day with a dramatic shootout win in Grand Rapids to close out 2014 on a high note. After turning the page to 2015, Rockford turned in another shutout performance in Rosemont, defeating the Chicago Wolves 3-0 on the road; the IceHogs' second shutout in Allstate Arena in three visits this season.
Week 13 Results:
Tuesday, Dec. 30, Hamilton 2 vs. Rockford 1
Wednesday, Dec. 31, Rockford 3 at Grand Rapids 2 (SO)
Saturday, Jan. 3, Rockford 3 at Chicago 0
Week 14 Schedule:
Thursday, Jan. 8, at Milwaukee, 7 p.m.
Friday, Jan. 9, vs. Milwaukee, 7 p.m.

Bacon Bits:

-Michael Leighton recorded his third shutout of the season on Saturday, blanking the Chicago Wolves 3-0, notching his 39th career AHL shutout

-Leighton sits third in league history in all-time career shutouts trailing only Gil Mayer (41) and Johnny Bower (45)

-Leighton's third shutout tied a franchise mark for single-season shutouts in the AHL-era, matching Carter Hutton (2011-12), Hannu Toivonen (2010-11) and Corey Crawford (2007-08)

-Rockford's all time franchise record was set in 2004-05, when Michel Robinson posted seven shutouts in 66 games

-Counting Mac Carruth's 3-0 win in Chicago back on Nov. 23, the IceHogs have already recorded four shutouts this season, the most since Hannu Toivonen and Alec Richards combined for five in 2010-11. All of Rockford's shutouts this year have come on the road

-Rockford failed to record a single shutout last season

-Forward Garret Ross added an empty net goal to seal Saturday's victory, in his first appearance since missing six games with an injury

-Ross still leads the team with 12 goals on the season and sits in fourth place in scoring with 21 points (12g-9a) in 30 games played

-In the eight games he has played since returning from a lower-body injury, forward Mark McNeill has tallied six points (2g-6a)

-Rookie winger Teuvo Teravainen became the 68th different IceHogs player to skate in the NHL after playing in Rockford as he made his Blackhawks season debut on Sunday

-Teravainen is the sixth different IceHogs skater to appear in a game with the Blackhawks this season

-The IceHogs defeated Grand Rapids 3-2 in a shootout on Wednesday, their first shootout victory of the season

-Last season Rockford finished 4-4 in games extending to the skills competition, and have a 30-31 all-time AHL record in shootouts

-Rockford has continued to pepper opposing goalies, recording 35 or more shots on goal in six of their last eight games, averaging 40.38 shots over that stretch

-In that eight-game span, the IceHogs have only scored an average of two goals a game, a shooting percentage of 4.95%

-When scoring three or more goals this season, Rockford is 18-0-2-0

-The IceHogs are 13-6-2-0 against Midwest Division opponents in 2014-15

-Grand Rapids scored a goal just 34 seconds into the contest on Wednesday night

-The Griffins have scored first in all four meetings this season in the first period, including 10-seconds (10/29), 3:39 (11/8) and 11:17 (12/6) of the opening frame

-Rockford is 3-1-0-0 against Grand Rapids this season

Hot Hog: Week 13
Goaltender Michael Leighton (2-0-0, 1 SO, .969 SV%, 0.95 GAA)

Goalie Michael Leighton put together a pair of 31 save performances in Week 13 to get the IceHogs back on track. On New Year's Eve in Grand Rapids Leighton helped Rockford earn a 3-2 shootout victory, the club's first win in the shootout this season. After stopping 31 of 33 Griffins shots, including two breakaways in overtime, Leighton went on to stop all three shots in the skills competition to snag the win. Then on Saturday in Rosemont against the Wolves, the Petrolia, Ontario native notched his third shutout of the season and 39th career AHL shutout by turning away all 31 Chicago shots. Leighton was tested 18 times in the third period alone.

Upcoming Games:
Thursday, Jan. 8, at Milwaukee Admirals: Puck drops at 7 p.m. The IceHogs begin a home-and-home series with their bordering rival to the north as they visit the Milwaukee Admirals on Thursday night. Rockford has won each of their last two visits to the BMO Harris Bradley Center, and three-straight against the Ads, after Milwaukee took the first three matchups of the season series.

Friday, Jan. 9, vs. Milwaukee Admirals: Game begins at 7 p.m. Rockford begins their 2015 home slate with a Midwest Division rivalry game against the Milwaukee Admirals at the BMO. The first 2,500 fans through the gates will take home an IceHogs fleece blanket thanks to OSF. Those 21-and-over can arrive early for another Blues Flame Lounge Pre-Game Party, and enjoy live music, drink specials and free appetizers. Doors open at 5:15 p.m.

Bud Light Hog Talk Monday Night At Mulligan's and Grill:
Bud Light Hog Talk returns on Monday, Jan. 5 at Mulligan's Pub and Grill from 6-7 p.m. Mulligan's is located on North Main St. Fans can join Mike Peck or TJ Hogan from 6-7 p.m. on most Mondays throughout the season, as they chat with IceHogs players, coaches and front office members. This week will feature forward Phillip Danault and Head Coach Ted Dent. Take advantage of food and Bud Light specials at Mulligan's. The show will be re-aired on Tuesdays from 7-8 p.m. on WIFR's 23.2 "Antenna TV."

The IceHogs Broadcasting Network:
Catch every IceHogs game, home and road, in 2014-15 on WIFR's 23.2, "Antenna TV." The games can also be viewed on Comcast Cable channel 436, Charter Cable channel 193 or Mediacom 101 in the Rockford market and online through AHLLive.com. Fans can also listen to the action for free on AHLLive.com. For a complete listing of TV stations carrying IceHogs games, visit IceHogs.com. Every broadcast will start with the IceHogs Warm Up 30 minutes prior to puck drop.

Tickets On Sale for 2014-2015!
IceHogs individual game tickets are now on sale! Call (815) 968-5222 to reserve your seats for any IceHogs regular season game during the 2014-15 season. Tickets can also be purchased online at IceHogs.com, in person at the BMO Harris Bank Center Box Office in downtown Rockford, or any Ticketmaster outlet, including Walmart.