WEEK 11 RECAP: HOGS SPLIT A PAIR WITH DIVISION RIVALS ON THE ROAD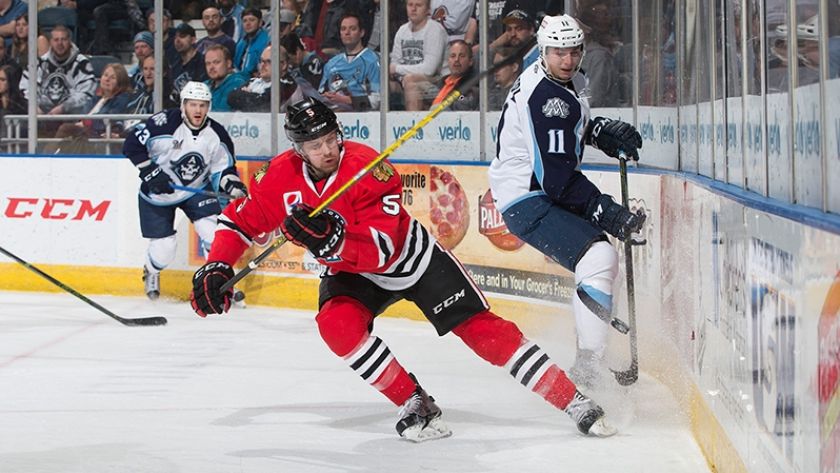 Week 11 Results:
Friday, December 18: Rockford 6 at Milwaukee 2
Saturday, December 19: Rockford 3 at Chicago 4 OT

Week 12 Schedule:
Monday, December 21 vs. Milwaukee, 7 p.m.
Saturday, December 26 vs. Milwaukee, 7 p.m.
Sunday, December 27 at Iowa, 5 p.m.
Week 11 Recap:
In the midst of a stretch of seeing opponents from within the division over an 11-game span, the IceHogs disposed of the Admirals on Friday in Milwaukee before seeing their five-game road winning streak end in Chicago on Saturday. The IceHogs were able to earn one point at the Allstate on Saturday to carry on a six-game road unbeaten streak. The Central Division-leading IceHogs return home to the BMO Harris Bank Center for two tilts with the second place Admirals split up by a brief holiday break.

Bacon Bits:
-Rockford pushed their road winning streak to five games on Friday with a 6-2 win over the Milwaukee Admirals (Dec. 2 – Dec. 18)
-Twice this season the IceHogs have won five-straight games on the road, with the other coming Oct. 24 – Nov. 14
-Despite a 4-3 loss in overtime at Chicago Saturday, the IceHogs are now on a season-long six-game point streak on the road (5-0-1-0)
-Saturday's contest against the Wolves saw the IceHogs accumulate the most penalty minutes in a game this season with 95 PIM
-The 132 combined penalty minutes also was the highest combined total of the year for Rockford
-Rockford and Chicago combined for 102 PIM in their previous outing on November 27, which at the time was the highest combined total, most PIM by an opponent (72) and most PIM by the IceHogs (30) in 2015-16
-Forward Jake Dowell had his seven game point streak (4g-7a) snapped on Saturday which is the longest for any skater this season.
-Jeremy Morin has earned at least a point in four-straight games, and has scored a goal in three-straight contests
-Rockford saw two players return from injury last week, as Mark McNeill came back after missing 11 games and Ryan Haggerty stepped back in after missing 20 games
-Erik Gustafsson's shorthanded goal Saturday marked the third-straight game that the IceHogs have knocked home a goal when short one skater
-Jeremy Morin and Mark McNeill scored the other two shorthanded goals during the stretch
-The IceHogs are now tied for third in the AHL with six shorthanded strikes this season
-Rockford pushed their record on Friday night games to 9-0-0-1 this season with their 6-2 win over Milwaukee
-However, Saturdays have been more of a struggle for the Hogs, who are 2-4-2-0 on Saturday
-Forward Vince Hinostroza scored his first professional goal on Friday
-Hinostroza's first goal came just nine seconds after he assisted on P.C. Labrie's first goal of the night
-The goal from Labrie was the 150th point in his professional career
-Twice last week, the IceHogs scored a goal nine seconds after a previous strike.
-On Friday, Labrie scored at 5:55 of the second and Hinostroza scored at 6:04, while on Saturday Jordan Caron of Chicago tallied at 9:20 of the first with Jeremy Morin equalizing the score at 9:29.
-Chicago's overtime goal on Saturday was the first time this season that Rockford has been involved in a game with a 3-on-3 goal
-The IceHogs have won twice in overtime, but scored on 4-on-3 power plays on both occasions (Nov. 22 vs. LE and Dec. 2 at TEX)
-Milwaukee earned an OT win over Rockford on Nov. 7, but scored on a 4-on-3 power play as well

Hot Hog: Week 11
Jeremy Morin Left Wing (2GP, 2G, 2A, 4PTS, +2)

Back-to-back multi-point games vaulted Rockford's all-time goal scoring leader, Jeremy Morin, into the team-lead for points this season. On Friday, Morin helped set up a power-play goal in the second period, which stood as the game-winner, before recording a goal of his own late in the third period. The six-year pro followed it up by helping the IceHogs earn a point on Saturday at Allstate Arena. Morin matched Chicago's opening goal in the first period before assisting on Erik Gustafsson's tally that forced overtime. Morin has notched points (3g-5a) in six of the IceHogs seven games during December and has scored goals in three straight.

Upcoming Games:
Monday, December 21 vs. Milwaukee Admirals: Game starts at 7 p.m. The IceHogs and Admirals square off in a border battle at the BMO. The first 2,500 fans through the turnstiles will receive a Teuvo Teravainen Bobblehead thanks to Dental Dimensions. It's also another "Winning Weekday." Every time the IceHogs win at home on a weekday, each fan in attendance will receive a free ticket to the next weekday game. Fans can also enjoy $2 beers, sodas, hot dogs, and companion tickets.

Saturday, December 26 vs. MIlwaukee Admirals: Puck drop is scheduled for 7 p.m. After a brief holiday break, the IceHogs host the Admirals for the second straight game. Rockford and Milwaukee currently sit atop the Central Division standings.

Sunday, December 27 at Iowa Wild: Puck drop is scheduled for 5 p.m. Rockford carries their six-game road point streak to Des Moines for a matchup with the Wild. The contest is the seventh between Rockford and Iowa in the season series.

Bud Light Monthly Monday Hog Talk At Vintage 501:
Bud Light Hog Talk returns on Monday, December 28 at Vintage 501 from 6-7 p.m. Vintage 501 is located in downtown Rockford at 501 E. State St. Fans can join Bob Mills or Kyle Stuetzel from 6-7 p.m. on the last Monday of every month throughout the season. The guests for the show are Tanner Kero, Dennis Robertson and Ted Dent. Take advantage of food and Bud Light specials at Vintage 501. The show will be re-aired on Tuesdays on WIFR's "Justice Network" on 23.3 from 6-7 p.m.

The IceHogs Broadcasting Network:
Catch every IceHogs game, home and road, in 2015-16 on WIFR's "Justice Network" on 23.3. The games can also be viewed on Comcast Cable channel 434, Charter Cable channel 194 or Mediacom 102 in the Rockford market and online through AHLLive.com. Every broadcast on WIFR will start with "IceHogs Warm Up" 30 minutes prior to puck drop. Fans can also listen to the action for free at WXRX.com. For a complete listing of TV stations carrying IceHogs games, visit IceHogs.com.

Tickets On Sale for 2015-2016!
IceHogs individual game tickets are now on sale! Call (815) 968-5222 to reserve your seats for any IceHogs regular season game during the 2015-16 season. Tickets can also be purchased online at IceHogs.com, in person at the BMO Harris Bank Center Box Office in downtown Rockford, or any Ticketmaster outlet, including Walmart.