WEEK 10 RECAP - ROCKFORD HOLDS ON TO FIRST PLACE IN CENTRAL DIVISION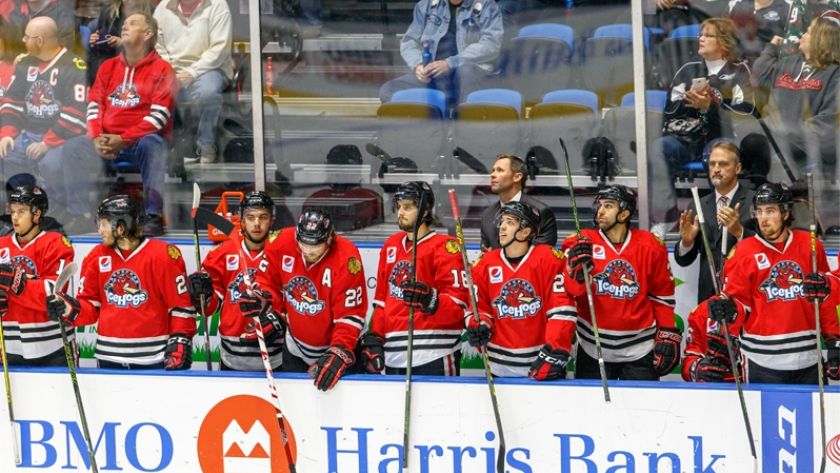 Week 10 Results:
Tuesday, December 8: Rockford 5 at Texas 3
Friday, December 11: Iowa 1 vs. Rockford 2
Saturday, December 12: Grand Rapids 4 vs. Rockford 1

Week 11 Schedule:
Friday, December 18 at Milwaukee, 7 p.m.
Saturday, December 19 vs. Chicago, 7 p.m.

Week 10 Recap:
The Rockford IceHogs improved their winning streak to five games and briefly held the first place position in the Western Conference before a 4-1 loss to the Grand Rapids Griffins on Saturday. Rockford wrapped up four games in the state of Texas by defeating the Texas Stars by a 5-3 score on Dec. 8, and edged the Iowa Wild 2-1 for their ninth consecutive win against their Central Division opponent. Despite the loss to the Griffins, the IceHogs maintained their grip on first place in the Central and are 8-2-0-0 in their last 10 contests.

Bacon Bits:
-The IceHogs recorded their longest winning streak of the season, earning wins in five straight games from Dec. 2 through Dec. 11 -Rockford's loss to the Grand Rapids Griffins on Saturday ended a nine-game point-streak at home dating back to Oct. 21
-Michael Leighton had his six-game winning streak snapped on Saturday
-With their win over Iowa on Friday, the IceHogs improved to 8-0-0-1 on Fridays this season, but are just 2-4-1-0 on Saturday games
-Head Coach Ted Dent earned his 200th win as a professional head coach on Friday
-Dent is 200-163-18-21 in his professional career, and 175-124-15-16 in his IceHogs career
-Friday's contest was the 25th game of the season for Rockford, and they compiled an overall record of 17-5-1-2 to start the season, good for 37 points and a .740 winning percentage
-Rockford's 37 points and .740 winning percentage are both franchise records through 25 games played
-Jake Dowell earned an assist on Saturday, and now has notched at least one point in six-straight games (4g-6a) dating back to Dec. 2
-Ryan Hartman (4g-3a) and Dennis Rasmussen (3g-5a) have also earned six-game point streaks this season
-Jeremy Morin's first period goal on Saturday ignited the teddy bear toss, ending a 98:33 scoreless stretch during teddy bear toss games at home
-The IceHogs collected 2,287 stuffed animals through the generous donations of their fans
-The collected stuffed animals will be making their way to local hospitals and charities starting this week
-The IceHogs enter the week sitting in first place in the Central Division, second place in the Western Conference, and fifth in the AHL
-Rockford carries a four-game road winning streak into the weekend
-On Saturday, the IceHogs face off against the Chicago Wolves on the road for the first time this season
-Rockford is 2-0-0-0 against Chicago this season, leading the Illinois Lottery Cup standings 4-1
-The IceHogs are 16-23-2-3 all-time in Rosemont, and went 4-2-0-0 in Chicago last year
-Dowell (4g-7a) and Hartman (7g-4a) lead the IceHogs in points on the road
-Friday's game against Iowa was the lowest-penalized game of the season for the IceHogs, with just six combined PIMs
-Rockford was whistled for just one penalty, and their two penalty minutes were the lowest of the year
-Leland Irving made 38 saves for the Wild on Friday, setting a season-high for saves by an opponent netminder that was matched by Jared Coreau's 38 save performance for Grand Rapids the next night


Week 10 Hot Hog:
Jake Dowell Center (3GP, 2G, 2A, 5PTS, 1 GWG, +3)

Veteran Jake Dowell continued his hot stretch in Week 10, extending his point streak to six games (4g-6a). Dowell earned five points in three games, including the game-winning goal against the Iowa Wild on Dec. 11. He also assisted on the game-winning goal versus the Texas Stars, and provided an insurance empty-net goal. He leads the team with 11 assists, and is tied with Ryan Hartman for the team lead in points (17). Dowell also ranks fourth in the AHL with a +15 plus/minus rating, which is also the highest in the Western Conference and the highest of any forward in the league.

Upcoming Games:
Friday, December 18 at Milwaukee Admirals: Game starts at 7:30 p.m. The IceHogs head back to the road when they take on the Admirals in Milwaukee. Rockford is 1-1-1-1 versus their Central Division opponent this year, and have played three of the four games in Milwaukee.

Saturday, December 19 at Chicago Wolves: Puck drop is scheduled for 7 p.m. The IceHogs will look to stay perfect against the Chicago Wolves in the third meeting between the two foes this season. After defeating the Wolves twice at home this season, Rockford heads to Chicago for the first of six contests in Rosemont in 2015-16.

Bud Light Monthly Monday Hog Talk At Vintage 501:
Bud Light Hog Talk returns on Monday, December 28 at Vintage 501 from 6-7 p.m. Vintage 501 is located in downtown Rockford at 501 E. State St. Fans can join Bob Mills or Kyle Stuetzel from 6-7 p.m. on the last Monday of every month throughout the season. Take advantage of food and Bud Light specials at Vintage 501. The show will be re-aired on Tuesdays on WIFR's "Justice Network" on 23.3 from 6-7 p.m.

The IceHogs Broadcasting Network:
Catch every IceHogs game, home and road, in 2015-16 on WIFR's "Justice Network" on 23.3. The games can also be viewed on Comcast Cable channel 434, Charter Cable channel 194 or Mediacom 102 in the Rockford market and online through AHLLive.com. Every broadcast on WIFR will start with "IceHogs Warm Up" 30 minutes prior to puck drop. Fans can also listen to the action for free at WXRX.com. For a complete listing of TV stations carrying IceHogs games, visit IceHogs.com.

Tickets on Sale for 2015-16!
IceHogs individual game tickets are now on sale! Call (815) 968-5222 to reserve your seats for any IceHogs regular season game during the 2015-16 season. Tickets can also be purchased online at IceHogs.com, in person at the BMO Harris Bank Center Box Office in downtown Rockford, or any Ticketmaster outlet, including Walmart.