WATCH SPENCER ABBOTT IN THE ALL-STAR CLASSIC ON WIFR 23.3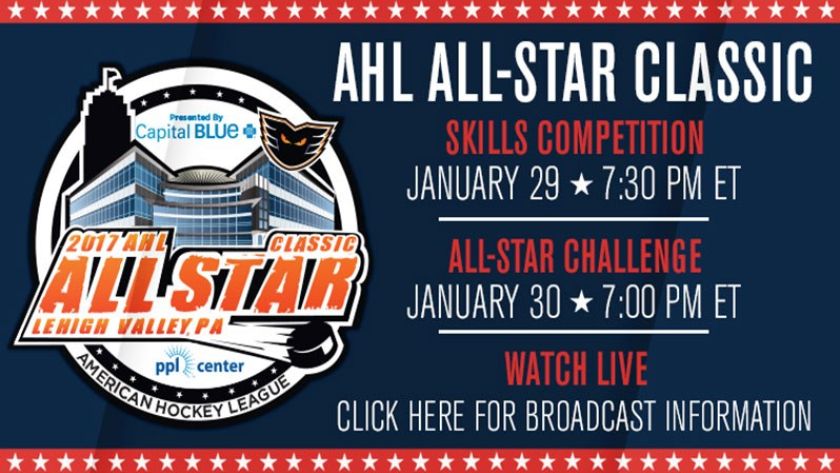 Rockford, Ill - The 2017 AHL All-Star Classic presented by Capital BlueCross will be available to watch live on WIFR's Justice Network on 23.3. The Rockford IceHogs are represented by first-time AHL All-Star Spencer Abbott, who leads the team with 24 points and eight goals.

The game will be televised live locally in the Rockford market on WIFR's Justice Network on 23.3, where all the IceHogs regular season and playoff games are aired, and in the Chicago area with Comcast SportsNet Chicago.

For a full listing of channels that carry WIFR's Justice Network in the Rockford area, click here.

The 2017 AHL All-Star Skills Competition presented by Giant Food Stores and Velaspan is set to air on Sunday, Jan. 29, at 6:30 p.m. central time. Players from the AHL's Western Conference will team up against the best of the Eastern Conference in seven different skills events.

The 2017 AHL All-Star Challenge will be played on Monday, Jan. 30, at 6 p.m. and features four teams made up of players from each division (Central, Pacific, Atlantic, North) who face off in a round-robin three-on-three format. The two teams with the best records at the end of round-robin play will meet in the championship game.

The All-Star events will also be broadcast to an international audience with a reach of 100 million homes. To see a full list of available broadcast channels, click here.

Next Home Game: Friday, January 27 vs. the Iowa Wild at 7 p.m. The first 1,000 fans 21 years and older will receive a cooler backpack courtesy of Bud Light. A Blue Flame Lounge Pre-Game Party will kick off Friday night at 5:15 p.m. and includes free appetizers and happy-hour specials. The meeting marks the fifth matchup of the season, with each team recording two wins thus far in the series.