WATCH COLONIAL CUP GAME 7 AT JAX PUB WATCH PARTY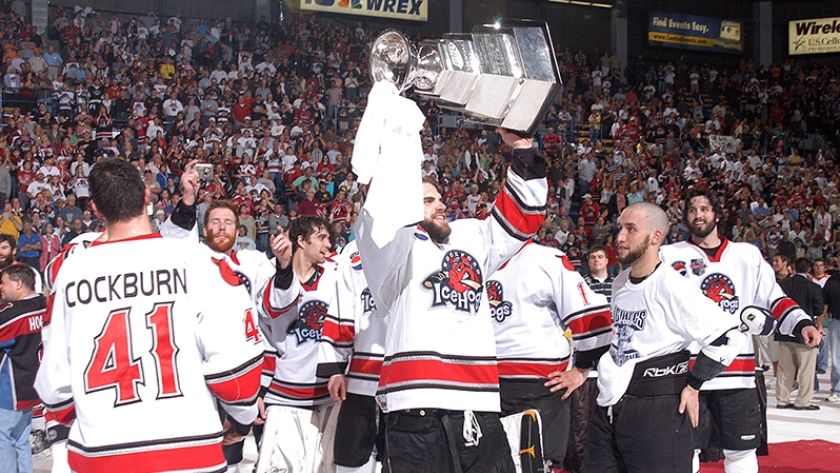 Rockford, Ill. – Celebrate the 10-year anniversary of the Rockford IceHogs's 2007 United Hockey League Colonial Cup Championship at Jax Pub (4160 N. Perryville Rd) this Wednesday, May 22. The classic contest will also be aired on WIFR's Justice Network on 23.3 at 7 p.m.
For a listing of Justice Network channels on cable and DISH in the Rockford area, click here.
The festivities at Jax kick off at 6:15 p.m. with a roundtable discussion featuring the broadcast team from the 2006-07 season, Mike Peck and Tim Matilla, and Public Address Announcer Chris Toltzman. Along with enjoying a recount of the team's memorable championship run, those in attendance can enter a free raffle to win special prizes, including a Mike Letizia Fat Wallet warm-up jersey, a Colonial Cup championship photo and posters from the team's UHL era.
Jax Pub will be offering Happy Hour specials on Wednesday that includes $2.50 and $3.50 drink specials from 5 – 7 p.m. Fans can also enjoy a signature Pork Tenderloin sandwich and a side for just $5 throughout the duration of the watch party.
Season Tickets for 2017-18 on Sale Now: Don't miss a moment of the action by reserving your seats for the IceHogs 19th season of professional hockey and 11th as the top AHL affiliate of the Chicago Blackhawks. Opening night is Oct. 14 and ticket packages begin as low as $105 for a seven-game mini pack. Please contact us at (815) 847-6399 or by visiting icehogs.com to claim your spots for this upcoming season.