TYLER MOTTE WRESTLED WITH DIFFICULT DECISION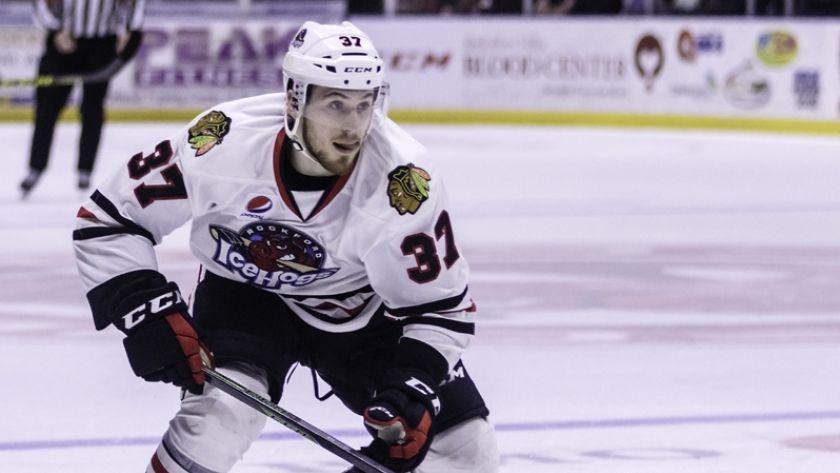 Rockford, Ill- Prospect Tyler Motte found himself in a precarious situation last April. For the average 21 year-old, their toughest decision is whether or not to sleep in during the morning. But Motte is no average 21 year-old and after a junior season where he was part of the top scoring line in college at Michigan, he had a decision to make. Go back to school or become a professional hockey player. Luckily for the IceHogs, he chose the latter.

The St. Clair, Michigan native had a stellar career at the University of Michigan where he saw his production steadily rise every year. During his freshman campaign, Motte registered nine goals and nine assists to rank second among Michigan freshmen. He topped those stats during his sophomore season where he scored the same amount of goals, nine, but saw his assists rise to a staggering 22 in 35 games.

The 21 year-old forward exploded during his third and final season at Michigan. Part of the top scoring line in the nation with Kyle Connor (2015 NHL Draft, 17th overall) and JT Compher (2013 NHL Draft, 35th overall), he completed the season with 32 goals and 24 assists in only 38 games, finishing fourth in the country with 56 points. The accolades piled up as he was named a top-10 finalist for the Hobey Baker Award, given to the top National Collegiate Athletic Association men's ice hockey player, and was named to the All-Big Ten First Team.

Motte came into his own this past season and accredited it to his experience and teammates at Michigan.

"The experience of going into my third year was crucial. You understand the system and you know how the game is played. I skated with some great skill guys on a great team with a great staff. It all came together for me during my third year," Motte stated.

This is where the decision making kicked in. Motte could go back to Michigan to finish his degree on a competitive team or start his professional career. He knew the opportunity for a job was within his grasp and ran with it.

"It was a tough decision to leave. I am not giving up the opportunity to finish my degree, but rather postponing it. The opportunity I saw within the organization for not only this year, but in the near future for a lot of young guys was huge during this process," Motte explained. "I think that was the most important thing going in, with what could happen in the next couple of years."

The Blackhawks saw the potential Motte possessed when they drafted him in the 2013 NHL Entry Draft (4th round, 121st overall). They rewarded his efforts when the 5'9" forward signed a three-year NHL entry level deal on April 6th, 2016. Shortly thereafter, Motte signed an ATO to play with Rockford near the tail end of the 2015-16 season.

Motte did not disappoint in his time with the IceHogs. Over the final five games of the regular season, the former Michigan star notched two goals and three assists. He had the game-winning goal against Iowa on April 14th and tallied two multi-point games in that span. The newly-acquired forward led the IceHogs in the playoffs with two goals, and was tied for the team lead with two points.

Motte learned from his first professional experience and had to adjust to the major difference between the college and professional game.

"I started my pro career on the road in Manitoba. I took a little road trip to Chicago and then a flight from there. A lot more travel day-in and day-out," Motte stated. "Just the lifestyle, a little more downtime away from the rink. You come in and get your work done early in the morning and you have the rest of the day to yourself."

There was a stark difference between the college life and the professional life. Motte no longer had a structured schedule where he would go to class and then go to practice. From the team to his personal life, he had to adjust.

"The dynamic of the team is a little different. All great guys with good camaraderie in the locker room. Everyone is a little bit different away from the rink. The age group is more spread out and there was a learning curve for me," Motte said.

Despite the new experiences, Motte went back to the basics in terms of his training for the upcoming season. He is looking forward to the start of the season and has had a hectic summer.

"I did not change the training too much. A little more chaos going on here, a couple of tournaments (IIHF, Team USA) and a longer season than I am used to. I stuck around Ann Arbor (University of Michigan) for the majority of the summer to work out with our strength and conditioning coach," Motte explained. "I'm looking to come down to Chicago in early August to work with the staff and become familiar with how they do things."

Motte enjoyed his time at the recently concluded Blackhawks 2016 Prospect Camp and saw it as another chance to learn and grow as a player. He was soaking up as much knowledge as he could from the other prospects.

"I try to come in and work hard. Everyone is here for a different reason and they all bring something different to the ice. I think my compete level has been high so far and I've been trying to learn from some of the guys who have had more pro experience," Motte said.

The Michigan standout is itching to get on the ice and gain his chance to compete. He expects a lot out of himself but he knows that the key to victory lies in hard work. As long as he puts in the time at the rink, success will be sure to follow.

"I want to come in and compete for a job out of training camp. My job is to come in the best shape physically and mentally and go compete for a spot," Motte stated. "All I can do is wait for an opportunity and do the most with it."