TOWEL GIVEAWAY, CLOTHING DRIVE SET FOR FRIDAY'S MATCHUP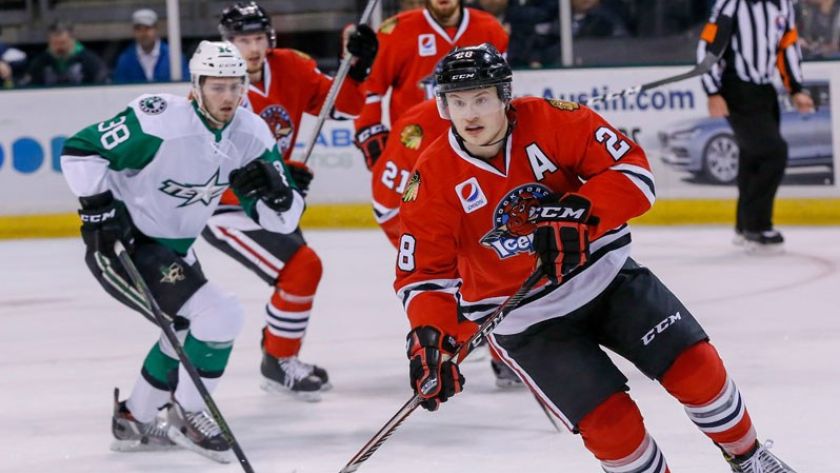 ROCKFORD, Ill. - The Rockford IceHogs host the Texas Stars for the fourth and final matchup of the 2016-17 season series.
Puck drop is 7 p.m. and fans can tune in to all the action on The Justice Network 23.3 or Dish Network Channel 252, beginning with IceHogs Warmup at 6:30 p.m. IceHogs fans can also listen to the game on AM 1330, WXRX.com or sportsfanradio1330.com, or watch live at AHLlive.com.
Tonight's slate of promotions features a free IceHogs beach towel for the first 1,500 fans in attendance, courtesy of Peak Fitness.
In addition, the Hogs are hosting a Goodwill Clothing Drive and each fan who makes a donation will receive two free upper endzone tickets to any October home game for the 2017-18 season.
While clothing donations are suggested, most donations of gently-used items will be accepted.
Items will then be donated to Goodwill following Friday's game.
Friday also features a Pre-Game Party in the Blue Flame Lounge with live music from "Recently Paroled," beginning at 5:15 p.m.
Matchup: The IceHogs enter tonight's contest having dropped 11 of their last 12 games since Feb. 25. However, the Hogs boast points in 12 of the last 15 games against the Texas Stars with an 11-3-0-1 record over that span.
The IceHogs are led on offense by forward Kyle Baun, who has posted a career-high 30 points on 13 goals and 17 assists this season. Baun has found the scoresheet in two of three games against Texas this season, combining for 1g-1a-2pts over those three appearances.
The Stars are currently ranked sixth in the Pacific Division with an overall record of 30-32-1-4. The team features a 50-point scorer in Travis Morin, who has collected 20 goals and 32 assists this season, as well as former IceHogs standout, Mark McNeill, who has combined for 8g-26a-34pts in 72 games between Texas and Rockford in 2016-17. McNeill spent each of the last six seasons with the IceHogs and currently ranks among the franchise's top 10 skaters in all-time points, goals, assists and games played.
Next Home Game: Saturday, April 1 vs. Grand Rapids, 7 p.m. The IceHogs have partnered with Special Olympics Illinois for the team's 18th Annual Jersey Auction game night, compliments of Insurance King. The 2017 theme features Hammy in motley, a court-jester theme associated with the spirit of April Fools' Day, fans can bid on the game-worn sweaters via live auction following Saturday's game.