Three Straight Goals Propel Moose Past IceHogs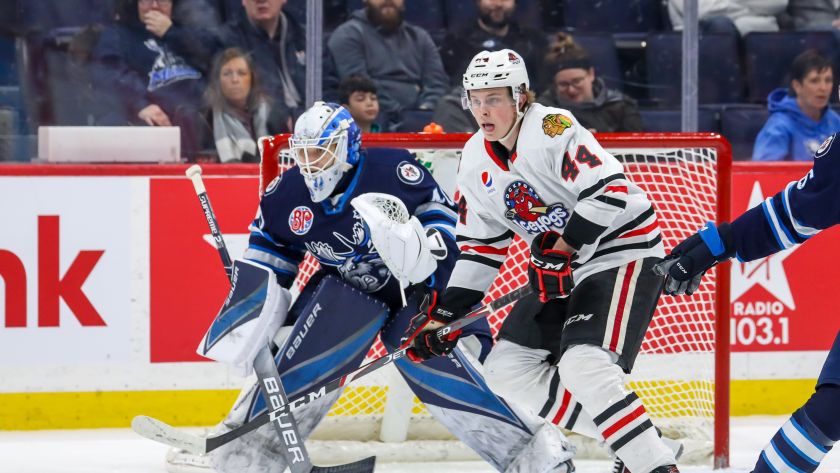 1st
2nd
3rd
Final

—
—
—

—
—
—

Tuesday, July 27
WINNIPEG, Man. – Tyler Sikura opened scoring and Philip Holm added a tally of his own, but the Manitoba Moose's three unanswered goals proved too much for the Rockford IceHogs to overcome as the Moose skated to a 3-2 victory at Bell MTS Place on Sunday afternoon.

The Hogs broke the scoreless tie on a power play midway through the opening period when Lucas Carlsson one-touched a pass to Sikura, who unleashed a slap shot that squeezed beneath a sliding Mikhail Berdin.
It appeared Rockford would take the lead into the first intermission, but with 1:07 left in the frame, Johnathan Kovacevic beat Collin Delia with a power-play goal of his own to even the game at one apiece.
The Moose picked up where they left off in the second period when Kristian Reichel and Michael Spacek each added goals in the first 10 minutes to give Manitoba a 3-1 advantage.
Rockford pulled within a goal 10:54 into the middle stanza when Nick Moutrey dished a pass to Alexandre Fortin, who stopped up inside the blue line and delivered a bullet to Holm. The defenseman walked down the left side of the zone and snuck a shot between the legs of Berdin to make it 3-2.
That would be the game's final goal, though, as Delia and Berdin stood tall in the third to finish with 21 and 30 saves on the afternoon, respectively.
---
GAME NOTES:

With Tyler Sikura's power-play marker, Rockford has now scored five power-play goals over its last six games and six power-play goals over the last eight contests.
Sunday's loss to Manitoba gives the IceHogs three straight losses for the first time since the opening three games of the season (Oct. 4-14)...Prior to the current skid, Rockford had gone 22 consecutive contests without suffering back-to-back losses and was 15-6-0-1 in the stretch.
Tyler Sikura and Philip Holm each snapped 13-game goal droughts with tallies on Sunday afternoon...Sikura netted his first goal since Nov. 24 at San Antonio while Holm buried his first since Nov. 15 at Grand Rapids.