The Calder Cup Playoffs Return to Rockford on #IceHogsRewind!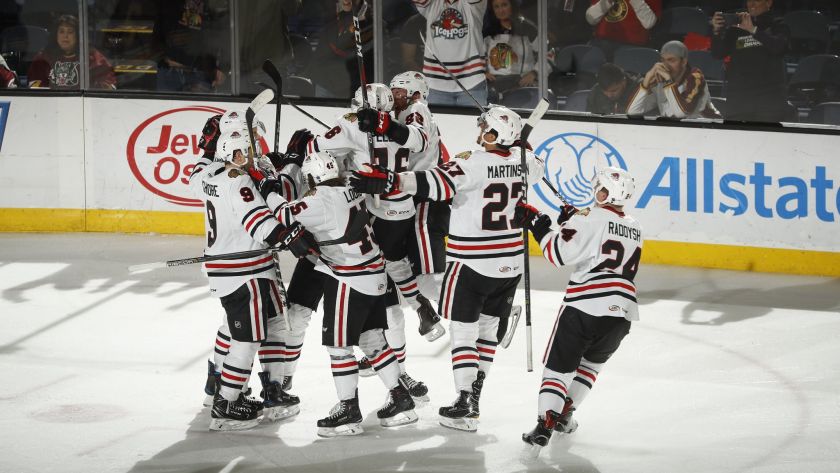 ROCKFORD, Ill. – The Rockford IceHogs, proud American Hockey League (AHL) affiliate of the Chicago Blackhawks, announced today they will re-broadcast every IceHogs playoff win from their incredible 2018 Calder Cup Playoff run to the Western Conference Finals including their 7-0 run to begin the postseason.
Game 1 of the Central Division Semifinals vs. Chicago will air Monday, April 13 at 7 p.m. on the IceHogs' Facebook and YouTube page.
Fans are encouraged to tune in and join the live Facebook and YouTube chat to share their passion for IceHogs hockey while we #StayHomeStayStrong while #AllInIllinois.
Upcoming #IceHogsRewind Broadcast Schedule:
Monday, April 13 at 7:00 p.m. - Game 1 – IceHogs at Chicago Wolves – Central Division Semifinals (2-1 win)
- Adam Clendening's second period goal holds as the game-winning marker as Hogs survive late Wolves push
Wednesday, April 15 at 7:00 p.m. - Game 2 – IceHogs vs. Chicago Wolves – Central Division Semifinals (5-2 win)
- A four-goal opening period energizes BMO Harris Bank Center and the IceHogs pull away in the final 40 minutes
Friday, April 17 at 7:00 p.m. - Game 3 – IceHogs at Chicago Wolves – Central Division Semifinals (4-3 win, 3OT)
- IceHogs sweep the best-of-five series with a triple overtime thriller
Saturday, April 18 at 6:00 p.m. - Game 1 – IceHogs at Manitoba Moose – Central Division Finals (4-2 win)
- Three-goal third period send IceHogs to series opening victory in Winnipeg
Monday, April 20 at 7:00 p.m. – Game 2 – IceHogs at Manitoba Moose – Central Division Finals (4-1 win)
- Rookie goalie Collin Delia makes 33 saves for a 2-0 series lead
Wednesday, April 22 at 7:00 p.m. – Game 3 – IceHogs vs. Manitoba Moose – Central Division Finals (4-1 win)
- Matthew Highmore grabs a goal and an assist to push the Moose to the edge
Saturday, April 25 at 6:00 p.m. – Game 4 – IceHogs vs. Manitoba Moose – Central Division Finals (6-3 win)
- IceHogs score five goals in the first two periods to push into the Western Conference Finals for the first time in team history
Monday, April 27 at 7:00 p.m. – Game 4 – IceHogs vs. Texas Stars – (3-2 Win, OT)
- Down 0-3 in the best-of-seven series, Victor Ejdsell becomes the OT hero once again to force Game 5
Wednesday, April 29 at 7:00 p.m. – Game 5 – IceHogs vs. Texas Stars – Western Conference Finals (3-1 win)
- Viktor Svedberg's two assists keep the IceHogs alive and force the series back to Texas
(All games, dates and times subject to change)