TERAVAINEN LEADS BLACKHAWKS' TOP 10 PROSPECTS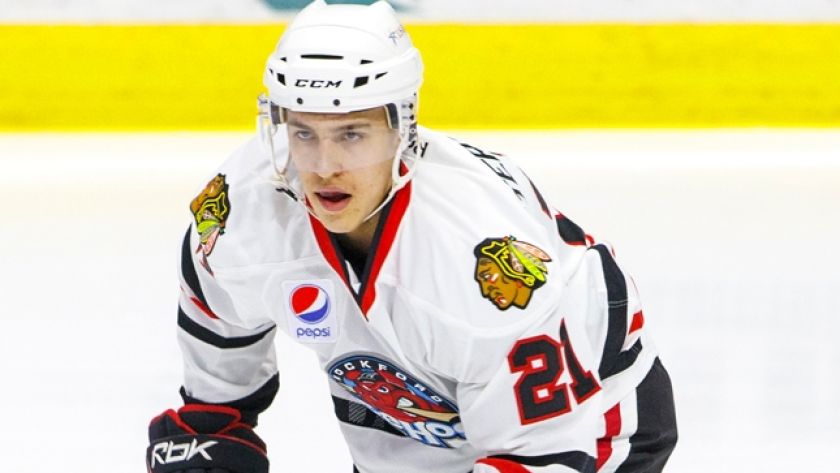 The Chicago Blackhawks have no doubt raised the bar on how to build an organization through the NHL Draft.

The Blackhawks won their second Stanley Cup in four seasons in June 2013 on the strength of 12 homegrown players in a star-studded lineup. The list included defensemen Duncan Keith (2002 draft pick), Brent Seabrook (2003) and Niklas Hjalmarsson (2005) in front of goalie Corey Crawford (2003). Forwards Dave Bolland (2004), Bryan Bickell (2004), Ben Smith (2008), Marcus Kruger (2009), Brandon Saad (2011) and Andrew Shaw (2011) followed the path highlighted by captain Jonathan Toews (2006) and fellow star Patrick Kane (2007) in the pipeline.

"Everyone's a young player at some point, and they go through their growing pains," Blackhawks general manager Stan Bowman told the Chicago Sun-Times. "It's a progression. It takes time. We're fortunate we don't have to rush guys into spots where they may not be prepared. But every year, we've seen one or two young guys come in."

Patience has always been the key for those making the decisions on when a blue-chip prospect is ready to make the jump. It certainly isn't an exact science, but production, confidence and swagger are all a part of the process. Chicago will enter training camp in September with a slew of young players exhibiting just that in an attempt to earn their spot on the big club.

"We target players in the draft that fit the criteria we're looking for," Blackhawks director of amateur scouting Mark Kelley told NHL.com. "In our meetings it's one voice, and whether it's coming from Stan or myself, it's the same message. The biggest key is we're very patient. They develop the way we want them to, but it allows them to develop at their own pace. Sometimes it's hard for the player to understand what their pace is, and I think that's where our development side comes in and really helps guide them along."

Here's a look at the Blackhawks' top 10 prospects, according to NHL.com:

The Chicago Blackhawks are hoping young center Teuvo Teravainen takes his talents to the NHL behind veteran Brad Richards this season.

1. Teuvo Teravainen, C
How acquired: 1st round (No. 18), 2012 draft
Last season: 49 GP, 9-35-44, Jokerit, Liiga; 5 GP, 2-0-2, Rockford, AHL; 3 GP, 0-0-0, Chicago, NHL

The addition of Brad Richards on July 1 was not only done to give the team a veteran presence at second-line center, but enable the exceptionally talented Teravainen (5-foot-11, 176 pounds) to ease into the lineup. Much of the hockey world got their first good look at the 19-year-old at the 2014 IIHF World Junior Championship when he scored twice and had 13 assists in seven games as captain to lead his native Finland to a gold medal. The organization will need to determine how much stronger Teravainen has gotten since last season and if he is indeed ready for a full 82-game regular season.

"What stood out about Teuvo at the World Juniors was his ability to make plays when they were needed," Kelley said. "Teuvo was a quiet leader. He took that team and willed them to where they got to, and another thing was his ability to handle the pressure. He has a comfort level with the puck."
Projected NHL arrival: 2014-15

2. Adam Clendening, D
How acquired: 2nd round (No. 36), 2011 draft
Last season: 74 GP, 12-47-59, Rockford, AHL
After spending two productive seasons at Boston University where he scored nine goals and 59 points in 77 games, Clendening (6-0, 194) has proven to be just as effective with the Rockford IceHogs of the American Hockey League. The offensive-minded defenseman with creative skills, who excels on the power play, has 21 goals and 105 points in 147 AHL games in two pro seasons. There's no doubt the 21-year-old native of Niagara Falls, N.Y., will challenge for a spot on the blue line during training camp in September.

"He's a right-shot, which is like signaling a left-hander out of the bullpen; they're hard to find," Kelley said. "His comfort level with the puck is special. He can quarterback a power play and make a breakout pass. We love those defensemen who can make those tape passes coming out of our zone, and Adam can do that."
Projected NHL arrival: 2014-15

3. Mark McNeill, RW
How acquired: 1st round (No. 18), 2011 draft
Last season: 76 GP, 18-19-37, Rockford, AHL
McNeill, 21, made a seamless transition from center to right wing in his first professional season with Rockford. He had a willingness to block shots and kill penalties and was committed to winning and becoming an all-around player. That type of attitude caught the eye of scouts and coaches. The team would like to see him use his 6-2, 218-pound frame more often by taking the puck harder to the net. He was among Rockford's top-six forwards last season and will likely play a similar role this season.

"I think over the course of last season, it really started to come together for him," Kelley said. "I think Mark has a good idea of what it will take for him to be a regular with the Blackhawks. We just need to see him assert that size and strength he has."
Projected NHL arrival: 2015-16

4. Stephen Johns, D
How acquired: 2nd round (No. 60), 2010 draft
Last season: 40 GP, 8-12-20, University of Notre Dame, H-EAST; 8 GP, 1-4-5, Rockford, AHL
Johns, 22, got a taste of the professional life after concluding his senior season for the Fighting Irish and is a solid prospect based on the fact he's 6-3, 215 pounds and might just be the most physical of any top defensive prospect in the organization. He had 15 goals, 57 points and 300 penalty minutes in 162 games with Notre Dame. He tightened up his game in 2013-14, becoming more of a leader and producing career highs in goals and points as an alternate captain.

"What stands out is his size, skating, character and compete," Kelley said. "It's not a surprise that he was a captain for Notre Dame. We were thrilled what he did when he got to Rockford, and I think he fits in as a right-hand shot. He'll be a good partner in our top four at some point."
Projected NHL arrival: 2015-16

5. Kevin Hayes, RW
How acquired: 1st round (No. 24), 2010 draft
Last season: 40 GP, 27-38-65, Boston College, H-EAST
Chicago has until Friday (Aug. 15) to sign Hayes, who was a finalist for the Hobey Baker Memorial Award as a senior last season as college hockey's MVP. The 22-year-old finished second in the country with 65 points and ranked fifth with 27 goals on a line with Calgary Flames prospects Bill Arnold and Johnny Gaudreau, who won the Hobey Baker. Hayes, who can play center or wing, has good size (6-3, 205) and enjoys a fast game. He had 44 goals, 132 points and a plus-37 rating in 142 games for the Eagles. If the Blackhawks don't sign Hayes or trade his rights, they will receive a compensatory second-round pick in the 2015 NHL Draft.

"He isn't signed, but our position on Kevin hasn't changed; we're very high on him," Kelley said. "We were high on him even after his injury as a junior [when he underwent season-ending quadriceps surgery]. We were patient with him, and he worked hard to come back and have a good senior season. Kevin fits with what we do."
Projected NHL arrival: 2015-16

6. Ryan Hartman, RW
How acquired: 1st round (No. 30), 2013 draft
Last season: 52 GP, 25-28-53, Plymouth, OHL; 9 GP, 3-4-7, Rockford, AHL
Hartman (5-11, 190) has been a workout fanatic this summer with the intent of getting bigger and stronger, and he'll have to be in order to crack a lineup that remains deep on the wings. What makes the 19-year-old an even more intriguing prospect is the fact he can play all three forward positions, although he played a lot at center with the Plymouth Whalers the past two seasons.
He's an aggressive player, capable of throwing huge body checks and defending teammates when necessary. He represented the United States at the World Junior Championship in 2013 (gold medal) and 2014 (fifth place).

"Ryan is right on track; he continues to work hard and you always notice him, whether it's on the score sheet or just in the tenacity with the way he plays," Kelley said. "He a character-type player, and he wears his heart on his sleeve."
Projected NHL arrival: 2016-17

7. Joakim Nordstrom, C
How acquired: 3rd round (No. 90), 2010 draft
Last season: 58 GP, 17-16-33, Rockford, AHL; 16 GP, 1-2-3, Chicago, NHL
Nordstrom (6-2, 192), who is scheduled to become a restricted free agent after the 2014-15 season, was a surprise addition to the Blackhawks lineup out of training camp last season and even played seven games in the Stanley Cup Playoffs. The coaching staff liked his defensive play; he was on the ice for 144 shots for and 142 against in 5-on-5 situations. The 22-year-old Swede also had a nine-game point streak for the IceHogs from Dec. 20 through Jan. 8, scoring four goals and 12 points over that span. He can play wing and center, and is an effective penalty killer.

"What he proved last year was that he's very close to becoming a regular in the lineup," Kelley said. "He plays hard, is enthusiastic and he has great speed. But he also has the intellect to complement that speed. Sometimes a player goes too fast and they can't coordinate the feet with the thinking, but Joakim combines the two very well and he's capable of fitting into many roles for our team."
Projected NHL arrival: 2014-15

8. Phillip Danault, C
How acquired: 1st round (No. 26), 2011 draft
Last season: 72 GP, 6-20-26, Rockford, AHL
Danault (6-0, 190) completed his first full season in Rockford and settled into a third-line, penalty-killing role. The coaches liked his attention to detail and reliability as a two-way center. He has a knack for playing any type of game, making him a versatile commodity within the lineup. The coaching staff would like to see the 21-year-old model his game after Blackhawks fourth-line center and trusted penalty-killer Marcus Kruger.

"Coaches gravitate to players like Phillip because he's smart, competes and does things to make teams win," Kelley said. "There's not a lot of flash, but an incredible amount of substance to his game. He can play third line and fourth line, but is skilled and smart enough that he can step up and play with skilled players as well."
Projected NHL arrival: 2016-17

9. Nick Schmaltz, C
How acquired: 1st round (No. 20), 2014 draft
Last season: 57 GP, 18-45-63, Green Bay/USNTDP, USHL
Schmaltz (6-0, 172) led the Gamblers of the United States Hockey League in points and assists and was tied for third in goals, including 11 power-play goals. Schmaltz, 18, will continue his career at the University of North Dakota, where he'll join brother Jordan Schmaltz (St. Louis Blues, 2012 draft, No. 25) in September. Nick Schmaltz had 37 goals and 119 points in 130 USHL games spanning three seasons. He won a silver medal with the United States at the 2013 Under-18 Ivan Hlinka Memorial Cup, scoring five goals and eight points in five games. He also led the U.S. to a gold medal at the 2013 World Junior A Challenge with a tournament-high 12 points (four goals) in four games and was named the World Junior A Challenge MVP.

"What stood out about Nick was his skill set, his quick hands and his ability to make passes and score," Kelley said. "We see him as a center even though I know he played some wing and might continue to do so at North Dakota. His skill set stood out at development camp. Playing for North Dakota will be great for Nick; it worked out pretty well for Jonathan Toews."
Projected NHL arrival: 2017-18

10. Klas Dahlbeck, D
How acquired: 3rd round (No. 79), 2011 draft
Last season: 75 GP, 10-25-35, Rockford, AHL
Dahlbeck (6-2, 194) has really impressed in his two seasons in the AHL and appears to have a bright future with the organization. He's currently the IceHogs' all-time leader in plus-minus with a plus-32 rating in 145 games. Kelley said the 23-year-old Swede is on the verge of challenging for an NHL roster spot out of training camp this season.

"We think he's capable of playing in [the NHL] now as a depth player," Kelley said. "He's reliable, efficient. He fits that mold of defensive-defenseman since he has that ability to shut down an opponent. At the same time, he's comfortable with the puck, makes good passes and gets up there to support."
Projected NHL arrival: 2015-16