SIX PLAYERS ASSIGNED TO ROCKFORD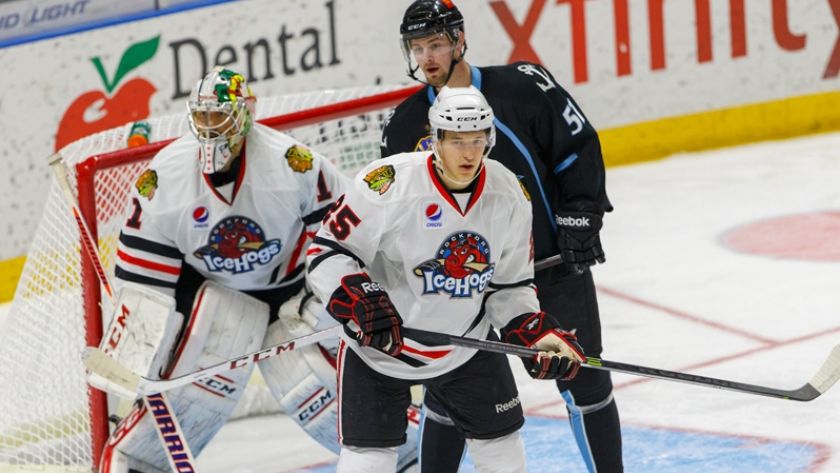 Rockford, Ill-The Chicago Blackhawks announced today they have assigned forwards Alex Broadhurst, Drew LeBlanc and Mark McNeill and defensemen Mathieu Brisebois, Dillon Fournier and Viktor Svedberg to the Rockford IceHogs of the American Hockey League.

Broadhurst, 21 is entering his second season after he appeared in 75 with the IceHogs and led all IceHogs rookies in scoring with 16g-29a-45 pts.

LeBlanc, 25 will be back in Rockford for his second season. The 6-foot center, along with McNeill, were the only two IceHogs to play in all 76 games last season. LeBlanc chipped in 22 points during his rookie season.

McNeill, the Blackhawks first round pick in the 2011 NHL Entry Draft, is entering his third season in Rockford. The Edmonton, Alberta native had 18g-19a-37pts last season.

Brisebois, 22 is entering his second season with the IceHogs. He was acquired from the Arizona Coyotes along with David Rundblad in exchange for a 2nd pick on 3/4/14. Brisebois, had seven points (2g-5a) in 13 games for Rockford.

Svedberg, 22 is back for his second season in Rockford. The 6-foot 9-inch defensemen scored a pair of goals last season with the IceHogs and tallied seven assist in 35 games.

The IceHogs training camp roster stands at nine forwards, 11 defensemen and two goaltenders.

Next Home Game: The IceHogs open the 2014-15 season on Saturday, Oct. 11 against the Milwaukee Admirals. The puck drops at 7 p.m., and the first 5,000 fans will receive an IceHogs calendar courtesy of Stateline Staffing Services. For tickets visit IceHogs.com or call (815) 968-5222.