SCHROEDER BEATS BUZZER AS ROCKFORD RALLIES TO IMPROBABLE COMEBACK VICTORY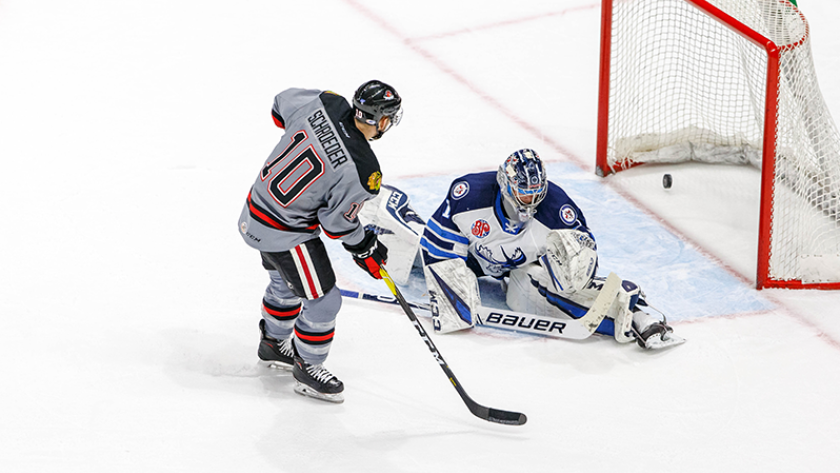 Rockford, Ill. - The Rockford IceHogs scored two goals in the final two minutes of regulation, including Jordan Schroeder's tying tally with three seconds remaining, en route to a 4-3 shootout victory over the Manitoba Moose Friday night at the BMO Harris Bank Center.
IceHogs goaltender Kevin Lankinen stymied both of Manitoba's attempts in the shootout, while Lucas Carlsson and Schroeder converted for the IceHogs. Rockford was 1-for-13 in shootout attempts this season before cashing in on both tries tonight.
With the IceHogs trailing 3-1 in the waning minutes of the third period, Dylan Sikura gave Rockford life when he potted his team-leading 12th goal of the season. The rookie forward fired a slapshot from just inside the blue line past the blocker side of Manitoba goaltender Eric Comrie.
Schroeder fired home the tying goal on a last-ditch play out of a timeout with less than 10 seconds to go in the third. Luke Johnson got the puck to Lucas Carlsson off the faceoff, then Carlsson fed it across to Schroeder for the one-timer.
Manitoba built its 3-1 lead thanks to goals from Marko Dano, Sami Niku and Michael Spacek, while Luke Johnson netted the IceHogs' lone goal in the game's first 58 minutes.
Lankinen finished with 25 saves on 28 shots, including 3 stops in overtime, and earned the first shootout victory of his AHL career.
Next home game: Sat. Jan. 26, 6 p.m. vs. Iowa Wild
The IceHogs host the Iowa Wild for Autism Awareness Night at the BMO Harris Bank Center. The IceHogs will be donning limited-edition jerseys and holding a 'Mystery Pucks' sale to benefit the Autism Program of Easterseals.