ROCKFORD SECURES 5-2 WIN AGAINST CLEVELAND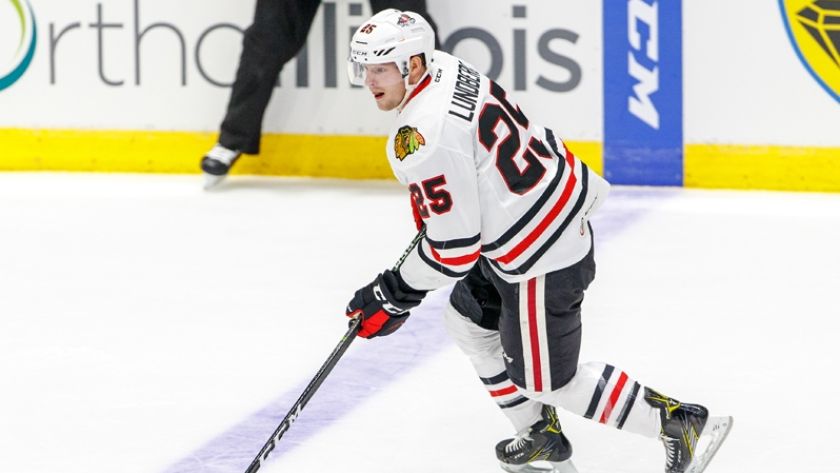 Rockford, Ill. – The Rockford IceHogs utilized three early goals to propel themselves past reigning Calder Cup Champions, the Cleveland Monsters, 5-2 Sunday evening for their third victory in three days.

A pair of first period tallies by Kyle Baun and Martin Lundberg set the stage for Rockford to build an early lead that they did not relinquish.

Baun capitalized on Aaron Palushaj's tripping penalty for his first goal of the season at 9:00 in the first. Ville Pokka snapped a pass to Viktor Svedberg, who sent a powerful blast to the front of the cage. The shot ricocheted of Baun's shin guard to give the IceHogs the early lead.
Lundberg found the back of the net with a pass from Baun and Carl Dahlstrom to grow the Rockford lead to 2-0 with less than a minute left to play in the first. After the IceHogs had applied consistent pressure in the attacking end, Lundberg found himself open in the slot and wristed a shot into the top corner of the cage.

Abbott increased the Rockford lead to 3-0 in the first five minutes of the second period. He skated towards the left circle and took a pass from Luke Johnson before wristing a shot past Thiessen's glove side on the power play at 4:03. Tanner Kero notched his 50th career professional point with an assist on Abbott's goal.

Monster's forward Aaron Palushaj finally got past Mac Carruth and found the back of the net to get the Monsters on the board with 2:23 left in the middle frame when he deflected a shot from Dean Kukan. Soon after, with 47 seconds left in the second, Daniel Zaar scored for Cleveland to close out the second frame and narrow the score to 3-2.

The IceHogs took back control in the third with a redirected slap shot. Defenseman Erik Gustafsson lined up on the right point before sending a blast on net. Mashinter was there for the screen and tipped the puck past Thiessen for his first goal of the season and a Rockford 4-2 lead.

Carl Dahlstrom added an empty net goal with 30 seconds remaining to seal the contest. Cleveland pulled Thiessen for an extra attacker with just under three minutes left in the game before Dahlstrom corralled the puck in his own zone and sent a long shot into the empty net for a 5-2 Rockford victory.

Next Home Game: Friday, Oct. 28 vs. Chicago at 7 p.m. The IceHogs take on Illinois Lottery Cup rival the Chicago Wolves for the first time of the 2016-17 season. Donald Trump and Hillary Clinton bobble heads will be given away to the first 2,500 fans courtesy of Dental Dimensions.