ROCKFORD KEEPS PACE IN COMPETITIVE MIDWEST DIVISION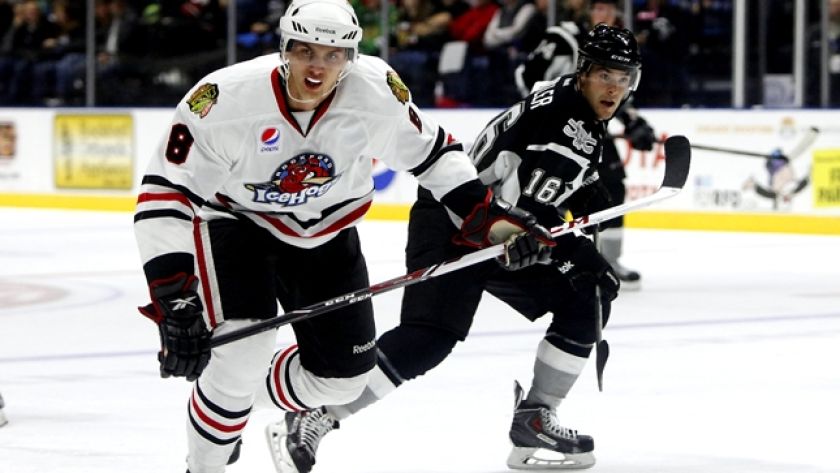 Hogs end week tied for second in Midwest Division with Milwaukee and Chicago

Week 7 Results
Friday, Nov. 15: Rockford 3 at Grand Rapids 5
Saturday, Nov. 16: San Antonio 2 vs. Rockford 4

Week 8 Schedule
Wednesday, Nov. 20 vs. Abbotsford, 7:00 p.m.
Saturday, Nov. 23 at Charlotte, 6:00 p.m.
Sunday, Nov. 24 at Charlotte, 12:30 p.m.

Week 7 Recap:
Van Andel Arena was the site of the Rockford IceHogs first game in Week 7 as the Hogs took on the Midwest Division leading Grand Rapids Griffins on Friday. After giving up an early goal, the IceHogs kept it close going into the third period down 2-1. The Griffins scored the first two goals of a five goal third period though and held on for a 5-3 victory. Rockford returned home to the BMO Harris Bank Center on Saturday night to take on the San Antonio Rampage. Rockford netted two third period goals and kept the Rampage off the scoresheet in the final frame to end the game at 4-2.

Bacon Bits:
-Defenseman Bobby Shea recorded his first career multi-point game on Saturday, assisting on two of Rockford's goals
-Winger Terry Broadhurst scored his first career short-handed goal on Saturday and Rockford's first shortie in 2013-14
-Forward Jeremy Morin found the score sheet in both games in Week 7 for Rockford after getting loaned back to Rockford from Chicago, tallying 2g-1a
-Morin now shows 6g-5a-11pts in 10 games with Rockford
-Defenseman Klas Dahlbeck notched his career best fifth goal on Saturday and added an assist to give him career highs in both assists (6) and points (11) through just 18 games
-After bagging just one goal in Rockford's first 10 games, winger Brad Winchester has four tallies over the Hogs last eight outings
-Winchester scored the game-winning goal on Saturday against San Antonio and now is tied with Terry Broadhurst for the team lead with two game winners
-Both Alex Broadhurst and Antti Raanta earned recalls to Chicago in Week 7, and the IceHogs now have had six players recalled to the NHL this season, not counting Joakim Nordstrom who began the campaign with the Blackhawks
-After Saturday's game against San Antonio, Rockford has completed their head-to-head series against both San Antonio and Texas
-Forward Jimmy Hayes along with defenseman Dylan Olsen were traded to the Florida Panthers on Thursday
-Hayes finished his IceHogs tenure with 120 games played and 36g-40a-76pts spanning parts of four seasons
-Olsen also spent parts of four seasons in Rockford and totaled 152 games and 6g-24a-30pts
-His 152 games are fourth most among IceHogs d-men during the AHL era

Hot Hog: Week 7
Jeremy Morin Left Wing
On the heels of a two-week stint with Chicago Blackhawks, winger Jeremy Morin returned to Rockford and notched three points in Week 7. On Friday in Grand Rapids, Morin notched a goal and an assist in Rockford's 5-3 loss to the Griffins. Then on Saturday, Morin potted his sixth tally of the season, tying him for the team lead, in Rockford's 4-2 win over San Antonio. The winger also finished the week with a plus/minus rating of +2.

Upcoming Games:
Wednesday, Nov. 20 vs. Abbotsford: Game time is 7 p.m. Rockford hosts the Abbotsford Heat for the first time in the 2013-14 season. The game will be a WXRX Dollar Days game. Fans can purchase hot dogs, soda, beer and companion tickets for $1.

Saturday, Nov. 23 at Charlotte: Puck drop is set for 6 p.m. The IceHogs head to Charlotte to take on the Checkers for the third time this season and the first time away from the BMO.

Sunday, Nov. 24 at Charlotte: The matinee game starts 12:30 p.m. Rockford faces off against the Checkers for the back end of a two-game set at Charlotte.

The IceHogs Broadcasting Network:
Catch every IceHogs game, home and road, in 2013-14 on WIFR's 23.2, "Antenna TV." The games can also be viewed on Comcast Cable Channel 436 or Mediacom 101 in the Rockford market and online through AHLlive.com. Fans can listen to the action for free on AHLlive.com. For a complete listing of TV stations carrying IceHogs games, visit IceHogs.com. Every broadcast will start with the IceHogs Warmup 30 minutes prior to puck drop.

Tickets On Sale for 2013-2014!
IceHogs individual game tickets are now on sale! Call (815) 968-5222 to reserve your seats for any IceHogs regular season game during the 2013-14 season. Tickets can also be purchased online at IceHogs.com, in person at the BMO Harris Bank Center Box Office in downtown Rockford, or any Ticketmaster outlet, including Wal-Mart. Tickets start at just $8.

Illinois Lottery Cup Series Standings
Teams Record Points
Rockford 1-0-0-0 2
Chicago 0-1-0-0 0

Upcoming Illinois Lottery Cup Games:
Nov. 29: Rockford at Chicago, 7:30 p.m.
Nov. 30: Chicago at Rockford, 7:00 p.m.
Jan. 18: Rockford at Chicago, 7:00 p.m.
Feb. 14: Chicago at Rockford, 7:00 p.m.