ROCKFORD ANNOUNCES 2017-18 TEAM AWARDS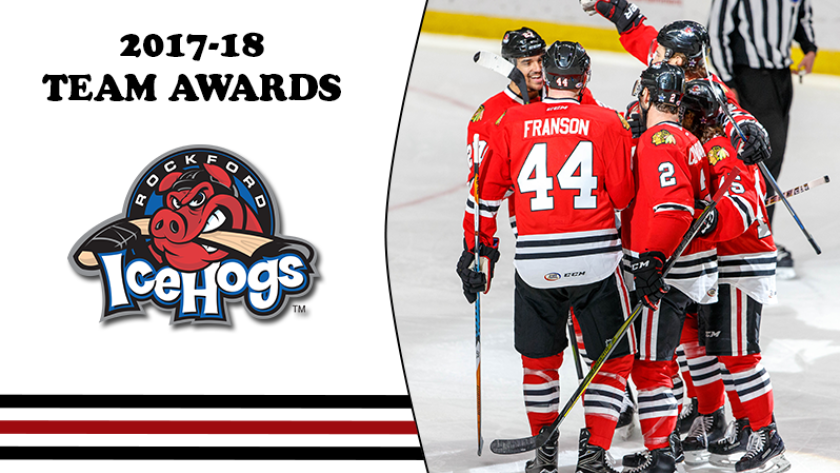 ROCKFORD, Ill. – The American Hockey League's Rockford IceHogs today announced the recipients of their annual Team Awards for the 2017-18 season.
This year's recognitions include Tyler Sikura – Most Valuable Player; Matthew Highmore – Rookie of the Year; Cody Franson – Defenseman of the Year; William Pelletier – Unsung Hero; Andreas Martinsen – Heavy Hitter Award; Collin Delia – Most Improved Player, and Man of the Year.
The awards were presented by Chicago Blackhawks Senior Director of Minor League Affiliations, Mark Bernard, along with several season ticket holders in a special pregame ceremony during Rockford's regular season home finale on Friday against the Chicago Wolves.
Sikura enjoyed a breakout year during his first full season at the AHL level, logging 38 points with 22 goals, 16 assists and a +23 plus/minus rating in 72 games. The forward ranks first on the team in plus/minus, second in goals, third in points and is one of only two IceHogs skaters to appear in 72 games thus far this season. Sikura has skated to an even-or-better rating in 58 games on the year and enters Friday with the top plus/minus rating of all AHL rookie forwards. The Aurora, Ontario native also tied a franchise record this season with goals in five straight games from Jan. 6-13.
Highmore earned his accolade as the IceHogs' top rookie after setting Rockford's AHL record for goals by a rookie skater this season. The 22 year old netted his 21st goal of 2017-18 on Feb. 24 to become the IceHogs' first rookie with more than 20 goals in a season during the team's AHL affiliation. Highmore then earned a promotion to the Chicago Blackhawks two days later, made his NHL debut on March 1 at San Jose and scored his first NHL goal on March 10 at Boston. Overall, the Halifax, Novia Scotia native currently shares the IceHogs team lead with 42 points (23g, 19a) and ranks fourth among AHL rookies in goals.
Franson, awarded for his standout efforts on the blue line, has helped lead the IceHogs to a 21-11-3-2 record since making his team debut on Jan. 10. The defenseman ranks third on the team in scoring in that time with 25 points (8g, 17a) in 36 games, and has served as key player on the IceHogs' special teams unit with 14 power-play points. Despite joining the team in January, Franson ranks second among all Hogs skaters with nine power-play assists and third with five power-play goals. The Sicamous, British Columbia native has also fired 89 shots on goal this year and netted a shootout goal in Rockford's 3-2 win at Texas on April 6.
Pelletier garnered recognition as this season's Unsung Hero with consistent play throughout the campaign that produced double-digit goals, assists and plus/minus rating for the IceHogs. In his first full season in the AHL, the former Division III standout logged 28 points with 13 goals, 15 assists and a +12 rating in 68 contests. Pelletier also tied for the team lead with three game-winning goals this year, and finished second behind only team MVP Sikura with two shorthanded tallies. The native of St. Jean Chrysostome, Quebec City enters Friday's game having skated in all but six of Rockford's 74 contests in 2017-18.
Martinsen was named the IceHogs' Heavy Hitter after ranking first among team forwards (who appeared in at least 50 games) in penalty minutes per game and third among all Rockford forwards with 54 total PIMs. The 6-3, 229-lbs forward recorded PIMs in four straight games from Dec. 12-22 and was whistled for a season-high eight minutes on Dec. 29 vs. Iowa. The Baerum, Norway native was recalled by Chicago on March 20 and led the Blackhawks with 3.9 hits per game in his nine NHL appearances this season.
First-year pro, Delia, played at each of the three levels of Chicago's system en route to his award as the Most Improved Player of 2017-18. The goaltender began the campaign with just one win in 10 ECHL games with the Indy Fuel before spending the majority of the remainder of the season with the IceHogs. After winning just one of his first five AHL appearances, Delia went 16-2-4 over his next 22 AHL games with Rockford, including entering Friday with an unbeaten streak of 12 consecutive outings. The Rancho Cucamonga, California native was recalled by the Blackhawks on March 28 and earned his first NHL win with 25 saves in his debut with Chicago on March 29 vs. Winnipeg.
Delia was also named the recipient of the IceHogs' Man of the Year award after graciously donating his time to the Rockford community throughout the 2017-18 campaign. Beginning with appearing at a season ticket holder event on his first night in town, Delia constantly sought out opportunities to make a positive impact on fans of the IceHogs. His community initiatives included leading the Teddy Bear Toss delivery to local hospitals, spearheading the Hogs' Anti-Bullying program and volunteering numerous times to visit with and assist children with special needs.
Next Home Game: TBA
The IceHogs will announce the schedule for the 2018 Calder Cup playoffs once opponents and seeding are finalized. For playoff information and tickets, call the IceHogs front office at (815) 986-6465.