Quenneville Strikes Twice as Hogs Sweep Season Series Against Marlies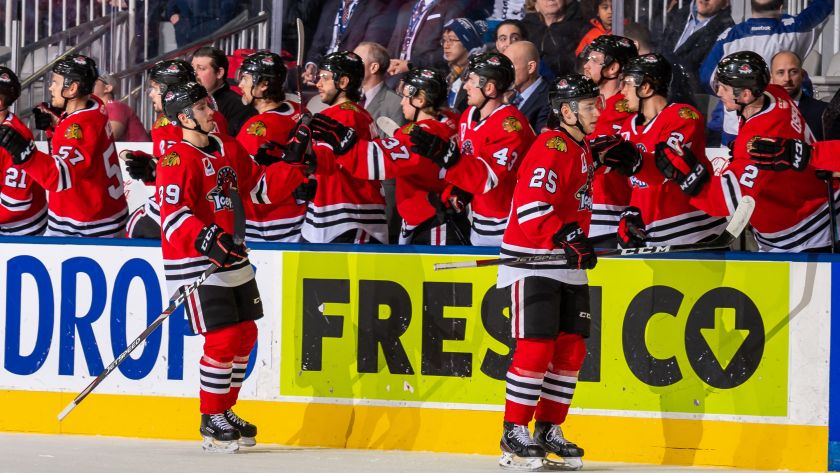 1st
2nd
3rd
Final

—
—
—

—
—
—

Tuesday, July 27
TORONTO, Ont. – John Quenneville scored two goals and an assist and Philipp Kurashev added a goal and two assists to help the Rockford IceHogs skate away with a 4-2 victory against the Toronto Marlies at Coca-Cola Coliseum on Sunday afternoon.
Quenneville opened scoring 5:41 into the initial frame when Kurashev stopped up inside the Toronto blue line and laid the puck out for Philip Holm, who in one motion received the pass and spun to his backhand to deliver a dart for Quenneville to one-time past Marlies netminder Kasimir Kaskisuo.
The home squad evened things up nine minutes later when Rich Clune pounced on a loose puck in front of the IceHogs cage. However, Kurashev sprung free on a breakaway during his next shift and buried a backhander to restore Rockford's advantage before the first intermission.
Just 1:18 into the second period, though, Adam Brooks broke away in the slot and beat Hogs goaltender, Kevin Lankinen, to tie the game at two apiece.
Rockford took the lead back six minutes later when Anton Wedin fed a cross-seam pass to Quenneville on the power play, who caught the puck in the right circle, took a step forward and sent a wrister past Kaskisuo for his second goal of the game.
The score remained the same until late in the third period when Quenneville had a shot at the hat trick but opted to pass to Nick Moutrey, who tucked home the empty-net goal to make it 4-2 and secure the IceHogs' season sweep of the Marlies.
---
GAME NOTES
With Sunday's victory over the Marlies, the IceHogs are now 8-1-0-1 when leading after two periods.
The IceHogs are perfect on the penalty kill over the last five games and enter Tuesday having killed 18 straight power plays over that span.
John Quenneville notched his second two-goal game of the season on Sunday...his three points on the evening give him four points in the last two games and eight points in his last 11.