PROSPECT CAMP PROFILE: DANIEL CIAMPINI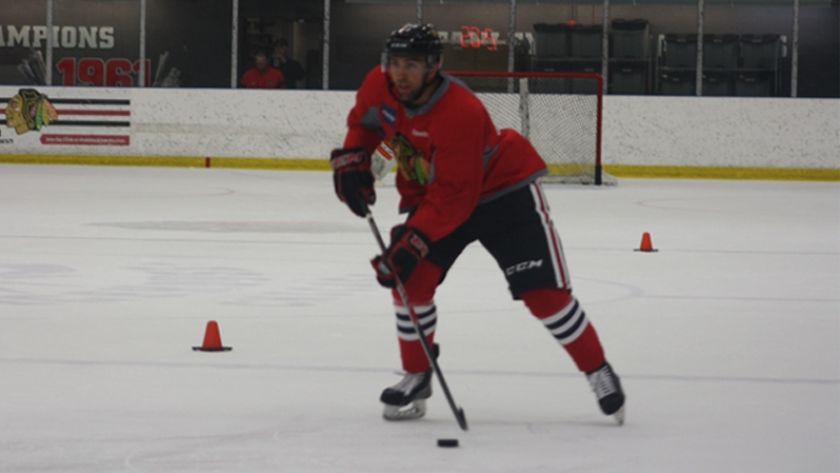 With the offseason quickly coming to an end, the Chicago Blackhawks held their annual Prospect Camp at Johnny's IceHouse from July 12- 17 in preparation for the 2015-16 season. IceHogs forward Daniel Ciampini took the time to talk with IceHogs.com.

The 2015-16 season will be the first for Ciampini with the IceHogs, who was signed to a one-year American Hockey League contract by Rockford following a four-year college career with Union College of the Eastern College Athletic Conference and a 15-game stint with the Worcester Sharks (AHL) in 2014-15.
Connor Rylatt (IceHogs.com): How would you express the feeling of winning the National Championship your junior season?

Daniel Ciampini: It was truly special. I still get asked about it. We all put in the hard work, and it came together at the end of the season. We faced a lot of adversity that season, and things kind of came in waves, but ultimately everyone came together and it became something special.

CR: How would you assess your first season in the AHL transitioning from college hockey at Union College?

DC: I got the chance to get accustomed to the speed of the game and it's definitely a little faster, guys are bigger and stronger. Our Coach Rick Bennett [at Union College] did a good job of preparing us to play pro and looking at all of the guys that have moved on from the program and have gone on to play pro it's a testament to the coaching staff and preparing us for what's next after college.

CR: In the offseason, is there anything specific that you have done to prepare for your first full pro season?

DC: Not really, I try to do the same thing I have done every offseason, trying to be more explosive and work on my foot speed to become a more powerful skater and get stronger as you get to the next level. Guys are bigger at the next level so you got to prepare for that. I try not to work on anything to drastic, but there are obviously things I do want to work on and things that I need to improve on to be successful at the next level.

CR: With the Blackhawks coming off of a Stanley Cup championship, what are your feelings of getting the chance to develop in a system that has a reputation for turning out NHL talent?

DC: It's great. Just getting the chance to come out in the development camp is a great opportunity. I'm a little older, but I'm still happy to come [to Blackhawks Prospect Camp] and to be taught by some of the best coaches in the league. I'm just here to learn and be a sponge and continue to grow as a player. It's not just learning from the coaching staff, but also the guys that I'm skating with in my group and it's good to be able to pick their brains about different things that they do. It's a learning experience and I'm glad I got the opportunity to come and learn here.

CR: At Union College, you initiated a program with a local hospital which allowed young patients and their families the chance to attend Union contests, how did you get something like that started?

DC: It was something that I wanted to do to give back to the community after we won [the National Championship in 2014]. There was so much outpour of encouragement throughout my four years in college, fans supported us and it was something that I thought would be great to give back for all of their support.

I hooked up with Albany Med knowing I wanted to do something with them and help the kids that were not able to get out of the hospital very often and give them an opportunity to come watch a game. They got to come into the locker room, meet the guys, and watch a game at Union, it was a very rewarding experience. We are very blessed and privileged to do what we do as hockey players day in and day out, and this was an opportunity to thank them for always supporting us.

CR: Did you participate in any other community related events during your time at Union College?

DC: I did an equipment drive in Toronto, my hometown, where we raised around 2,000 pounds of equipment and also raised money for underprivileged children that couldn't afford the equipment to play hockey.

Also back in school, my freshman and sophomore years, there were the two hurricanes that hit in the northeast and I was a part of helping to clean up some of the homes of the people affected by the disasters.

CR: What was it like to be nominated for the Hobey Baker Award?

DC: It's very humbling and I'm honored to have even had my name in the conversation. [The Hobey Baker Award] is such a prestigious award, and people around North America know about it, so it's something that's pretty exciting. To be recognized amongst the top players by others around the league, it's pretty special.