POINT STREAKS ABOUND AS HOGS DOWN RIVAL WOLVES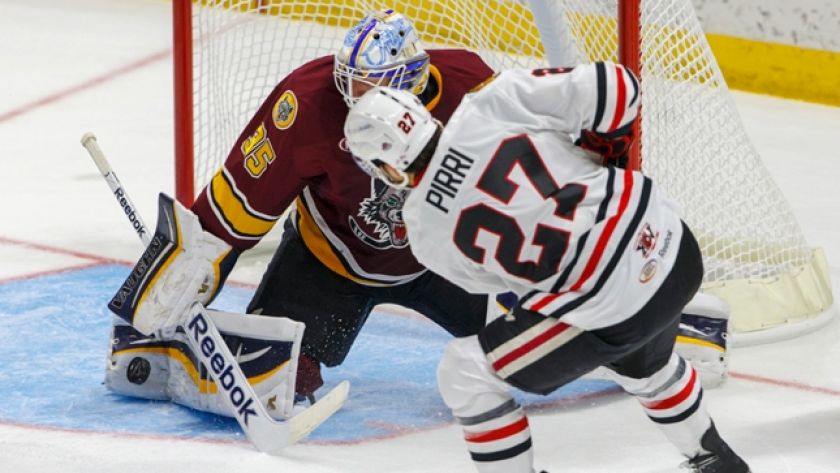 Rockford extends point streak to eight games with victory over Chicago
Rockford, Ill. – With two teams riding season-high point streaks, one came to an end while one was extended tonight as the Rockford IceHogs took down the Chicago Wolves 2-1 in front of a packed BMO Harris Bank Center. The Wolves streak of eight straight games with a point was halted while the IceHogs own streak was increased to eight (7-0-0-1) in this Illinois Lottery Cup clash.
It took just over 33 minutes, but the IceHogs notched the game's first goal with 6:04 left in the second period. Jeremy Morin and Brandon Pirri extended their individual point streaks, eight and five games respectively, on the play as Morin got the puck and skated to the left side of the net where he found Pirri across the goal-crease. The centerman tucked the puck past Jake Allen for the 1-0 marker.
Just 1:32 later, Rockford netted the second goal of the game to set the score at 2-0. Working on a power play, Pirri found Pierre-Marc Bouchard across the zone as Bouchard skated toward Allen and fired a shot at the netminder. Garret Ross cleaned up the trash in front of Allen on the rebound and slid the puck into the back of the net with 4:32 left in the sandwich frame.
The Wolves had to wait until the third period before they got on the board with a goal at 7:06 of the final frame to pull within one. Left wing, Chris Porter was parked in front of the net and took a pass from Mark Mancari that Porter was able to slip past Jason LaBarbera for his seventh goal on the year.
LaBarbera earned the win tonight for his ninth victory of the season by making 21 saves, tying him with Kent Simpson for the team lead. Allen, despite making 30 saves and having several key stops was given the loss.
The two rivals are now tied in the Illinois Lottery Cup standings with eight points apiece.
Next Game: Saturday, Feb. 22 vs. Milwaukee Admirals: Game time will be 7 p.m. as the IceHogs take on another Midwest Division rival in the Admirals. The first 1,500 fans to the BMO will receive an IceHogs 15th Anniversary t-shirt courtesy of Toyota.