OUR TOWN OUR TEAM BOBBLEHEAD SERIES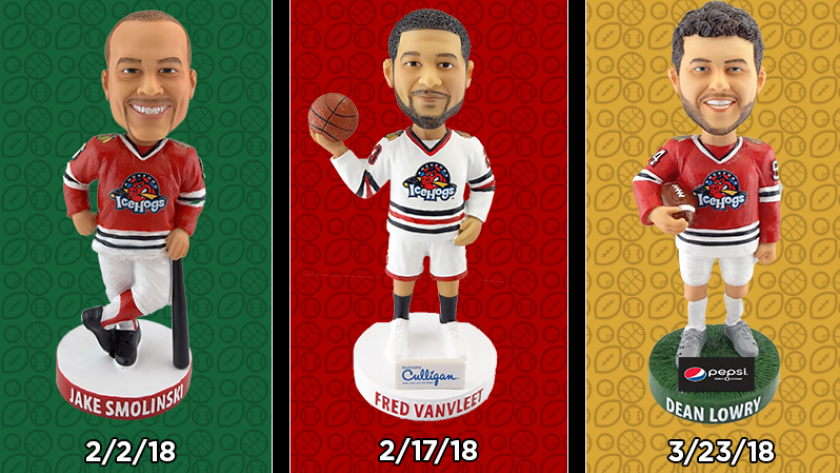 ROCKFORD, Ill. – The Rockford IceHogs, as part of their "Our Town Our Team" marketing campaign, are releasing a series of special-edition bobbleheads to honor three local stars who have reached the Major-League level in Major League Baseball, the National Basketball Association and the
National Football League.
The Our Town Our Team bobblehead giveaways will feature current Oakland Athletics outfielder, Jake Smolinski (Feb. 2), Toronto Raptors guard, Fred VanVleet (Feb. 17, presented by Rock Valley Culligan) and Green Bay Packers defensive end, Dean Lowry (March 23, presented by Pepsi Zero Sugar). The first 2,500 fans to each respective IceHogs home game will receive a free limited-edition bobblehead.
Ticket packages which include a ticket to each game and guarantee each fan receives one of each bobblehead will be available on a limited basis beginning at just $57. To purchase the ticket package, call (815) 986-6465.
Smolinski, 28, was a two-sport standout in baseball and football at Boylan Central Catholic High School and became the highest drafted player in
Northern Illinois Conference (NIC-10)
history when he was selected by the Washington Nationals in the second round (70th overall) of the 2007 MLB Draft. The former star infielder and pitcher transitioned to a corner outfield role upon being drafted, and after seven seasons at the Minor-League level, became the first position player from Rockford to play in the Major Leagues in 72 years with his MLB debut for the Texas Rangers on July 7, 2014. Smolinski has combined to hit .243 with 16 home runs and 65 RBIs in 215 career MLB games between the Rangers (2014-15) and Athletics (2015-17).
VanVleet, 23, led Rockford Auburn to a 32-3 record during his senior season and the school's first state-tournament appearance since 1975. VanVleet then accepted an offer to play for Wichita State University where he became a three-time Missouri Valley Conference all-league first-team selection, two-time MVC Larry Bird Trophy Player of the Year and an AP All-America honorable mention, while leading the Shockers to four consecutive NCAA Tournament appearances from 2012-16. Despite going undrafted after his senior season, VanVleet signed a multi-year contract with the Raptors on July 18, 2016. The Rockford native made his NBA debut on Nov. 9, 2016 against the Oklahoma City Thunder and has combined for 234 points, 97 assists, 77 rebounds and 34 steals in 58 career NBA games with Toronto from 2016-18.
Lowry, 23, helped lead Boylan to two undefeated seasons and a pair of state championships in 2010 and 2011 during his prep career in Rockford. He concluded his senior year with honors as both an all-conference and IHCA All-State selection in 7A, and was named the NIC-10 defensive MVP. Lowry then played four years at Northwestern University from 2012-15, prior to being selected by the Packers in the fourth round (137th overall) of the 2016 NFL Draft. The Rockford native has recorded 29 tackles with four sacks in 29 NFL games over the last two seasons, and scored his first NFL touchdown last Sunday (Dec. 3) on a 62-yard fumble recovery against the Tampa Bay Buccaneers.
The Our Town Our Team bobblehead series will be given away to the first 2,500 fans to each of the respective three IceHogs home games. Smolinski will be available on Friday, Feb. 2 (7 p.m. vs. Manitoba), VanVleet on Saturday, Feb. 17 (6 p.m. vs. Cleveland, presented by Rock Valley Culligan) and Lowry on Friday, March 23 (7 p.m. vs. Milwaukee, presented by Pepsi Zero Sugar).
Next Home Game: The Rockford IceHogs return to the BMO Harris Bank Center to take on the reigning Calder Cup champion Grand Rapids Griffins on Saturday, Dec. 9. Puck drop is 6 p.m. and the Hogs will be hosting their annual Girl Scout Night during the contest. Rockford has won each of the first three games in the season series with Grand Rapids, including a pair of shootout victories.