Nilsson's Overtime Marker Helps Hogs Rob Rampage of Extra Point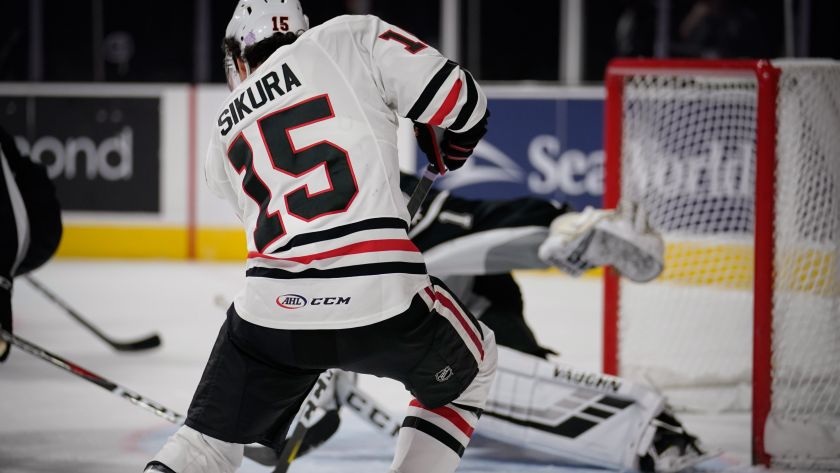 1st
2nd
3rd
Final

—
—
—

—
—
—

Thursday, May 19
SAN ANTONIO, TX. – Dylan Sikura scored with 2.4 seconds remaining in regulation to force overtime and Jacob Nilsson netted the game winner in the extra frame to push the Rockford IceHogs past the San Antonio Rampage by a final of 3-2 on Sunday afternoon at AT&T Center.
With the end of regulation looming and the IceHogs trailing 2-1, Philip Holm blasted a slap shot from the left point that Rampage goaltender, Adam Wilcox, kicked away into the slot. Matthew Highmore then smacked the loose puck across the ice to a wide open Sikura, who slid the puck beneath a sprawling Wilcox to even the score and send the game to a fourth period.
Merely 16 seconds into overtime, Adam Boqvist hit Nilsson in stride. Nilsson then knifed through a pair of defenders and shelfed a backhander on a breakaway to give the IceHogs the 3-2 victory. With the win, Rockford has now picked up points in eight of its last 10 games.
San Antonio's Ryan Olsen and Derrick Pouliot each beat IceHogs netminder, Matt Tomkins, in the first stanza to give San Antonio a 2-0 lead. However, Tomkins shut the door after that, making several key saves that included a lunging glove grab when the Rampage entered the zone on a shorthanded two-on-one opportunity.
Tyler Sikura buried his team-leading eighth marker of the season 10:00 into the third period on a setup from Boqvist to cut the lead in half and spark Rockford's comeback.
Tomkins finished the evening with 21 stops on 23 shots in the victory while Wilcox ended with 22 saves on 25 attempts.