McLaughlin Nets First AHL Tally in Loss to Wild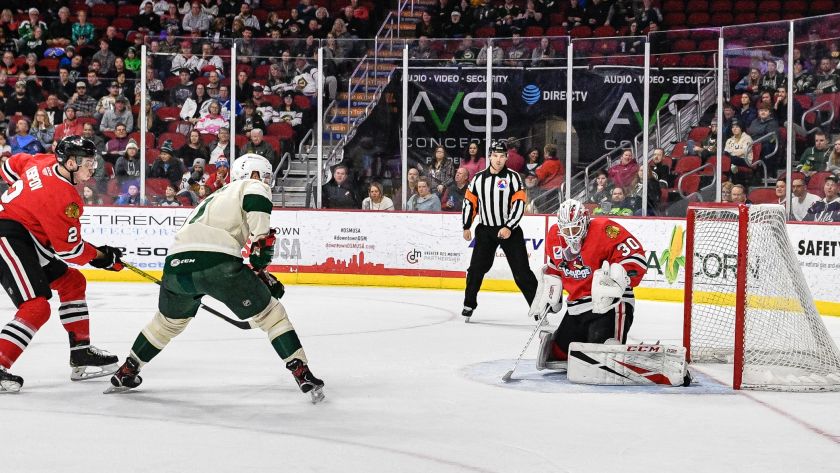 1st
2nd
3rd
Final

—
—
—

—
—
—

Friday, May 20
DES MOINES, IA. – Dylan McLaughlin netted his first AHL goal, but the Iowa Wild overpowered the Rockford IceHogs 5-1 at Wells Fargo Arena on Friday night.
On an IceHogs power play with 10:59 remaining in the third period, Nicolas Beaudin fed a puck to the right corner for Joseph Cramarossa, who paused for a moment before blazing a pass to the bottom of the left circle for McLaughlin. McLaughlin caught the puck and sent a wrister to the top corner to get the IceHogs on the board.
It was too late for Rockford, though, as Iowa had jumped out to a 5-0 lead prior to McLaughlin's power play marker.
The Wild were led by Gerald Mayhew, who buried two power play goals in the first frame, and Nico Sturm, who scored one goal in the first and one in the second. Former IceHogs forward, Luke Johnson, contributed the fifth goal for the host club on a man advantage less than a minute into the final stanza.
---
GAME NOTES:
With his tally tonight, Dylan McLaughlin became the 10th player to net their first AHL goal with the Rockford IceHogs this season.
After their goal on the man advantage, Rockford has now scored six power-play goals over its last eight games and seven power-play goals over the last 10 contests.
Nicolas Beaudin is now on a two-game point streak following his assist tonight...It's the third time this season the blueliner has been on a two-game point streak.