LEIGHTON SETS ICEHOGS RECORD, DESPITE LOSS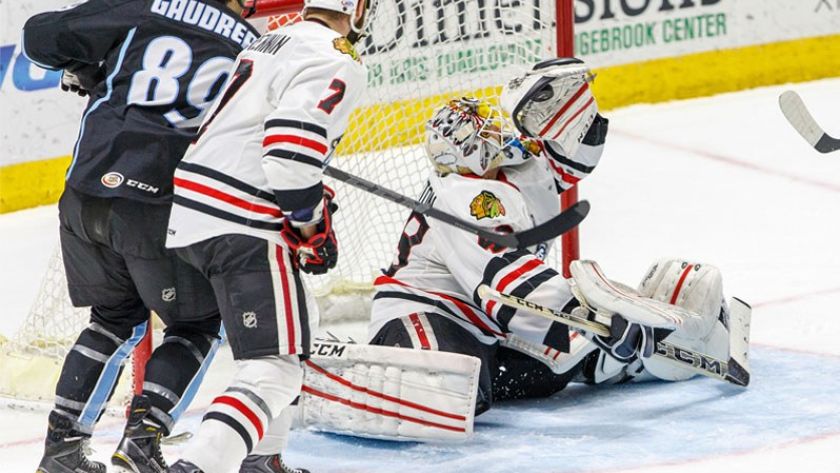 Rockford, Ill – A packed BMO Harris Bank Center was treated to a goaltending duel on Friday night as the Rockford IceHogs (21-13-3-1) fell 1-0 to the Milwaukee Admirals (18-12-2-3) in overtime. The loss to the Ads was the second in as many nights for the Hogs.

Unlike last night's game between the teams when there were a combined six goals, 58 shots on goal and 76 penalty minutes. Friday's tilt was a much different story as the two teams had a total of 60 shots, eight penalty minutes and zero goals after regulation.

Both goaltenders stole the show making numerous highlight reel saves to keep the game scoreless through 60 minutes. The IceHogs were able to take the game into overtime due to a stellar performance from goaltender Michael Leighton as he came up clutch down the stretch, denying Anthony Bitetto on his backhand attempt with 6:32 left on the clock.

In overtime Leighton again stonewalled the Ads, this time stopping Pontus Aberg to give the IceHogs a chance early in the extra session

Milwaukee's pressure was just too much however as Austin Watson tallied the lone goal in the contest with 4:46 left in the extra session to give the visitors their second victory in as many nights against the IceHogs.

Despite allowing the goal in overtime, Leighton set an IceHogs all-time shutout streak of 187:29 over the past four contests. Leighton broke the previous streak of 133:21 which was set by Michel Robinson when the IceHogs were members of the UHL from Dec. 17 to Dec. 19, 2004. Carter Hutton held Rockford's AHL era record, shutting out the opponent for 127:58 from Feb. 25 to Feb. 29, 2012.

On the other side of the ice, Milwaukee's Marek Mazanec was strong between the pipes making 27 saves to pick up his 11th victory of the season. He now shows a record of 11-8-3 in the Milwaukee cage.

Next Home Game: Tuesday, Jan. 13 vs. Charlotte Checkers. Puck drops at 7 p.m. The IceHogs face off with the Checkers for the first of four times this season. The game is a WXRX Dollar Day meaning fans can take advantage of $1 beers, sodas, hot dogs and companion tickets.