LEIGHTON, HOGS STEAL ONE IN GRAND RAPIDS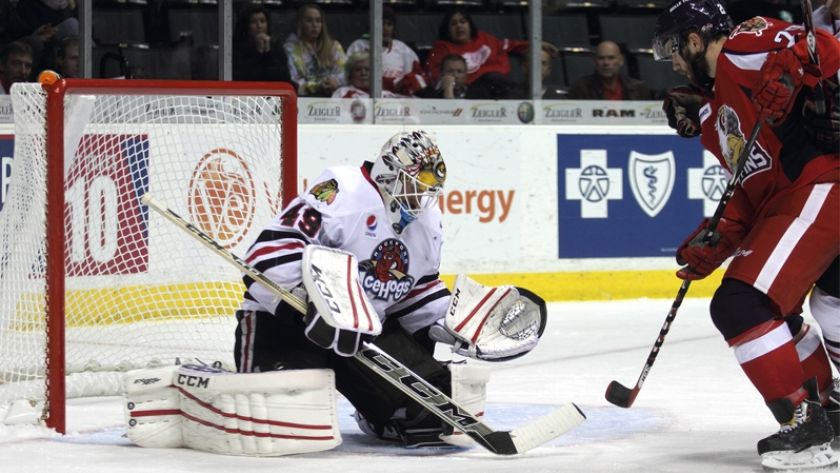 Grand Rapids, Mich. – After committing zero penalties in their last contest on Sunday, the Rockford IceHogs certainly tested their penalty kill unit and netminder on Wednesday night in Grand Rapids.

Goaltender Michael Leighton held strong in net and Rockford killed off all eight penalties during the game to help earn a 2-1 victory over the Griffins for their third straight win.

Grand Rapids wasted little time scoring to begin the contest. Griffins leading scorer Teemu Pulkkinen set up Mitch Callahan just 10 seconds into the first period to give the home squad an early 1-0 advantage. The goal set a franchise mark for the quickest tally the IceHogs have ever given up, breaking Mike Santorelli's quick strike with the Milwaukee Admirals on Jan. 24, 2009.

The IceHogs responded just over five minutes later to tie the game at one apiece. Peter Regin and Teuvo Teravainen exchanged passes on a rush up ice before Teravainen dropped a pass off for Matt Carey to blast into the cage. Carey's second goal in as many games came at 5:46 of the first period and tied the game at 1-1.

After the early goals in the first frame, both teams locked down the rest of the way. The IceHogs continued to play with fire in the third frame, giving the Griffins third-ranked power play three opportunities. The Hogs however, were able to keep the Griffs in check, due in large part to a strong performance from Leighton in goal.

Late in the final frame and with time winding down it was the IceHogs who were able to capitalize. Teravainen found Joakim Nordstrom open in the slot and the newly appointed team captain ripped his second goal of the season past Tom McCollum with 1:16 left in the game.

The Griffins tried to mount a late charge with an empty net in favor of the extra attacker but the IceHogs were able to hold on. Rockford's win snapped an eight game losing streak at Van Andel arena, dating back to Oct. 27, 2012.

Leighton earned his third straight win by stopping 38 shots while McCollum was handed a loss despite turning away 25 of the 27 shots he faced.

Next Home Game: Tuesday, Nov. 4 vs. Lake Erie Monsters at 7 p.m. It's a WXRX Dollar Day at the BMO Harris Bank Center as hot dogs, sodas, beers and companion tickets will be available for one dollar each.