Lankinen Stops 55 Shots to Lift Hogs Over First-Place Ads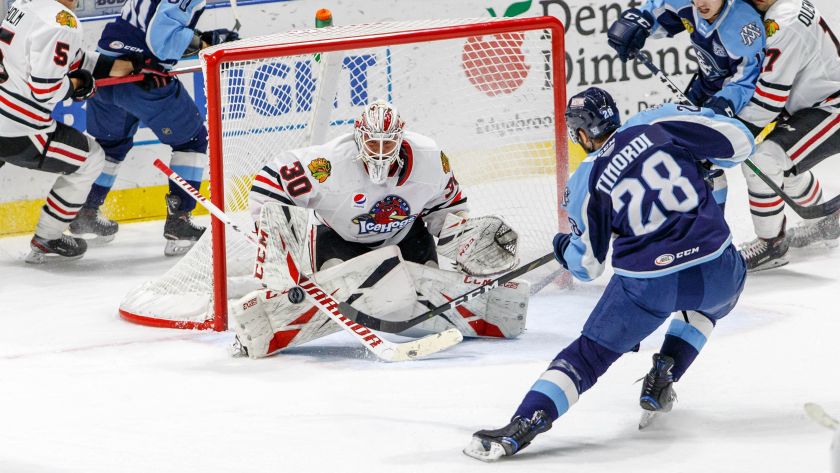 1st
2nd
3rd
Final

—
—
—

—
—
—

Tuesday, July 27
ROCKFORD IL. – Kevin Lankinen turned away 55 of 56 Milwaukee shots and Anton Wedin netted the game-winning goal in overtime to help the Rockford IceHogs defeat the Admirals 2-1 at the BMO Harris Bank Center on Tuesday. With the win, the Hogs handed the AHL's top team just its fifth loss of the season.
Lankinen faced a barrage of shots throughout the contest, including 19 in the first, 12 in the second and 25 in the third, but stood tall, making several sprawling saves to give Rockford a chance to win.
The Admirals controlled play for most of the opening period, but Lankinen's 19 first-period saves kept the game scoreless. Then, 6:41 into the middle stanza, Brandon Hagel collected a rebound in the slot and buried a power play goal to break the tie and notch his second goal in as many games.
Lankinen denied all 12 Milwaukee shots in the second and 24 of 25 in the third, including several sprawling saves, to break Rockford's franchise save record and force overtime. Lukas Craggs, however, spoiled Lankinen's shutout bid 12:46 into the third when he shoveled home a loose puck to tie the game.
Just 1:02 into the extra period, Ben Youds drifted a puck across the Milwaukee blue line that Wedin picked up as he curled atop the visiting team's zone. Wedin then darted down the left circle and snuck a wrister between the legs of Admirals goaltender, Connor Ingram, to complete the upset.
---
Beginning Oct. 30, Brandon Hagel is one of only two rookies in the AHL to have not gone pointless in back-to-back games (min. 10 games)…The only other rookie to accomplish the feat is Josh Norris with Belleville.
The IceHogs killed each of the six power-play chances from Milwaukee's top-ranked PP unit…With the effort, Rockford has killed 18 of the last 19 opposing power plays, dating to Nov. 30.
Kevin Lankinen set the team's AHL save record with 55 stops on 56 shots…The record-setting performance surpassed the previous mark of 49 saves set by by Kent Simpson on Oct. 5, 2013 at San Antonio and matched by Michael Leighton on Dec. 8, 2015 at Texas.
The IceHogs remained unbeaten in overtime this year, improving to 4-0 in contests decided in OT… Rockford is now 16-4 in overtime since the beginning of the 2018-19 season.