KNOW YOUR OPPONENT - TEXAS STARS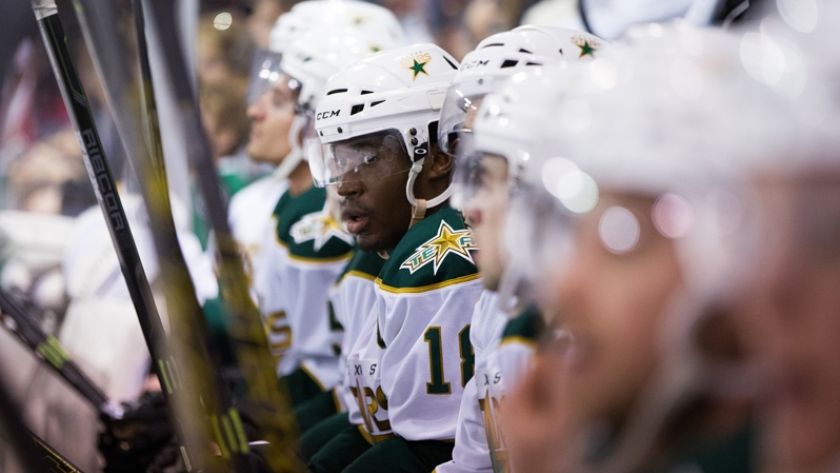 A few things IceHogs fans should know about their first-round foes

For the first time in five years, AHL playoff hockey is on the horizon in the Forest City.

But while the IceHogs represent a franchise that has fought its way back into the Calder Cup Playoffs after a lengthy hiatus, their first round opponent happens to be well familiar with the rigors of postseason hockey. They also happen to be the defending champions.

Rockford begins its quest for the Calder Cup against the Texas Stars, who are ready to defend their title from last spring. As the matchup between the Western Conference's fourth and fifth-seeded teams, it is not too much of a stretch to say that the IceHogs and Stars will be one of the most competitive series on the first round schedule.

Even though the puck doesn't officially drop to start Game 1 until Friday night in Cedar Park, Texas, it is never too early to start getting the scoop on Rockford's opponent. So consider this a cheat sheet on the Texas Stars, the first obstacle that stands between the IceHogs and the 2015 Calder Cup.

Texas Stars: 40-22-13-1, 2nd Place West Division, 5th Place Western Conference

Leading Scorers:

-C Travis Morin (63 GP, 22 G, 41 A, 63 PTS)

-LW Brendan Ranford (73 GP, 18 G, 33 A, 51 PTS)

-C Justin Dowling (65 GP, 24 G, 26 A, 50 PTS)

-C Greg Rallo (72 GP, 27 G, 22 A, 49 PTS)

Top Goaltenders:

-Jussi Rynnas (39 GP, 22-6-8, 2.53 GAA, .920 SV%, 4 SO)

-Jack Campbell (35 GP, 14-14-5, 3.03 GAA, .907 SV%, 2 SO)

Quick Facts:

NHL Affiliate: Dallas Stars

Head Coach: Derek Laxdal (1st year)

Calder Cup Playoff Appearances: 5 (2015, 2014, 2013, 2011, 2010)

Highest Playoff Finish: Calder Cup Champions, 2014

Calder Cup Playoff Record: 35-25

Website: texasstarshockey.com

Twitter: @TexasStars

How They Finished Fifth: Teetering on the playoff bubble after dropping a pair to the IceHogs on home ice in late February, the Stars compiled a 15-4-1-0 record over their last 20 games to comfortably finish within the West's top eight. After clinching their playoff berth with a win over Hamilton on April 11, Texas' final seeding was in flux heading into the final week of the regular season.

Facing a weekend home-and-home series against division rival San Antonio, the Stars needed at least one win to assure them the fifth seed over Oklahoma City and Chicago. They got more than that, winning 3-2 and 4-3 in overtime to end their regular season and set up a first-round showdown with Rockford.

Season At A Glance: With aims of becoming the first club to repeat as Calder Cup Champions since the Hershey Bears won in 2009-10, Texas had an up-and-down start to the 2014-15 season. The Stars raced out to a 6-2-2-0 record over their first 10 games before suffering a lull where they only picked up one win out of their next twelve from Nov. 10 - Dec. 5.

The defending champs spent the majority of the season looking up in the West Division standings at Oklahoma City and San Antonio, but remained in a favorable position by virtue of a 22-11-6-1 record in divisional play.

One area that haunted Texas all year long was overtime; the Stars finished the season with an abysmal 3-13 record in games that were decided past regulation time (excluding shootouts). Even with their red-hot stretch to end their season, Texas finished with 94 points. If they could have eked a .500 record from their overtime games, the Stars would have ended the year with 102 points, which would have left them West Division Champions and one point shy of Utica for the best record in the conference.

Players To Watch:
Travis Morin (Photo by Christina Shapiro)
C - Travis Morin - #23: After stocking his personal trophy case last season, Morin led the Stars in point scoring for the second-consecutive season. Last year's recipient of the John B. Sollenberger Trophy (league's top regular season point scorer), Les Cunningham Award (AHL's Most Valuable Player) and Jack A. Butterfield Trophy (2014 Calder Cup Most Valuable Player), Morin put up 63 points (22g-41a) in 63 games played in 2014-15.
The pivot hailing from Brooklyn Park, Minn. has been a fixture of the Texas lineup since the 2009-10 season, and has upwards of 400 career AHL games, 350 AHL points and 50 Calder Cup Playoff points to his name. The 31-year-old forward is the leading goal scorer in the Stars' franchise history, and brings a boatload of big-game experience to a roster already laden with it. For the IceHogs, finding a way to neutralize Morin can go a long way in taking the punch out of the Texas attack.
Jussi Rynnas (Photo by Christina Shapiro)
G - Jussi Rynnas - #40: Texas has a difficult decision to make heading into Friday's Game 1, and possibly before each subsequent game in the opening-round series: who is going to be their goaltender? The Stars have nearly split their workload down the middle this season among Rynnas and creasemate Jack Campbell. The pair has put up similar numbers this season, but on paper it would seem that Rynnas may hold a slight edge over his counterpart.
The 27-year-old from Pori, Finland has more wins (22), fewer losses (6) and a better goals against average (2.53) and save percentage (.920) than his counterpart, while posting four shutouts to Campbell's two. But even with the solid stat line, Rynnas only made three starts over his team's final 17 games, missing some time due to a lower-body injury.

So it was Campbell who had to be the man down the stretch for the Stars, and he played like it. The native of Port Huron, Mich. started 12 straight games from March 15 to April 7, winning all but three of them. Campbell finished his regular season on a six-game winning streak, posting a .923 save percentage and a 2.43 goals against average.

But Campbell finished the year 0-3-1-0 against Rockford, while Rynnas has yet to face the IceHogs. Either way, choosing a goaltender for the playoffs will be a conundrum for Head Coach Derek Laxdal.
Julius Honka (Photo by Christina Shapiro)
D - Julius Honka - #7: On a team that for the most part has stayed intact throughout the past few years (16 players on the Stars current roster were a part of the Calder Cup-winning roster last spring), Honka brings some fresh blood. Dallas' first-round pick (14th overall) in the 2014 NHL Entry Draft, Honka has hit the ground running during his first season as a professional.
In 68 games played this season, Honka racked up eight goals and 23 assists, finding his place on the Texas blue line among respected veterans Maxime Fortunus, Derek Meech and Cameron Gaunce. The 19-year-old isn't likely to be fazed by the bright lights of the playoffs, as he has played in a host of international tournaments for his native Finland.

What he may lack in size, the 5-11, 185-pound defenseman more than makes up for in maneuverability. Honka's excellent skating was one of the primary reasons he was drafted so high this past summer, and his ability to seamlessly get up and down the ice make him a great weapon for Texas and their transition style of play.