KING, DELIA, RADDYSH JOIN BUD LIGHT HOG TALK TODAY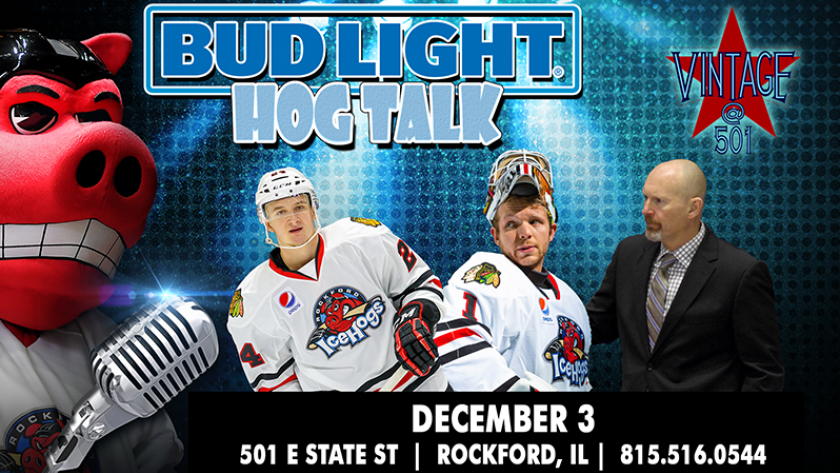 ROCKFORD, Ill. – The monthly Rockford IceHogs talk show, "Bud Light Hog Talk," returns for the 2018-19 season at Vintage @ 501 in downtown Rockford. Hog Talk will be held on the first Monday of each month, beginning Monday, Oct. 1. Below is the full schedule for the upcoming season:
Dec. 3 with Interim Head Coach Derek King, goaltender Collin Delia and defenseman Darren Raddysh

Jan. 7

Feb. 4

March 4

April 1
The one-hour show can be seen live from 6-7 p.m. at Vintage @ 501 on 501 E. State Street in downtown Rockford and will feature two IceHogs players and IceHogs Head Coach Jeremy Colliton live on the set. Rockford Broadcaster Joey Zakrzewski will host each segment, and fans in attendance can sign up to win a variety of prizes from the IceHogs.

For those unable to attend the show in person, the broadcast will be available streaming live here, courtesy of Sportsfan Radio 1330, and will be available through www.IceHogs.com later in the month.

All show times, dates, and guests are subject to change.
NEXT HOME GAME:
The Rockford IceHogs will host their home opener for the 2018-19 season on Saturday, Oct. 13 against the Texas Stars at 6 p.m. at the BMO Harris Bank Center. The first 4,000 fans in attendance to Rockford's first home game of the campaign will receive a free IceHogs calendar, courtesy of Impact Networking. Call the IceHogs front office at (815) 847-6399 or visit icehogs.com to purchase tickets.