KERO STRIKES TWICE AS ICEHOGS OPEN SEASON WITH 4-2 WIN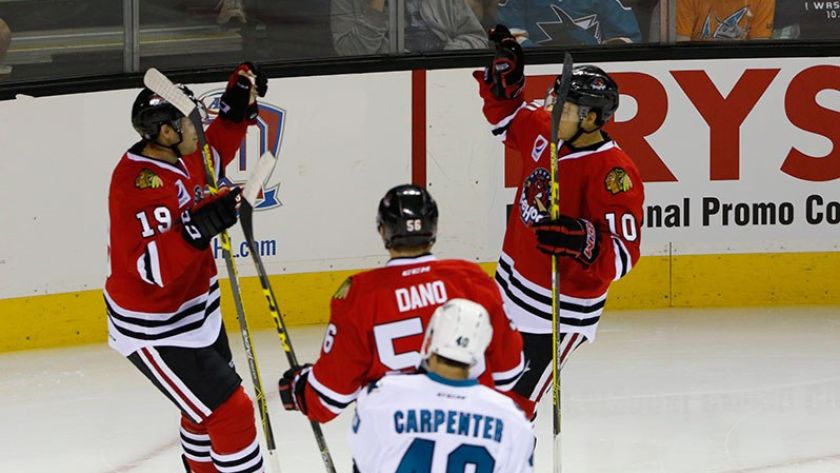 San Jose, Cal. - It took just 1:01 for the Rockford IceHogs to find their first goal of the season, as Tanner Kero and Jeremy Morin combined for their first of three points each on the game as Rockford started their season with a 4-2 victory over the San Jose Barracuda on Friday.

Marko Dano and Morin teamed up to find Kero early in the first, and he snapped a shot home to give the IceHogs the early lead. Rockford expanded upon their advantage at 14:43, when Kero made a nifty stickhandling move in the neutral zone and set up Dennis Rasmussen for a shorthanded tally. San Jose got on the board with only seconds remaining in the first, however, when a deflected pass set up Michael Haley for an open look in the slot. Haley buried the shot on the power play to cut the Rockford lead to 2-1.

Bryan Lerg slammed home the only goal in the second period, once again with San Jose on the power play. Mirco Mueller held the puck in at the blue line and found Lerg open in the high slot to tie the contest at 6:34. The two teams entered the third knotted up at 2-2.

Kero found his second goal of the game on a quick redirect from Morin 4:45 into the third period to restore the IceHogs advantage. Just 4:02 later, Morin added his first of the season as he took a feed from Vince Hinostroza and blasted a slap shot past goaltender Troy Grosenick. The Barracuda had a few late chances with the goaltender pulled and on the power play, but Michael Leighton stood tall to secure Rockford's first win of the season.

Leighton ended the night stopping 30 of the 32 shots he faced while Grosenick stopped 37 of 41.

Next Home Game: Saturday, Oct. 17 vs. Texas Stars. Game Time: 7 p.m. The first 5,000 fans to the game will receive an IceHogs calendar courtesy of Mulligan's Pub and Grill.