JOHANSSON SHUTOUT, ABBOTT SHOOTOUT PACE 1-0 WIN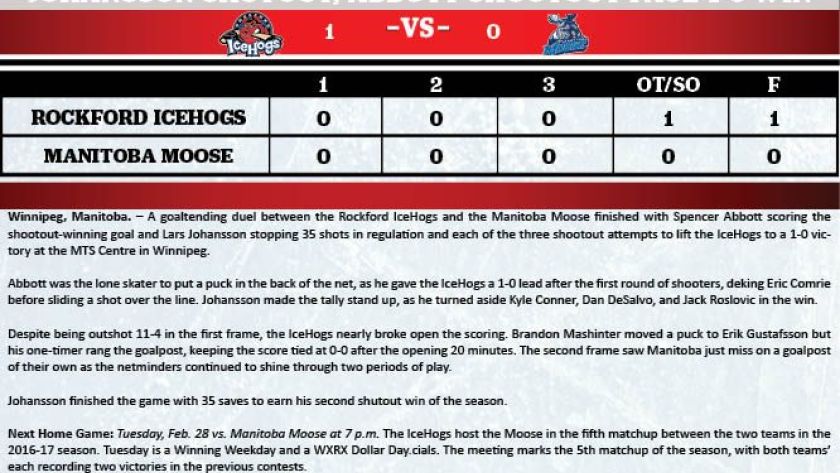 Winnipeg, Manitoba. – A goaltending dual between the Rockford IceHogs and the Manitoba Moose saw Spencer Abbott score the shootout-winning goal and Lars Johansson stopped 35 shots in regulation and all three shootout attempts to lift the IceHogs to a 1-0 victory at the MTS Centre in Winnipeg.
Abbott was the lone skater to put a puck in the back of the net, as he gave the IceHogs a 1-0 lead after the first round of shooters, deking Eric Comrie before sliding a shot over the line. Johansson made the tally stand up, as he turned aside Kyle Conner, Dan DeSalvo, and Jack Roslovic in the win.
Despite being outshot 11-4 in the first frame, the IceHogs nearly broke open the scoring. Brandon Mashinter moved a puck to Erik Gustafsson but his one-timer rang the goalpost, keeping the score tied at 0-0 after the opening 20 minutes. The second frame saw Manitoba just miss on a goalpost of their own as the netminders continued to shine through two periods of play.
Johansson finished the game with 35 saves to earn his second shutout win of the season.

Next Home Game: Tuesday, Feb. 28 vs. Manitoba Moose at 7 p.m. The IceHogs host the Moose for the final matchup between the two teams in the 2016-17 season. Tuesday is a Winning Weekday and a WXRX Dollar Day.