ICEHOGS TO SPONSOR SCHOLARSHIPS FOR LOCAL ROCK & ROLL INSTITUTE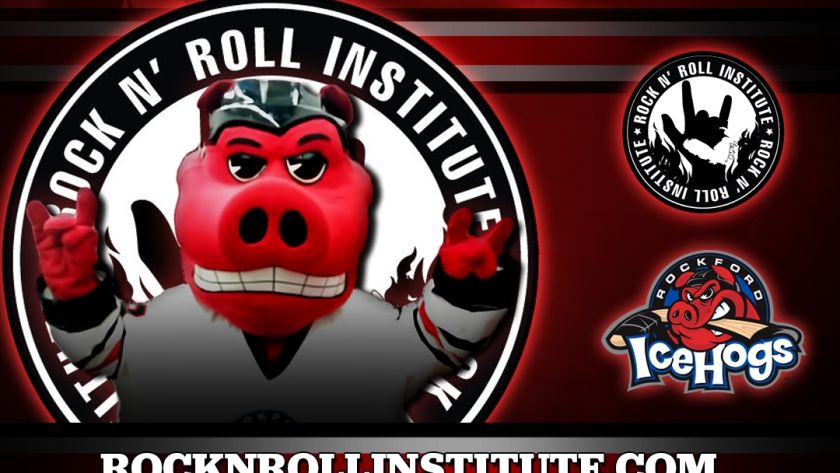 Rockford, Ill. – The Rockford IceHogs are making a $1,125 donation from their Charitable Foundation to the Rock and Roll Institute in Rockford. The funds will cover expenses for two full scholarships to the Rock and Roll Institute's summer camp and provide customized IceHogs guitar picks for all campers enrolled in this summer's programs.
The IceHogs will host a check presentation with the Rock and Roll Institute during next Wednesday's home game on Dec. 28. The first 1,000 fans in attendance will receive their own limited-edition Hogs guitar pick, and all fans are invited to stop by the Rock and Roll Institute's display table on the BMO Harris Bank concourse for additional information on the organization and its programming.
The Rock and Roll Institute will also participate in a ceremonial puck drop prior to Wednesday's 7 p.m. Illinois Lottery Cup game against the Chicago Wolves. Renee and Rob Andino, the two founders of the camp's scholarship program, have the honors for the pregame puck ceremony.
Tickets can be purchased at the BMO Harris Bank Center Box Office or any Ticketmaster location, by phone at (815) 968-5222 or online at www.icehogs.com and www.ticketmaster.com.
Fans unable to make the game can tune in to all the action on The Justice Network 23.3 or Dish Network channel 252, beginning with IceHogs Warmup at 6:30 p.m. IceHogs fans can also listen to the game at WXRX.com or sportsfanradio1330.com, or watch live at AHLlive.com.
ABOUT THE ROCK AND ROLL INSTITUTE
The Rock and Roll Institute of Rockford is a music summer camp for kids enrolled in grades 6-12. With the motto, "Start a band Monday, play a show Friday!," the organization hosts two separate, weeklong camp options each summer at their facility hosted by the Mendelssohn Performing Arts Center. Students may sign up for one or both camp sessions, and this year's schedule features a Week 1 camp from June 19-23 and Week 2 camp from June 26-30. The Rock and Roll Institute also offers performance opportunities for their campers at various locations throughout the Rockford community during the summer months. Scholarships are available and those interested in additional information about the organization or its programming can call (779) 210-4217 or visit rocknrollinstitute.com.