ICEHOGS RETURN TO BMO FOR FAMILY FILLED WEEKEND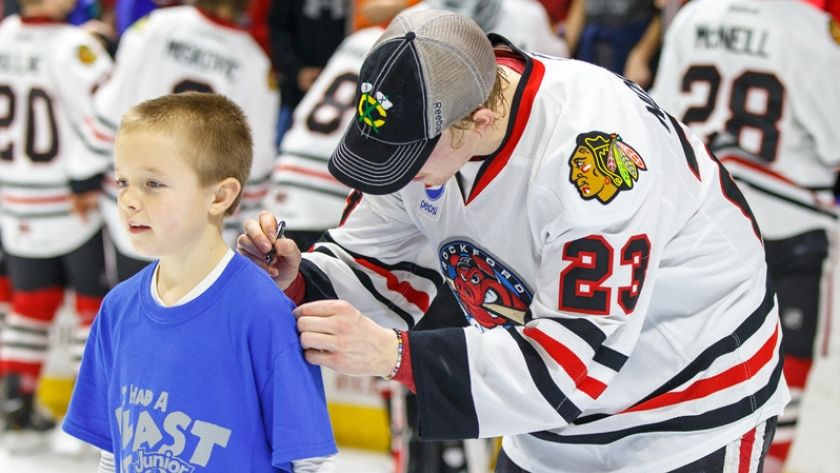 After a season long nine day, four-game roadtrip, the IceHogs return home to Rockford for a pair of games this weekend. The IceHogs will host the Wolves on Saturday and Lake Erie on Sunday.

Saturday, Oct. 25, 2014 vs Chicago Wolves
Time: 7 p.m. at the BMO Harris Bank Center (doors open at 6 p.m.)

Giveaway: The first 5,000 fans to the game will receive a 2014-15 magnet schedule courtesy of T6 Broadband.

Illinois Lottery Cup: As part of the intrastate rivalry with the Wolves, the IceHogs take on Chicago for the first time of the 2014-15 campaign in hopes to win the series and the Illinois Lottery Cup. Rockford fell in the season series with the Wolves last season, but carried a record of 4-1-0-0 at the BMO Harris Bank Center.

Sunday, Oct. 26, 2014 vs Lake Erie Monsters
Time: 4 p.m. at the BMO Harris Bank Center (doors open at 3 p.m.)

Halloween Costume Parade: The Hogs are celebrating Halloween as they encourage fans to come in costume. The best dressed fans will be selected to participate in a parade out on the ice during the first intermission.

Skate with the Hogs: Following the tilt with Lake Erie, fans can take the ice at the BMO Harris Bank Center for a post-game "Skate with the Hogs" and a trick or treat session. The IceHogs players will be passing out candy to fans on the ice while some players will be in the concourse near section 123 to sign autographs for those without skates.

U.S. Cellular Kids Corner: All kids are encouraged to visit the sign-making station at the U.S. Cellular Kid's Korner to test their art skills during every IceHogs home game during the 2014-15 season.

Ticket Information
In person: at all Ticketmaster locations and at the BMO Harris Bank Center Box Office
By Phone: call 815-968-5222
Online: visit www.icehogs.com

Broadcast Information
Broadcasting: All games are broadcast locally live on 23.2 Antenna TV or can be seen with AHL Live.