ICEHOGS RELAUNCH OFFICIAL TEAM WEBSITE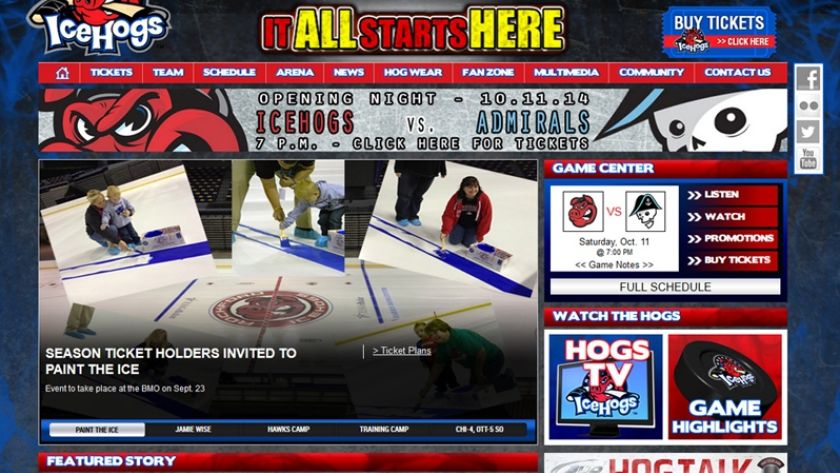 IceHogs.com takes on a new look heading into 2014-15 season
Rockford, Ill. – The American Hockey League's Rockford IceHogs, the primary affiliate of the Chicago Blackhawks, have relaunched their website, IceHogs.com. The redesign is set to deliver the same extensive content as it has previously, with a fresh new look for the upcoming season.

The brand-new IceHogs.com is highlighted by reorganized dropdown menus, which allow for swift and intuitive navigation through the site.

A more prominent news rotator takes center stage on the new home page, making breaking news throughout the season more accessible. Aside from featuring the top news stories; links to feature articles, videos, blogs and press releases can be easily found within the news center. New to the website is the ability to comment on each news article using your Facebook profile, along with the ability to share each post via Twitter.

Another feature is the revamped Hog Wear section, which makes shopping for IceHogs merchandise easier than ever before. The streamlined online store is broken into easy-to-navigate sections, making it the go-to location to find a wide array of jerseys, men's and women's apparel and other novelties.

As always, the home page features the latest updates from across the IceHogs' social media spectrum, information about upcoming matchups, and helpful links to team and league statistics, schedules, standings, multimedia content and much more.

The marketing slogan "It All Starts Here" continues into the 2014-15 season, and remains as an eloquent reminder of the prominent role Rockford has played for those who have called the Forest City home. In the first seven years as the Blackhawks' top affiliate, the IceHogs have advanced 47 players to the NHL, including 17 who have gone on to win the Stanley Cup.

Next Home Game: The IceHogs open the 2014-15 season on Saturday, Oct. 11 against the Milwaukee Admirals. The puck drops at 7 p.m., and the first 5,000 fans will receive an IceHogs calendar courtesy of Stateline Staffing Services. For tickets visit IceHogs.com or call (815) 968-5222.