ICEHOGS PUNCH PLAYOFF TICKET WITH 2-1 VICTORY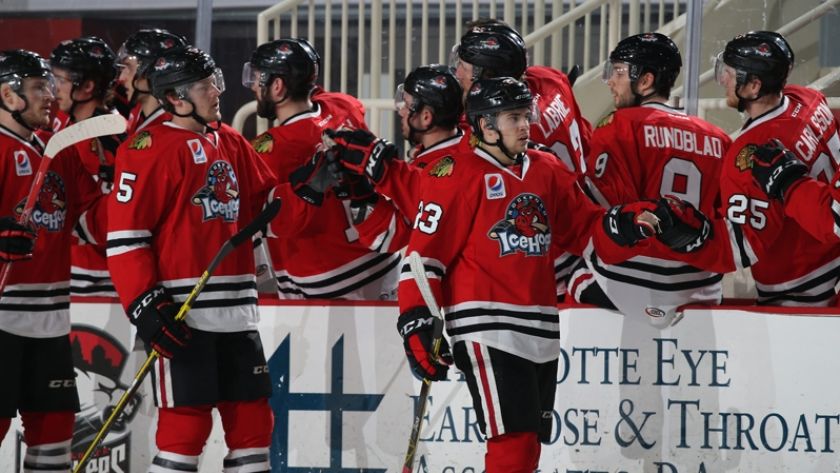 Charlotte, N.C. – Backstopped by stellar goaltending from Mac Carruth, the Rockford IceHogs (37-20-10-4) clinched a berth in the 2016 Calder Cup Playoffs with a 2-1 victory against the Charlotte Checkers (36-28-3-5) at Bojangles' Coliseum on Wednesday night.

For the second-straight night Carruth allowed just one goal through 60 minutes of play. Tuesday's effort was spoiled with an overtime defeat to Charlotte but Rockford's netminder rebounded with a 38 save performance to secure the win on Wednesday. In all, Carruth stopped 78 of the 81 shots he faced in the two-game set against the Checkers.

Charlotte nearly put the IceHogs behind early in the first. Just over a minute into the contest, Brendan Woods blocked a shot at the blue line and raced into the Rockford zone on a clean breakaway. Woods snapped a shot from the slot, but it rang off the crossbar and out of play. Despite the early chance, the IceHogs showed significant improvement over their opening frame the previous night, as they killed two penalties and matched the Checkers with nine shots on goal.

Late in the second period, the IceHogs snapped the scoreless tie to take control. A bouncing puck escaped Rockford's defensive zone and Vince Hinostroza raced in on a breakaway before lifting a backhand shot over the pads of John Muse at 16:49. Hinostroza's unassisted tally was his second in as many nights and it put the rookie forward atop the club's scoring chart.

Looking to clinch a postseason berth with a win, captain Jake Dowell gave his squad a much needed insurance goal to begin the final 20 minutes of play. Dowell went coast-to-coast, eluding a defender along the way, before snapping a shot past Muse at 2:43 to push the score to 2-0.

However, with the Checkers in a playoff fight of their own, the home squad didn't go down quietly. After three straight penalties by the IceHogs, including two separate 5-on-3 advantages, Charlotte finally made the third one hurt. Carruth blocked two shots but a rebound popped right in front to Anthony Camara and he fired it in from point blank range at 8:57.

Despite being outshot 18-2 in the final frame, Carruth and the IceHogs held Charlotte off the board the rest of the way en route to the victory and earned their second-straight trip to the Calder Cup Playoffs. Rockford's power play was unable to convert on four chances while the Checkers cashed in on one of their six opportunities.

Next Home Game: Friday, April 15, 2016 vs. Grand Rapids Griffins at 7 p.m. The first 1,000 fans will receive an IceHogs beach towel courtesy of Peak Fitness. Fans 21-and-older can enjoy drink specials and appetizers starting at 5:15 p.m.