ICEHOGS LAUNCH NEW ONLINE STORE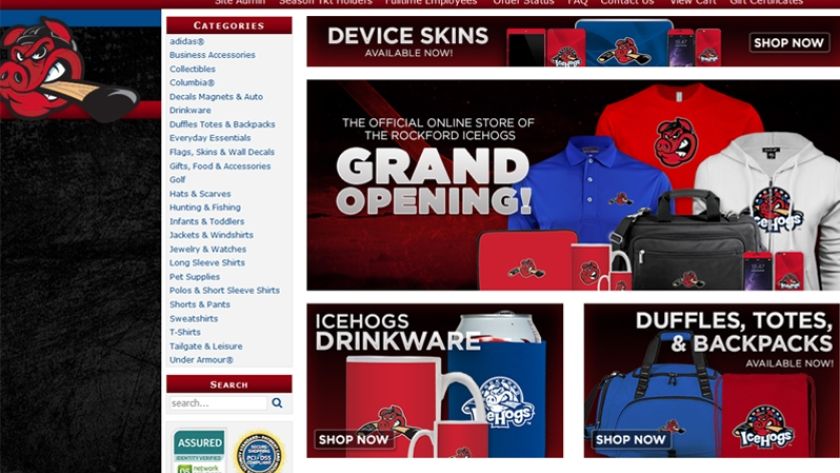 Rockford, Ill. – The Rockford IceHogs announced today the grand opening of the team's new online store, Oink Outfitters Online. The launch features an exciting inventory of thousands of new items, which are available exclusively online at Shop.IceHogs.com.
As part of the expanded inventory, fans can choose between an array of new lineups from Adidas, Under Armour and Columbia Sportswear. Fan-gear options range from T-shirts and shorts to an extensive outerwear selection, and even include various IceHogs accessories like hats, scarves and watches. Merchandise is available in men's, women's and children/infant sizes.
Oink Outfitters Online is also fully stocked with numerous IceHogs-branded novelty items. Fans can upgrade their home or office with mousepads, laptop covers, portfolios and pens bearing the IceHogs logos, or show off their Hogs pride with team decals, flags and magnets. In addition, the online inventory also provides shoppers with plenty of on-the-go essentials, such as branded totes and bags, IceHogs drinkware and a variety of camping and stadium chairs.
Season Ticket holders may take advantage of their usual store discount for all online purchases at Shop.IceHogs.com. Gift certificates for the new online store are also available for all fans at Shop.IceHogs.com/GiftCerts.
Next Home Game: Saturday, Nov. 19 vs. Texas Stars at 7 p.m. The first 1,500 fans will receive an IceHogs scarf courtesy of GoRockford.com. It is also Stroll on State Night and Have A Skate With Bob Night featuring Santa riding on the Hamboni before the game.