ICEHOGS HIRING GAME OPS STAFF FOR 2015-16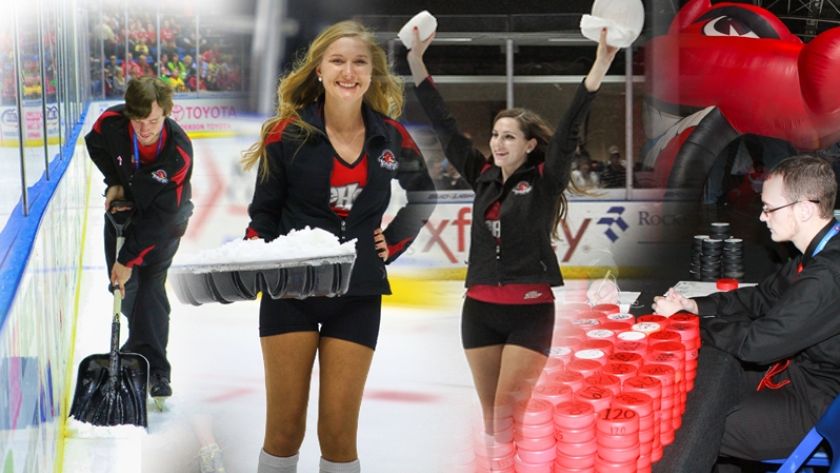 IceHogs hiring ice crew & game day staff for 2015-16 season

Rockford, Ill. – The Rockford IceHogs, proud American Hockey League Affiliate of the 2015 Stanley Cup Champion Chicago Blackhawks, are hiring game day staff and Mt. Dew Ice Crew promotion team members for the upcoming 2015-16 season.

The Mt. Dew Ice Crew will have open tryouts at Carlson Ice Arena in Loves Park on Wednesday, August 26 from 6-8pm. To apply, submit a resume and cover letter to Fritz Stillings at StillingsF@IceHogs.com.

All men and women of at least 18 years of age are welcome to apply for the open positions. The IceHogs are looking for highly motivated and high-energy individuals to fulfill the positions. Those interested can apply at: http://theahl.teamworkonline.com/teamwork/r.cfm?i=84564&utm_source=dlvr.it&utm_medium=twitter

Interviews for qualified applicants interested in the game day staff positions will occur during the coming weeks until all positions are filled.

Below are the job duties, qualifications and benefits for both positions.

ASSIGNED DUTIES MAY INCLUDE BUT ARE NOT LIMITED TO:

Mountain Dew Ice Crew:
On & Off Ice set-up of promotions
Sell jersey raffle tickets
Shovel/clean the ice during promotional timeouts
Execute pre-game & post-game activities
Energize crowd of 5,000+ fans

Game Day Staff:
Assist in setting up sponsor tables and promotional items
Assist in distribution of promotional items
Greet & Interact with fans
Sell chuck-a-pucks
Recruit fans to participate in our promotional games

QUALIFICATIONS:
Minimum 18 years of age
Must have good oral communication skills
Must be outgoing, reliable and organized
Availability to work nights and weekends for events (ALL 38 home games)
Ability to ice skate is preferred
College students working towards a degree in Marketing, Communications or Sport Management are ideal

BENEFITS:
Per game paid position
Promotional Giveaways
College Internship Credits Available
Complimentary Tickets