ICEHOGS FALL TO THE GRIFFINS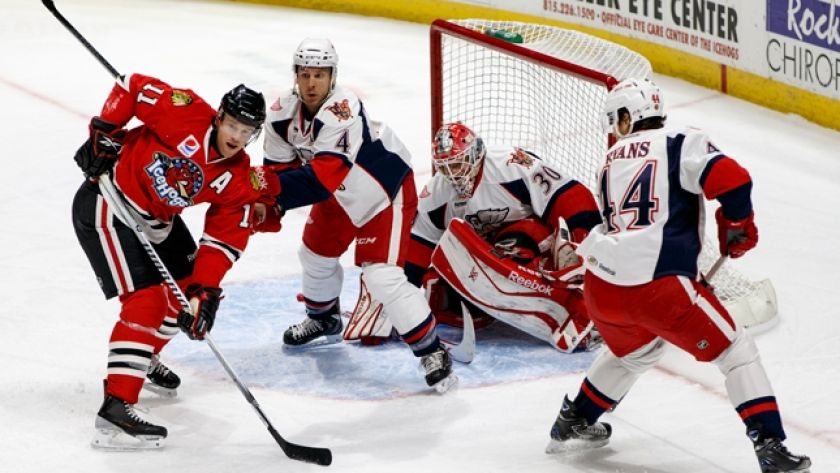 Rockford, Ill.- Through five home games the Rockford IceHogs have trailed entering the third period in all of them, and it is starting to catch up to them. On Sunday the Grand Rapids Griffins knocked them off 3-1.

The IceHogs trailed 2-0 going into the third period on Sunday. Defenseman Klas Dahlbeck tried to ignite a come back when he notched his fourth goal of the season on a power play at 8:41. But Grand Rapids scored the next goal as Landon Ferraro finished off a tic-tac-toe passing play at 18:36 of the third to put the game out of reach.

Antti Raanta finished with 31 saves but was out done by the Griffins Tom McCollum who blocked 34 shots to earn the win.

After a scoreless first period, the second period belonged to Grand Rapids. Triston Grant tapped a loose puck past Antti Raanta to put the Griffins on the board first at 13:12 of the period. With just under three minutes left in the second, Teemu Pulkkinen found the back of the net when he redirected a Jeff Hoggan shot just out of the reach of Raanta.

Today's game marks a third straight loss for the Hogs after coming off a six point game streak (5-0-1-0) and head to Grand Rapids to face the Griffins for the third time this season on Wednesday, Nov. 6 at 10 a.m. for their annual school day game.

Next Home Game: Friday, Nov. 8 against the Iowa Wild, puck drops at 7 p.m. Los IceHogs Night is back as the IceHogs will be honoring the local Hispanic heritage by wearing special jerseys. Los IceHogs Dos will focus on the rich music tradition in the Hispanic community and the night will include a Banda band.