ICEHOGS FALL 3-1 TO THE REIGN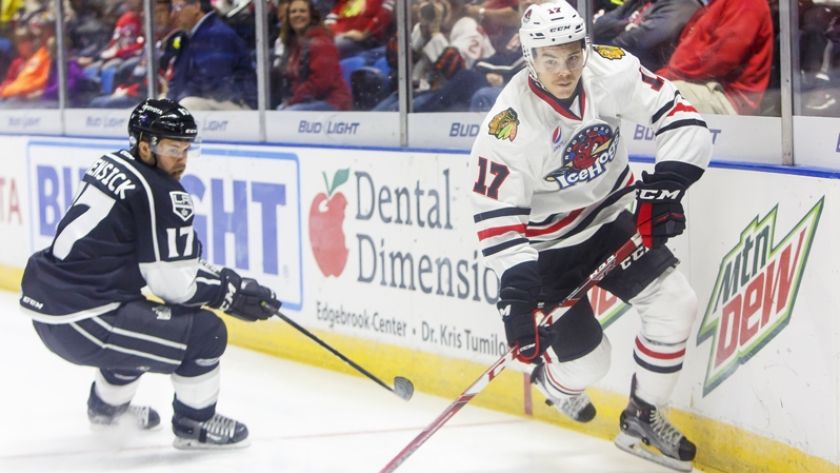 Rockford, Ill. – Ontario's T.J. Hensick scored two goals and Anders Lindback turned away 27 of 28 shots as the Reign (5-3-3-0) defeated the Rockford IceHogs (5-8-1-0) in front of a sellout crowd of 6,423 fans Sunday afternoon at the BMO Harris Bank Center.

In their first-ever match up and one of only two meetings between the IceHogs and the Reign in the 2016-17 campaign, Ontario took away a 3-1 victory.

Rockford goalie Lars Johansson held the Reign scoreless through most of the first period, but on an Ontario drive to the net, Hensick notched a tip-in to give the Reign a 1-0 lead with less than one minute left of play. The goal snapped Johansson's shutout streak at 79:21 minutes.

Ontario's top ranked power-play unit then continued its strong run as Hensick notched his second goal of the night with help from Mike Amadio and Justin Auger. Hensick skated around Johansson and found the back left corner of the net at 11:43 in the second stanza.

The IceHogs pressured Ontario early in the final frame when Viktor Svedberg and P.C. Labrie helped set up Kyle Baun, who beat Lindback to get Rockford on the scoreboard and cut into Ontario's lead.

Ontario took back its two-goal advantage with a tally by Jonny Brodzinski, his first point of the night, at the 14:08 minute mark in the final frame to secure its 3-1 victory.

Next Home Game: Saturday, Nov. 19 vs. Texas Stars at 7 p.m. The IceHogs host the Texas Stars for the first of four match ups between the teams in the 2016-17 season. It is Stroll on State Night and the first 1,500 fans will receive a scarf courtesy of GoRockford.com.