ICEHOGS EXTEND POINT STREAK TO EIGHT GAMES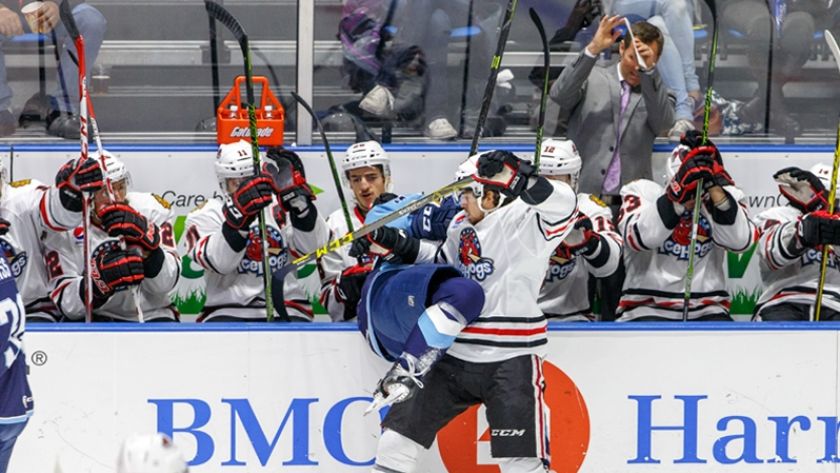 Week 5 Recap:

Entering the week on a six-game point streak, the Rockford IceHogs earned their third-straight win on Friday at Grand Rapids before falling in overtime at home against Milwaukee on Saturday. The IceHogs eight-game unbeaten stretch (6-0-1-1) is the longest since Rockford piled eight-straight wins together from 10/25/14 to 11/8/14 last season. Rockford has yet to lose in regulation to a divisional opponent, as each of their last eight games has come against a Central Division team.

Week 5 Results:

Friday, November 6: Rockford 4 at Grand Rapids 1
Saturday, November 7: Rockford 2 vs. Milwaukee 3 (OT)

Week 6 Schedule:

Friday, November 13 at Iowa, 7 p.m.
Saturday, November 14 at Iowa, 7 p.m.

Bacon Bits:

-Since starting the season 1-3-0-0, the IceHogs have won six of their last eight contests and are currently riding an eight-game unbeaten streak (6-0-1-1)
-The eight-game unbeaten streak is the longest since the IceHogs piled eight-straight wins together from 10/25/14 to 11/8/14 last season
-Michael Leighton is unbeaten in regulation over his last six starts with a 1.49 goals against average and .946 save percentage
-Leighton has won three of his four road starts this season, allowing only five goals in his victories
-The goaltender notched his 199th career AHL win with his victory over Grand Rapids on Friday
-Going into this weekend's two road games, Rockford holds a 4-0-0-1 record away from the BMO Harris Bank Center
-The IceHogs have been shorthanded (62) more than any other team in the AHL through their first 12 games
-Ryan Hartman has earned a point in five-straight games (5g-2a), dating back to Oct. 23 when he scored a goal against Chicago at home
-The right winger spent two games with the Chicago Blackhawks after scoring goals in three consecutive games and continued his point streak with a goal in the win over Grand Rapids and an assist in the overtime loss to Milwaukee
-Hartman's point streak is the longest by any player on the team this season
-Pierre-Cedric Labrie scored the second shorthanded goal of the season for the IceHogs on Friday
-Nolan Valleau scored his first professional goal on Friday against Grand Rapids
-In Friday's match with the Griffins, Bryan Bickell scored in his first game back with Rockford since reassignment
-The goal was Bickell's first AHL tally since April 6, 2010 when he found the back of the net against the Houston Aeros
-Kyle Cumiskey made his season debut on Friday, recording an assist
-The Milwaukee Admirals snapped a streak of 17 consecutive power plays killed when they earned two goals on the man advantage against Rockford on Saturday
-The overtime loss to Milwaukee was the first overtime decision for the IceHogs this season, as the two other contests that went to extra time each were decided by a shootout
-Brandon Mashinter scored his 100th career AHL goal on Saturday

Hot Hog: Week 5

Ville Pokka Defenseman (2GP, 1G, 2A, 3PTS, 4PIM)


Blueliner Ville Pokka has been a force for the IceHogs, especially over the course of the last few games. The team assist leader (6) amassed three points on the weekend (1g-2a) and forced overtime against Milwaukee with a timely goal 8:50 into the third period. The goal was his first of the season, and he also provided the primary assist on Bryan Bickell's power play goal that sealed Rockford's win over the Griffins on Friday.

Upcoming Games:

Friday, November 13 at Iowa Wild: Game starts at 7 p.m. The IceHogs take on their division rival in Iowa for the second time this season. Rockford has won all three games they have played against their Central Division opponent, shutting the Wild out in each of the last two meetings.

Saturday, November 14 at Iowa Wild: Face-off is at 7 p.m. The IceHogs play the Wild for the second time in as many nights.

Bud Light Monthly Monday Hog Talk At Vintage 501:

Bud Light Hog Talk returns on Monday, November 30 at Vintage 501 from 6-7 p.m. Vintage 501 is located in downtown Rockford at 501 E. State St. Fans can join Bob Mills or Kyle Stuetzel from 6-7 p.m. on the last Monday of every month throughout the season as they chat with IceHogs players, coaches, and front office members. Take advantage of food and Bud Light specials at Vintage 501. The show will be re-aired on Tuesdays on WIFR's "Justice Network" on 23.3 from 6-7 p.m.

The IceHogs Broadcasting Network:

Catch every IceHogs game, home and road, in 2015-16 on WIFR's "Justice Network" on 23.3. The games can also be viewed on Comcast Cable channel 434, Charter Cable channel 194 or Mediacom 102 in the Rockford market and online through AHLLive.com. Every broadcast on WIFR will start with "IceHogs Warm Up" 30 minutes prior to puck drop. Fans can also listen to the action for free at WXRX.com. For a complete listing of TV stations carrying IceHogs games, visit IceHogs.com.

Tickets on Sale for 2015-16!

IceHogs individual game tickets are now on sale! Call (815) 968-5222 to reserve your seats for any IceHogs regular season game during the 2015-16 season. Tickets can also be purchased online at IceHogs.com, in person at the BMO Harris Bank Center Box Office in downtown Rockford, or any Ticketmaster outlet, including Walmart.