ICEHOGS DONATE $7,500 TO BROVEMBER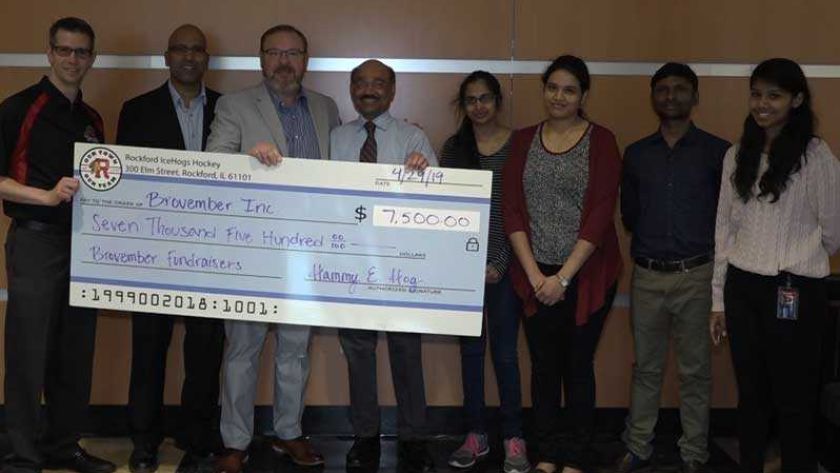 The Rockford IceHogs donated $7,500 to Brovember, Inc., a local nonprofit that raises awareness about prostate cancer and men's health, during the 2018-19 season through funds raised during Hockey Fights Cancer initiatives during the month of November and the team's annual Bowl-a-Thon in March.

IceHogs Director of Business Operations Mike Peck presented the check to Brovember, Inc. founder David Armstrong and Dr. Ramaswamy Kalyanasundaram, Dr. Gnanasekar Munirathinam and their students of the University of Illinois College of Medicine.

Brovember, Inc. has developed numerous initiatives to raise funds for cancer research and help establish local healthcare programs. Along with its successful "beard-a-thon" fundraiser each November, the organization also recently expanded its outreach to create a Brovember U.S. Endowment with the University of Illinois College of Medicine.

Season Tickets for 2019-20 on Sale Now:
Don't miss a moment of the action next season. Reserve your seats for the IceHogs' 21st season of professional hockey in Rockford and 13th as the top AHL affiliate of the Chicago Blackhawks. The IceHogs' home opener is set for Oct. 12 and ticket packages begin as low as $132 for an eight-game mini pack. Please contact us at (815) 847-6399 or visit icehogs.com to claim your spots for this upcoming season.