ICEHOGS DONATE $40,000 TO THE AUTISM PROGRAM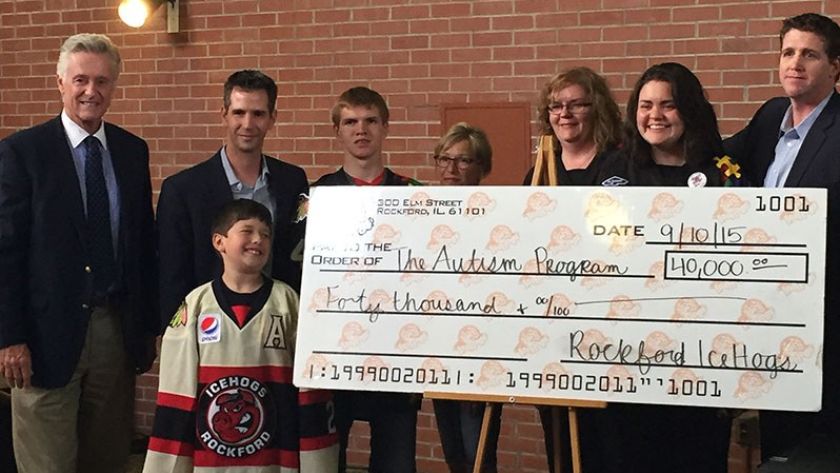 Rockford, Ill. – The Rockford IceHogs, proud American Hockey League affiliate of the 2015 Stanley Cup Champion Chicago Blackhawks, announced today that they have donated $40,000 to The Autism Program (TAP) Service Center in Rockford, a program of Easter Seals Metropolitan Chicago. The check was presented earlier today at a press conference held at the University of Illinois College of Medicine at Rockford, where TAP is located.

TAP Service Center is an inclusive and trusted resource for evidence-based information on Autism Spectrum Disorder and referral services across the lifespan. TAP in Rockford provides screenings, diagnostics, consultations and trainings. As of July 1, Illinois legislators had not passed a budget and TAP was left without a contract or funding from the State of Illinois due to the statewide budget crisis.

"The generous donation from the IceHogs comes at a critical time as we wait for Illinois legislators to approve a budget. Autism Spectrum Disorder not only impacts the child, teen, or adult who has been diagnosed, but it impacts the whole family," said TAP Assistant Manager Lori Davie. "Families, caregivers, and providers need to be able to seek services and resources in their own communities. Autism Awareness Night with the Rockford IceHogs has helped us bring awareness and raise money to a diagnosis that impacts 1 in 68 individuals."

"The Autism Program provides a great service in this area and we are pleased to be able to donate funds through the generous support of our fans," said IceHogs Director of Business Operations Mike Peck. "Over the years we've had the opportunity to meet and befriend some of the children that have utilized TAP, and seen firsthand the positive impact that this organization makes in our community."

The IceHogs and TAP joined forces on March 22 of last season to host Autism Awareness Night in conjunction with the team's 16th Annual Jersey Auction. IceHogs fans helped the team set a franchise record with $79,921 raised for local initiatives. After 16 years of the event, the IceHogs organization has raised $809,231 for Rockford-area charities.

Season Tickets for 2015-16 Now on Sale: Reserve your seats today for the IceHogs 17th season of professional hockey and ninth as the top AHL affiliate of the Chicago Blackhawks. Call (815) 847-6399 or visit icehogs.com to find a ticket package that fits your needs.