ICEHOGS ATTEMPT TO BREAK WORLD RECORD IN BROVEMBER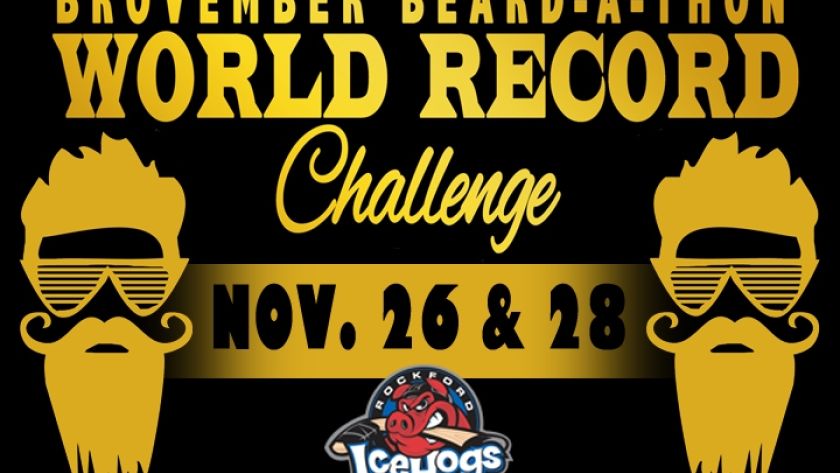 Hogs kick off their month-long Brovember campaign

Rockford, Ill. – As the calendar turns to November the American Hockey League's Rockford IceHogs are putting away their razors for a good cause. The IceHogs are teaming up with the Brovember Beard-A-Thon initiative for a pair of promotional games later this month, highlighted by an attempt for a Guinness World Record on Wednesday, Nov. 26.

After Rockford finishes its contest on the 26th against the Iowa Wild, the IceHogs invite everyone in attendance sporting facial hair, whether thick or thin, onto the ice where they hope to break the world record for the most beards and mustaches in one place, in honor of Brovember. Prizes will also be awarded at the end of the night for the longest and most creative beards.

Also as part of the Brovember festivities, the IceHogs will be sporting specialty jerseys both on Nov. 26 and on Friday, Nov. 28 against the Chicago Wolves. Following Friday's game, the Brovember jerseys, as well as an assortment of other prizes, including a custom autographed Brovember bags board set, will be auctioned off via with the proceeds benefitting Healing Pathways Cancer Resource Center and prostate cancer awareness.

Participants will have the opportunity to download a photo of the hairy horde from the IceHogs website at a later date, and - if a new record is set – will receive a code which they can use toward getting their own certificate commemorating their part in setting a new Guinness World Record.

Fans can also choose to participate in the movement by showing off their own facial hair growth throughout the month on social media, using the hashtag #Hogstache. The IceHogs social media outlets will also be giving updates on how the IceHogs players are participating in Brovember.

Tickets to both games are available in person at the BMO Harris Bank Center box office, at any Ticketmaster location including Walmart, or by phone at 815-968-5222 or by visiting icehogs.com.

About Brovember: Brovember is a non-profit organization based in the Rockford area which is dedicated to promoting and raising money for men's cancer awareness. Starting with their first-annual Brovember Beard-A-Thon in 2012, the organization has used the popularity of trends like No-Shave November and Movember to bring attention to men's prostate cancer. For more information, visit brovembercentral.com.