ICEHOGS ANNOUNCE OUR TEAM, OUR TIME PLAYOFF CAMPAIGN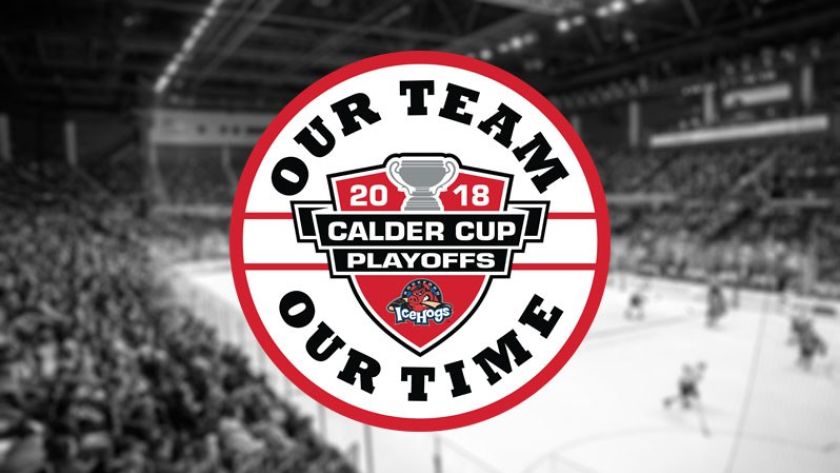 ROKFORD, Ill. – The Rockford IceHogs today announced the team's campaign for its playoff push and potential postseason run in the 2017-18 Calder Cup playoffs. The "Our Team, Our Time" theme derives from this year's marketing campaign of "Our Town, Our Team," and signifies the team's late-season surge to secure one of four available berths from the Central Division in the Calder Cup playoffs.
Embodying the campaign slogan, the IceHogs have rallied from sixth place in the Central Division to notch points in 15 of the last 18 games since Feb. 18. Rockford's sprint down the stretch run of the regular season has included leapfrogging the Iowa Wild and fortifying a fourth-place ranking in the Central Division. The Hogs have won five straight games and enter the final five contests of the regular season with a five-point lead over the now-fifth-place Milwaukee Admirals.
The IceHogs' "Our Team, Our Time" branding will be included on promotional materials and IceHogs.com, and incorporated into messaging for radio, television and print marketing. The campaign logo features the "Our Team, Our Time" inscription in black and white font and the Calder Cup playoff logo imprinted in the center of the image.
As of Friday, April 6, the Hogs' magic number to clinch a postseason berth is five. That magic number can be reached through either the IceHogs earning points or the fifth-place team in the Central Division losing games. Fans can track the IceHogs' magic number through the team's social media accounts and the AHL's online Playoff Primer.
Next Home Game: Chicago, April 13 vs. Chicago
The IceHogs host their final home game of the 2017-18 regular season with an Illinois Lottery Cup series matchup against the Chicago Wolves. Friday is Fan Appreciation Night and the first 2,500 fans in attendance will receive a free copy of this season's team photo, courtesy of American Solutions for Business.