ICEHOGS ANNOUNCE 2016-17 TEAM AWARDS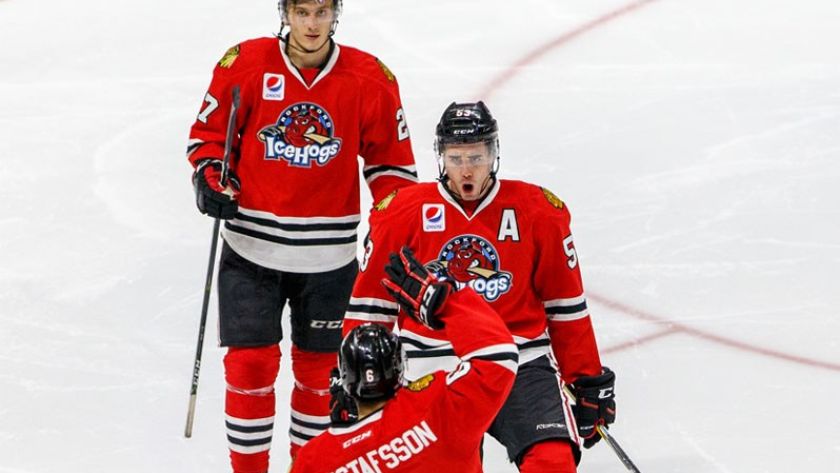 Rockford, Ill. – The Rockford IceHogs announced the recipients of their annual Team Awards for the 2016-17 season.
This year's recognitions include Brandon Mashinter – Most Valuable Player; Luke Johnson – Rookie of the Year; Eric Gustafsson – Defenseman of the Year; Martin Lundberg – Unsung Hero Award; Chris DeSousa – Heavy Hitter Award; Kyle Baun – Most Improved Player; and P.C. Labrie – Man of the Year.
The awards were presented by Blackhawks Senior Director of Minor League Affiliations, Mark Bernard, along with several season ticket holders, in a special pregame ceremony during Rockford's home finale on Saturday.
Mashinter contributed across the board this season as the IceHogs' team MVP, tallying 29 points on 15 goals and 14 assists, and recording 70 penalty minutes over 60 games. The three-year Hogs veteran served as an Alternate Captain for 37 contests and produced two of the team's seven three-point games on the year, including Rockford's lone hat trick on Nov. 12 vs. Charlotte. Mashinter also helped anchor the team's power-play unit and currently ranks third among IceHogs skaters in power-play goals (4), assists (6) and points (10).
Johnson, awarded for his standout AHL debut, totaled 8g-9a-17pts in 72 games during his first professional season. The 22 year old skated in all but three of Rockford's 75 games this year and led all IceHogs rookies in points, assists and shots (133). He also chipped in a game-winning goal and posted a three-game point streak as part of his first campaign following an NCAA National Championship with the University of North Dakota.
Gustafsson earned his accolade as the Hogs' top defenseman after pacing Rockford blueliners in points (30), assists (25) and shots (183) in his 67 appearances this season. The second-year IceHogs defenseman potted five goals during his solid campaign and combined on the power-play to rank second on the team with 14 total PP points (1g, 13a).
Lundberg garnered recognition as this season's Unsung Hero with his consistent efforts throughout the season that produced the top plus/minus rating on the IceHogs. The 26 year old transitioned to the AHL this season following four straight appearances in the Swedish Hockey League finals from 2012-16, and capped his AHL rookie season with 9g-12a-21pts in 67 games for Rockford.
DeSousa was named the IceHogs' Heavy Hitter after leading the team in penalty minutes per game at 2.14. The 5-9, 193-pound forward posted 77 total penalty minutes in 36 games, including two games with double-digit PIMs and a season-high 17 minutes in the box on Dec. 9 at Texas.
A second-year IceHogs forward and the team's most improved player, Baun, followed his 2015-16 campaign of nine points in 43 games with a team-leading 34 points in 73 games during the 2016-17 season. Baun posted his team-high point total on 14 goals, including an IceHogs-best five power-play goals, and 20 assists this year, and concludes his campaign with points in four of his final six games from April 1-15.
Labrie was named the IceHogs' Man of the Year after spearheading his Anti-Bullying campaign for the second straight season. His program began in the second half of the 2015-16 season when Labrie, along with teammates Baun and Mike Liambas, visited local schools and interacted with students to spread the message, "Be a buddy, not a bully." That program has now grown to allow Labrie to start an additional campaign through the "PeaCe" Foundation (playing off of the letters in P.C.'s name as well as the phonetic sound of his nickname in the locker room) to increase awareness for Anti-Bullying.