ICEHOGS AGREE TO TERMS WITH ROCKFORD YOUTH HOCKEY ALUM JOSH McARDLE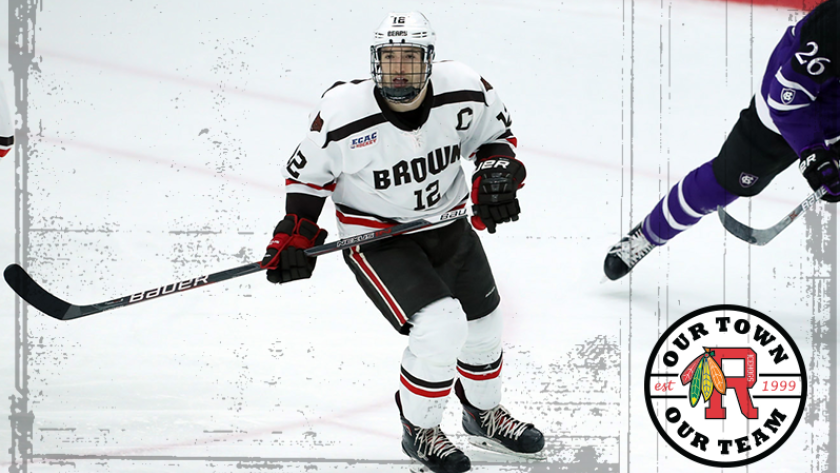 ROCKFORD, Ill. – The American Hockey League's Rockford IceHogs today announced they have agreed to terms with defenseman Josh McArdle on a one-year AHL contract through the 2018-19 season. He is the first alumnus of Rockford's youth hockey program to sign with the IceHogs.
McArdle, 24, recently completed his senior season at Brown University, where he served as the team's captain and logged two goals, four assists and 28 penalty minutes. The 6-1, 194-lbs defenseman was one of only two Brown blueliners to skate in each of the team's 31 games in 2017-18, and he led all Bears defenseman in penalty minutes during the regular season.
The Roscoe, Illinois native skated with Brown for four seasons during his collegiate career from 2014-18. He also served as an alternate captain during his junior year in 2016-17 and earned Honorable Mention All-Ivy honors after tallying five assists with a career-high 32 penalty minutes in 29 contests. McArdle has skated in 29 or more games in each of his four collegiate seasons and concluded his tenure ranked tied for eighth all-time among Browns defensemen with his 120 career games played. He tallied 25 points (4g, 21a) with 96 penalty minutes during his collegiate career.
Following the conclusion of his senior season, McArdle made his professional debut with the ECHL's Worcester Railers on March 7 and notched two assists in 10 total ECHL games.
McArdle originally began his hockey career in Rockford through the "Learn to Skate" program at the Rockford Park District. He worked his way up through the Junior IceHogs program, skating under current coaches Scott Burfoot, Tim Mattila and Don Walker. McArdle was a four-time honor roll student at Hononegah High School (2009-12) in Rockton, Illinois and skated for the Madison Capitals (2009-10) and Team Illinois (2010-11) in the Tier 1 Elite Hockey League (Minor Midget). He also played for two seasons in the United States Hockey League (USHL) with the Tri-City Storm, totaling eight points (1g, 7a) and 52 penalty minutes in 64 games from 2011-13.
The defenseman then skated for the Nanaimo Clippers in the British Columbia Hockey League (BCHL) during his final season in Juniors in 2013-14. He collected six assists and 50 penalty minutes in 49 games during the regular season, and was presented with the team's Most Inspirational Player Award for his efforts.
Season Tickets for 2018-19 on Sale Now:
Don't miss a moment of the action by reserving your seats for the IceHogs' 20th season of professional hockey in Rockford and 12th as the top AHL affiliate of the Chicago Blackhawks. The IceHogs' home opener is set for Oct. 13 and ticket packages begin as low as $105 for a seven-game mini pack. Please contact us at (815) 847-6399 or visit icehogs.com to claim your spots for this upcoming season.