Hot Hogs Offense Sets Off Fireworks, Drop Wolves 6-2 To Ring In New Year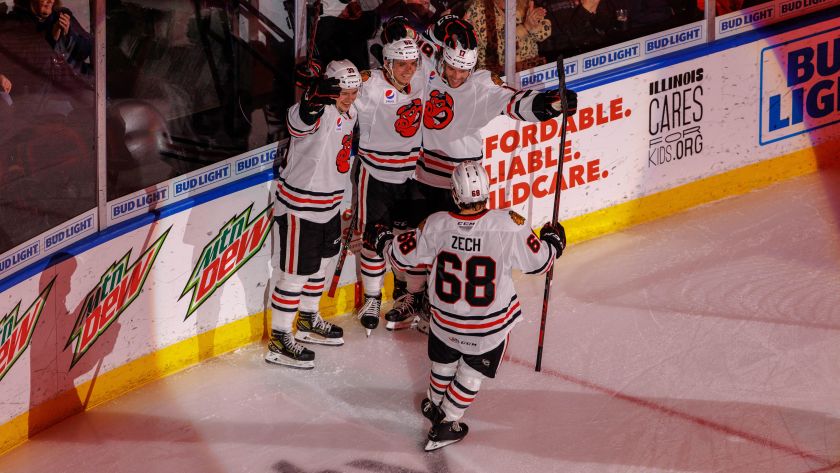 Rockford, Ill. — After an explosive four unanswered goal period, the Rockford IceHogs swept the Chicago Wolves with a 6-2 win on the last weekend in 2022. The Hogs lit the lamp six times against former Rockford netminder Cale Morris in his first game back at the BMO Center.
After fending off the Wolves' power play that carried over from the first period, the IceHogs came out swinging in the middle frame with four unanswered goals. Defenseman Cooper Zech struck first for the Hogs after launching a shot from just in front of Chicago's blue line at 5:06, scoring his first goal of the season to tie the contest 1-1.
Taking the IceHogs' first lead of the night, defenseman Filip Roos fired a shot almost identical to Zech's from the exact same spot to take a 2-1 lead at 9:14. Forward Brett Seney continued the attack and caught a centering pass from David Gust in front of the crease and chipped in the lamp lighter at 13:35 extending the lead to 3-1.
Piling onto the avalanche of Rockford goals in the second stanza, forward Cole Guttman blasted a wrister past Morris at 19:01, taking a 4-1 heading into the sandwich intermission.
The slow starting first period finished with a bang as Rockford defenseman Adam Clendening was charged with a five-minute major for boarding. On the power play, Chicago forward Malte Stromwall tallied with a wrist shot from the slot on IceHogs goalie Mitchell Weeks at 19:56 to take a 1-0 lead.
The IceHogs had no intention of slowing down in the final frame as defenseman Alec Regula skated down the slot and tossed a backhanded shot over the shoulder of Morris at 6:29, and forward Buddy Robinson knocked a shot behind Morris at 18:10 to solidify a 6-1 lead. Stromwall tallied a second time at 18:57, but the IceHogs steamrolled the Wolves 6-2 on Saturday night.
Weeks faced 21 Chicago shots and turned away 19 to earn the win while Morris turned away 15 of 21 Rockford shots and was tagged with the loss.
Tune In LIVE on the IceHogs Broadcast Network Presented by BMO
Watch and listen to every game this season on the IceHogs Broadcast Network presented by BMO! Listen from your favorite device, at home, or on the road at IceHogs.com and on the IceHogs app and watch LIVE on AHLTV and selected games on 23.3 Circle TV! Fans can also tune in on all of Mid-West Family's local stations including 104.9 The X, B103, 95.3 The Bull, and Rockford Greatest Hits 100.5 and featured on Rock River Current, the Stateline's premiere source for local events, news and culture.