HOGS PENALTY KILL DOES THEM IN AGAIN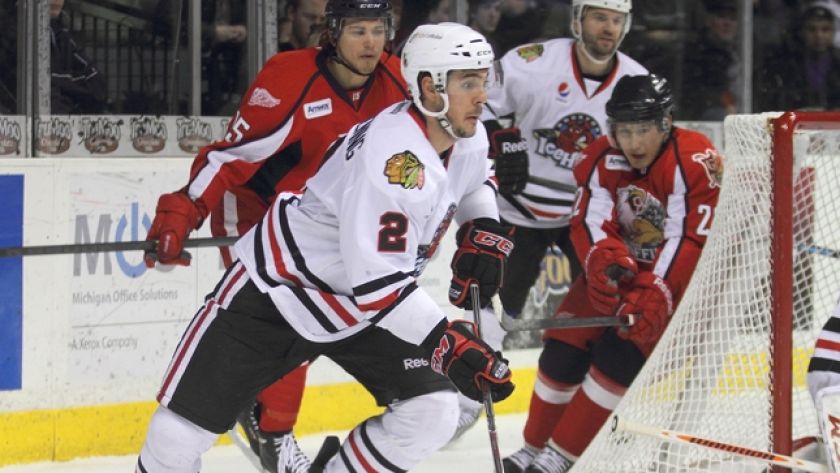 Three more goals against on the advantage leads to 4-2 loss

Grand Rapids, Mich.-To say that the Rockford IceHogs penalty kill is plaguing them would be an understatement. Three more power play goals allowed lead to a 4-2 loss to the Grand Rapids Griffins on Wednesday night.

With their three power play goals allowed, Rockford has now allowed an AHL worst 47 goals on the penalty kill, seven more than the next closest team. Rockford's overall penalty kill now stands idle at a league worst 72.7%

For the second straight game against Grand Rapids, the IceHogs claimed the game's first goal. Rookie center Drew LeBlanc cleaned up a Jeremy Morin rebound at 5:43 on a power play, swiping his fifth goal of the season past Tom McCollum.

But for the ninth straight outing, the IceHogs coughed one up on the penalty kill. Ryan Sproul was the first benefactor of Rockford's poor penalty kill on Wednesday as he slapped home his seventh marker of the season at 17:16 to knot the score 1-1 at the first intermission.

In the second period, the Griffins would find the back of the net while on the power play again to take the 2-1 lead. Mitch Callahan's initial shot was deflected up in the air in front of Jason LaBarbera, but the Hogs goalie couldn't snag it and the puck settled in front of Callahan for him to punch in his 14th tally of the season at 17:35.

Grand Rapids struck again early in the third period to stretch their lead to 3-1. Brennan Evans cranked in his third goal of the season from the left point at 1:34 of the final frame.

While shorthanded, Rockford would notch a goal on their side to make it a one goal game. Adam Clendening skated the puck from the IceHogs zone and his shot from the right face-off circle in the Griffins end snuck past McCollum and in for his fifth marker of the season at 8:50.

The IceHogs had some opportunities to tie the contest late with LaBarbera on the bench for the extra attacker, but Brad Winchester took a slashing penalty away from the puck as the Griffins were committing an icing, resulting in Riley Sheahan's power play goal at 19:30.

LaaBarbera was tested 40 times on Wednesday and made 36 saves while McCollum earned the win after blocking 31 Rockford shots.

Next Home Game: Friday, Jan. 10 vs. Lake Erie. Face off is set for 7 p.m. The game is the first of a back-to-back set against the Monsters and game two of a three game week for the IceHogs.