HOGS LOSE LEAD, GAME IN OVERTIME IN CHARLOTTE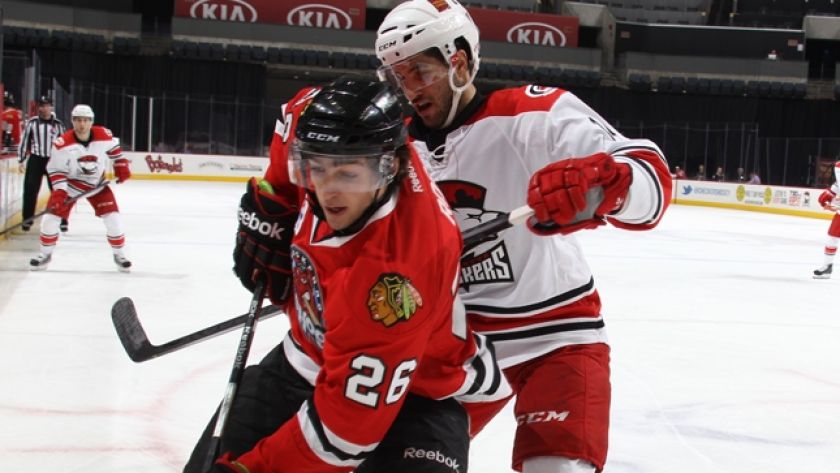 Rockford can't hold up early two goal lead in overtime loss

Charlotte, N.C.- After outshooting the Charlotte Checkers 19-2 in the second period on Thursday night and failing to build on their 2-1 first period lead, the Rockford IceHogs had to dig in the third frame.

Unfortunately, the Hogs penalty kill couldn't hold down the Checkers after Rockford went scoreless on four second period chances, eventually falling 3-2 in overtime at the Time Warner Cable Arena.

For the second straight game, winger Kyle Beach scored on his first shift of the contest. Beach picked off a Checkers pass at the Rockford blueline, led a transition rush and beat John Muse in the Charlotte zone from the right faceoff circle for his fourth tally of the season, 1:41 into the game.

Brad Winchester later picked off a Checkers pass behind the Charlotte goal and found Mark McNeill in front of Muse where he potted his team leading eighth goal of the season at 9:42 to make it 2-0.

Charlotte got one back at 14:05 of the opening frame when Zach Boychuk followed his own rebound and shelved his eighth tally of the campaign over Kent Simpson.

A Rockford penalty carried over into the third period and the Checkers would use their first advantage to tie the game. Boychuk picked up a loose puck in front of Simpson and fired home his second goal of the game at 1:04 of the final frame. Including a 1-2 effort on Thursday, Charlotte is 9-25 (36.0%) on the power play against Rockford in five games this season.

In the overtime, Brody Sutter cleaned up a Rasmus Rissanen rebound on the doorstep at 2:31 of the extra session to win it for the Checkers.

These two teams will meet again on Saturday in Charlotte for a sixth time this season.

Next Home Game: Friday, Dec. 13 vs. Oklahoma City Barons at 7 p.m. The first 2,500 fans through the gates will get a BMO Harris Bank Hubert Doll as the IceHogs open a two-game weekend set against the Barons. For tickets visit IceHogs.com.